The first level of graduate study is known as a
master's degree program
. While some students enroll in them immediately after earning their bachelor's degree, others begin a master's degree after working for some time. Those who pursue a master's program right away may do so because they are still in the mindset of completing homework and taking exams… and they want more time to better define their goals and career targets. Others might already have a very specific career in mind — one that typically requires a master's degree for entry. Students who wish to pursue graduate programs at this level can explore traditional, online, or hybrid program options. Online master's degree programs can be a convenient way to further education goals while still allowing students to work and/or manage family responsibilities. The increased prevalence of online master's degree programs may be one reason why degrees conferred at this level have increased by 66 percent since the 2000-01 academic year. In the 2015-16 term, 786,000 master's degrees were awarded by post-secondary institutions. Over half of them were concentrated in the business, education, and healthcare fields.
5 Benefits of a Master's Degree
While completing a graduate-level program may be personally and intellectually satisfying, there are four major tangible benefits of earning a master's degree online.
Individuals can gain the specialized knowledge they need to advance in their field.
A degree at this level can open doors to senior-level positions in leadership and management.
Master's degree graduates earn more money. In 2017, those with master's degrees had average weekly earnings of $1,401, while those with bachelor's degrees earned $1,173. When that difference is multiplied over the span of a career, investing in a master's degree makes economic sense.
Master's degree students may be able to change careers and become qualified for jobs that are in a completely different field from their bachelor's degrees.
As competition increases for certain jobs, having a master's degree may offer applicants a competitive edge. The unemployment rate in 2017 for those with a master's degree was slightly lower than those who only had a bachelor's degree: 2.2 percent instead of 2.5 percent.
Timeline of a Master's Degree Program
While no two master's degree programs are exactly alike, most students complete master's degree programs in about two years of full-time study. Programs at this level generally follow the same timeline.
First Year
During the first year of a master's degree program, students usually begin taking core classes related to their particular specialty as well as some electives. Students who are switching to an entirely new field may need to take even more core courses in order to get up to speed on their new subject.
Second Year
Year two of a master's degree program typically involves completing core classes and related electives. This is also the time when they can gain work experience from an internship. Depending on the the field of study, this year may also involve preparing for a licensing exam.Some master's degree programs require a dissertation or thesis, which is a final research paper in which a student selects a topic and performs research related to it.
Types of Master's Degrees
At this level, there is a significant range in the types of master's degrees that can be earned — on campus and online. These are the most popular types:
Top Master's Degree Programs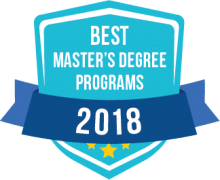 When considering earning a master's degree online, prospective students should review rankings, as they can be a way to understand how different schools might serve their needs. Schools are ranked based on factors like acceptance rate, admission requirements, tuition and fees, and other data points related to how schools support degree attainment for students. With this information, prospective master's candidates can make an informed decision on a program that is right for them.
Methodology
To be included in these rankings, all schools must meet the following initial criteria for the specific degree being ranked. 1. Offer a master's degree program, either on campus, online, or via hybrid format 2. Have awarded at least one master's degree in 2015-16 3. Have reported data for all 12 ranking variables listed below Based on those criteria, we ranked 1,183 colleges and universities in the United States on 12 criteria, using 2016-17 data from the National Center for Education Statistics:
Program prominence, based on how many master's degrees were awarded in 2016-17
Ratio of graduate students participating fully or partially in distance education to total enrollment
Average in-state tuition for graduates
Number of programs that are offered at the master's degree level on campus
Number of programs that are offered at the master's degree level via distance education
Credit offerings
Services

Academic/Career
Placement for Completers

The availability of any tuition plans
X
| Ranking | School Name | In State Avg. Undergrad Tuition | % Receiving Financial Aid | Retention Rate | Career Counseling | Payment Plan |
| --- | --- | --- | --- | --- | --- | --- |
| 1 | Grand Canyon University | $16,399 | 98% | 64% | 1 | 1 |
| 2 | University of Florida | $4,477 | 93% | 97% | 1 | 0 |
Financial Aid
Enrolling in a master's degree program is a significant investment. And as the earnings studies from the Bureau of Labor Statistics show, it can be a very worthwhile one. But those higher earnings start to come in, tuition (and other) bills need to be paid in the short term. Fortunately, there are a number of financial resources that can help make a master's degree program more affordable. Scholarships, grants, and educational loans are all designed to aid eligible master's degree students in paying for tuition, books, and living expenses.
Why Accreditation Matters
It's essential for prospective students to search for online master's degree programs that are accredited. An accredited master's degree program has gone through a rigorous process to verify that it provides quality education to students. Enrolling in an accredited master's degree program is a critical first step in helping a student qualify for financial aid. Having a degree from an accredited online or traditional institution can also make a candidate more competitive in the job market.
Fastest-Growing Occupations with Master's Degrees
Across the nation, these occupations — that typically start with a master's degree — are expected to grow at the quickest rate during the 2016-26 period, according to the Bureau of Labor Statistics.
Highest-Paying Occupations with a Master's Degree
An investment in a master's degree program can pay off, especially for these occupations that usually require a degree at this level. According to the Bureau of Labor Statistics, these master's degree-related jobs typically have the highest wages nationwide.
What Comes After a Master's Degree
Of course, after earning a master's degree, individuals can pursue careers in their fields of study. But before graduating, it can be worthwhile to join industry- or occupation-specific professional organizations, and to network with professors and other master's degree students — actions that can result in potential employment opportunities. Others may wish to continue their education and enroll in doctoral degree programs. The doctorate route is particularly common for individuals who want to land research-based positions or high positions in academic or non-academic settings. It is also common for master's degree graduates to focus on a specialization or earn a license. For example, an individual with a master's degree in nursing may choose to become a nurse practitioner. In this case, they would be required to receive a license from the state in which they live as well as a certification from a national organization. A nurse practitioner can also decide to specialize in acute care, adults, pediatrics, or families.
Browse Master's Programs by Subject
WorldWideLearn.com features colleges and universities that offer online master's degree programs in the following disciplines:
Article Sources
Sources
2017 Occupational Employment Statistics and 2016-26 Employment Projections, Bureau of Labor Statistics, BLS.gov
Current Population Survey, U.S. Bureau of Labor Statistics, 2017, https://www.bls.gov/emp/chart-unemployment-earnings-education
Graduate Degree Fields, National Center for Education Statistics, https://nces.ed.gov/programs/coe/indicator_ctb.asp, Accessed August 2018
Integrated Postsecondary Education Data System (IPEDS) 2016-17, National Center for Education Statistics, http://nces.ed.gov/ipeds/
Is a Master's Degree Worth It?, Monster, https://www.monster.com/career-advice/article/is-a-masters-degree-worth-the-investment-hot-jobs, Accessed August 2018
Occupational Outlook Handbook, Bureau of Labor Statistics, https://www.bls.gov/ooh/, Accessed August 2018
O*NET OnLine, https://www.onetonline.org/, Accessed August 2018
When a $100,000 Grad Degree is Worth the Cost, U.S. News, https://www.usnews.com/education/best-graduate-schools/paying/articles/2018-01-29/when-paying-100-000-for-a-graduate-degree-is-worth-the-cost, Accessed August 2018
Our Partner Listings with Masters Degree Programs