Education in Wisconsin
The National Center for Education Statistics (NCES) counts 121 universities, colleges, technical schools, career academies and other postsecondary institutions in Wisconsin. Here's a breakdown of degree-granting schools in Wisconsin by type:
Public 4-year: 14
Public 2-year: 18
Private 4-year, nonprofit: 32
Private 2-year, nonprofit: 2
Private 4-year, for-profit: 25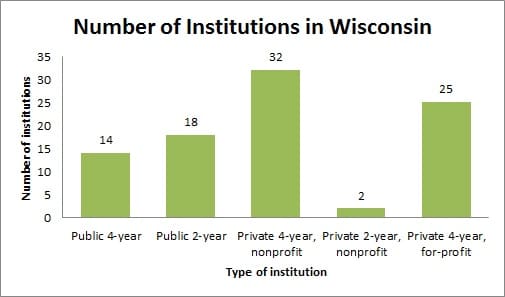 According to the state government, nearly 60 percent of Wisconsin's high school graduates go on to enter college — a percentage that's been increasing slightly each year since 2009.
In 2011-12, 85,452 students completed college in Wisconsin, the 19th highest number in the country and nearly 2 percent of all the college completers in the country. Those Wisconsin graduates earned 86,606 degrees altogether. Of that total, 56,164 earned a four-year degree and 27,922 earned a two-year degree.
In 2013, a total of 362,430 students were enrolled in post-secondary schools in Wisconsin. The University of Wisconsin-Madison, with 42,854 students enrolled, had the largest enrollment by far in the state, with 12 percent of the total number of enrollees taking classes through that school. The Madison campus was followed by the University of Wisconsin-Milwaukee with 27,811 enrollees — about 8 percent of the state's total. Almost half of all the college students in Wisconsin in 2013 were attending only 10 colleges, including Milwaukee Area Technical College, Madison Area Technical College, Marquette and state universities in Oshkosh, Whitewater and Eau Claire.
Here are some total student enrollment numbers collected from the major public universities in Wisconsin as of 2013:
University of Wisconsin-Madison: 42,854
University of Wisconsin-Milwaukee: 27,811
Milwaukee Area Technical College: 17,624
Madison Area Technical College: 15,483
University of Wisconsin Colleges: 14,028
University of Wisconsin-Oshkosh: 13,653
University of Wisconsin-Whitewater: 11,993
Marquette University: 11,782
University of Wisconsin-Eau Claire: 10,833
Northeast Wisconsin Technical College: 10,603
University of Wisconsin-La Crosse: 10,379
Fox Valley Technical College: 10,361
Online education in Wisconsin
Wisconsin institutions are continually adding more online courses and online degree programs, making school much more practical for both on-campus students and out-of-town professionals, whose busy lives prevent them from being in a classroom. Full-time residential students often find that online classes complement their face-to-face classes and make it easier for them to get the classes they need when they want them.
In 2012, nearly 30,000 of Wisconsin's 375,000 college students — both undergraduate and graduate — were enrolled exclusively in online courses. That's 7.6 percent of the total number of college students in the state, on par with many states in the New England and Great Lakes areas.
Several colleges and universities in Wisconsin have been recognized by national ranking agencies for certain online programs. Here are some of the programs at Wisconsin online schools that have been recognized by US News & World Report:
Not all programs are ranked by US News and World Report, and many more online classes and full degree programs online are offered by colleges and universities in Wisconsin. UW-Madison, for example, offers online degree programs in Engineering Engine Systems; Library and Information Science; and Mechanical Engineering.
There's a higher percentage of graduate students in Wisconsin taking exclusively online courses than undergraduate students, which makes sense when you consider that many online learners are working professionals trying to get ahead with an advanced degree. Of the 39,996 grad students in Wisconsin, more than 15 percent were taking all their classes online in 2012 according to the National Center for Education Statistics (NCES).
Nearly half of Wisconsin's 121 colleges and universities offer online classes and many offer some degree programs fully online. At the University of Wisconsin's Madison campus, 8 percent of the school's undergraduates are enrolled in some online classes and 1 percent is taking all its classes online. At the state's second-largest school, the University of Wisconsin-Milwaukee, 26 percent of the undergrad student body takes at least some online classes, and 4 percent take all their classes online. Meanwhile, among graduate students, 28 percent take at least some classes online at the Milwaukee campus.
Top jobs and careers in Wisconsin
Of the 2.7 million workers in Wisconsin, the largest job category is for office and administrative support personnel. There are more than 400,000 of these workers in Wisconsin, and they comprise 15 percent of the total workforce. However, five of the top 10 jobs in Wisconsin are higher paying, and these five all require some kind of college degree. They include education, training and library occupations; healthcare practitioners and technical occupations; managers; financial and business operators; and installation, maintenance and repair workers. Of these jobs, managers, who account for 5 percent of the jobs in Wisconsin, make the most, taking home close to $100,000 annually.
The highest-paying jobs in Wisconsin are primarily in the healthcare field and include physicians, nurse anesthetists, dentists and family practitioners.
According to the U.S. Bureau of Labor Statistics (BLS), the unemployment rate in Wisconsin has been dropping steadily since late 2014 and recently stood at 4.4 percent, below the national unemployment rate of 5.5 percent. Jobs in mining, logging and construction were growing robustly. The state tends to reward workers who have some college credit or degrees. According data from the U.S. Census Bureau, workers in Wisconsin who have a bachelor's degree earn a median annual wage of $47,206, and workers with a graduate or professional degree in Wisconsin earn more than $61,000 a year.
Based on findings from Wisconsin's Department of Workforce Development, many of the fastest-growing jobs in Wisconsin require a college degree or extensive professional training. Over the next eight years, the state expects to see thousands of workers hired as interpreters and translators; medical sonographers; physician assistants; meeting, convention and event planners; and health specialties teachers.
It's no surprise that three of the top five growing job opportunities in Wisconsin are in the medical field. According to the Milwaukee Journal, the state has an acute shortage of physicians and other healthcare providers that has prompted medical schools in the state to consider expanding.
Top five high-paying jobs in Wisconsin requiring college degree or professional training include:
| Occupation | Job prospects | Why it's hot | Education requirements |
| --- | --- | --- | --- |
| Interpreters and Translators | By 2022, as the state's population continues to diversify, the state expects to see a 45 percent increase in the number of jobs being offered to interpreters and translators. Some of the highest wages for interpreters and translators will be paid in Rock County, state economic forecasters say. | Wisconsin, like many states, is seeing an increase in the diversity of its population, and this has created a demand for people to serve as interpreters in courts and government offices and as translators for official, educational or popular publications that need to be in other languages besides English. | Although interpreters and translators can learn the profession through job training, many will also need college-level courses in language, computers, software, law and government, and education. They generally have to be excellent writers in two or more languages. According to the American Translators Association, one of the top schools for this field is the University of Wisconsin-Milwaukee, which offers an online graduate degree program in translation. |
| Diagnostic Medical Sonographers | Wisconsin is expected to add about 60 of these jobs annually for the next several years. | Employment for sonographers in Wisconsin has grown a modest 4.5 percent since 2014, but state officials expect the number to increase dramatically in coming years as the state's demand for ultrasonic recordings of internal organs skyrockets. | A number of schools in Wisconsin offer programs in diagnostic medical sonography, including the University of Wisconsin-Madison, the University of Wisconsin-Milwaukee, Northeast Wisconsin Technical College, Carroll University and Concordia. Although some prerequisite courses at these schools can be taken online, many require class time and clinical rotations for up to six semesters to graduate. |
| Physician Assistants | According to Wisconsin's WorkNet, physician assistants are the third most in-demand job in the state, with a 37 percent growth rate expected in the coming years. | As the state's population ages, hundreds of physician assistants will be needed in Wisconsin hospitals and doctor's offices. The demand reflects a widespread shortage for healthcare workers in Wisconsin. | A wide variety of Wisconsin schools, including the University of Wisconsin-Madison, UW-La Crosse, Concordia University and Marquette, offer many online nursing programs and classes that can lead to PA certification. All PA's in Wisconsin must be licensed by the Wisconsin Medical Examining Board. |
| Meeting and Events Planners | Wisconsin employment officials expect to see a more than 30 percent increase in the number of jobs for meeting and event planners in their state in the coming years. | As Wisconsin's economic planners work to increase the number of conventions it brings to the state, there is expected to be an increasing demand for people who can plan, organize and recruit for those gatherings. | Three schools in Wisconsin have programs for those interested in preparing for this profession — the University of Wisconsin-Madison, Fox Valley Technical College in Appleton and Waukesha County Technical College in Pewaukee. At Fox Valley, students can earn a certificate in event planning by studying hospitality, risk management, catering and special event planning and sanitation for food service operations. Many of the classes required to earn a degree or certificate are typically available online at these schools. |
| Health Specialties Teachers | Nationally, these jobs are expected to grow much faster than average, and the growth rate in Wisconsin is expected to be 37 percent — even higher than the national average, the BLS reports. The state expects to add nearly 250 jobs of this nature each year for the next several years | Wisconsin is experiencing an acute shortage of physicians and healthcare professionals, and medical schools are expanding in an attempt to meet the need for new doctors. This, in turn, creates a need for teachers to train these health care professionals. | These jobs require at least a master's degree, and, in addition to teaching, often require expertise in research laboratory methods and grant writing. Wisconsin already has the highest concentration of these professionals in the country, the BLS reports. To prepare for a career in this field, students can turn to the University of Wisconsin School of Medicine and Public Health in Madison and the Medical College of Wisconsin in Milwaukee and Green Bay. |
Financial aid in Wisconsin
College tuition varies depending on major and choice of public or private institution, but costs are on the rise everywhere. A 2014 report published by the College Board shows just how much the average cost of college has changed between 2004 and 2014.
Public 2-year in-state

2004-05: $3.656
2013-14: $4,307

Public 4-year in-state

2004-05: $6,564
2013-14: $8,781

Private 4-year non-profit

2004-05: $23,592
2013-14: $30,930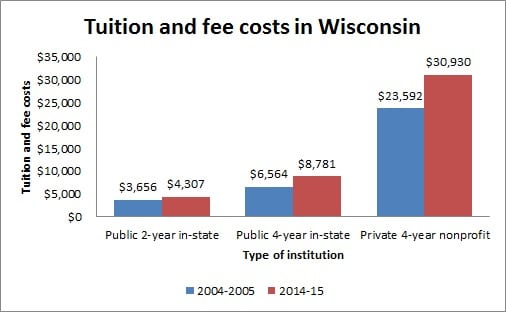 Students enrolling in Wisconsin colleges and universities are usually asked to fill out the Federal Application for Student Aid (FAFSA). The information on the FAFSA is used by potential sources of student aid in the state and federal level to determine student eligibility and financial need.
Wisconsin residents can also turn to the state's Higher Educational Aids Board (HEAB), the agency responsible for managing and providing oversight of Wisconsin's financial aid system for in-state residents. The agency administers financial aid, grants, loans, scholarships and tuition reciprocity agreements, such as the one Wisconsin has with Minnesota.
To be considered for aid packages in Wisconsin, all applications are required to apply for admission to their chosen college or university and fill out the FASFA.
To find out more about some of the schools and programs available in Wisconsin, be sure to check out the ones featured in our school listings below.
Article Sources
Sources
"IPEDS Data Center," National Center for Education Statistics, 2013-2014, https://nces.ed.gov/ipeds/datacenter/Data.aspx
"Enrollment in Distance Education Courses, by State: Fall 2012," "U.S. Department of Education, nces.ed.gov/pubs2014/2014023.pdf
"NCES College Navigator: University of Wisconsin-Milwaukee," National Center For Education Statistics, https://nces.ed.gov/collegenavigator/?s=WI&pg=7&id=240453#enrolmt
"Economy at a Glance: Wisconsin," U.S. Bureau of Labor Statistics, 2015, http://www.bls.gov/eag/eag.wi
U.S. Census Bureau American FactFinder, http://factfinder.census.gov/faces/tableservices/jsf/pages/productview.xhtml?src=CF
"Program Descriptions," Wisconsin's Worknet, http://worknet.wisconsin.gov/worknet/progdesc_short.aspx
"County Wage Comparison," Wisconsin's Worknet, http://worknet.wisconsin.gov/worknet/wagecomparison.aspx?menuselection=js&occ=273091&ONETTitle=None&area=059
"High-Growth Occupations," Wisconsin's Worknet, 2012-2022, http://worknet.wisconsin.gov/worknet/joblist_highgrow.aspx?menuselection=js
"Medical College plans campuses in Green Bay, central Wisconsin," Milwaukee-Wisconsin Journal Sentinel, June 25, 2012, http://www.jsonline.com/business/medicial-college-plans-to-open-campuses-in-green-bay-central-wisconsin-m55sftt-160243035
"Minnesota-Wisconsin Tuition Reciprocity Application," Wisconsin Higher Educational Aids Board, http://www.heab.state.wi.us/reciprocity
Wisconsin Information System for Education Data Dashboard, http://wisedash.dpi.wi.gov/Dashboard/portalHome.jsp
"25-1071 Health Specialties Teachers, Postsecondary," U.S. Bureau of Labor Statistics Occupational Employment Statistics, May 2014, http://www.bls.gov/oes/current/oes251071