Education in Pennsylvania
As of 2011, Pennsylvania had 464,723 full-time and 153,906 part-time undergraduate students in public and private two- and four-year colleges and universities. There were approximately 140,000 graduate students at that time. In 2009-2010, the most recent year for which data are available, over 88,000 additional students were enrolled in career and technical education training programs. In total, Pennsylvania's enrollment of post-secondary students exceeds eight hundred and fifty thousand students.
The state has the following numbers of schools and universities according to the National Center for Education Statistics (NCES):
Public four-year: 45
Public two-year: 31
Private four-year, nonprofit: 111
Private two-year, nonprofit: 32
Private four-year, for-profit: 17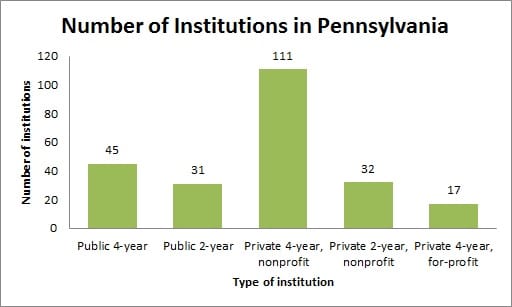 Of the approximately 12.7 million state residents, 6.7 million are considered "working age" (25-64 years old). Over 38 percent of working age individuals in Pennsylvania have at least a two-year degree. In 2011-2012, over one hundred and ninety thousand students completed degrees or other awards in Pennsylvania at Title IX institutions, over four percent of the total in the nation.
Online education in Pennsylvania
When it arrived on the scene, online education was not always well-regarded, and with some reason: not all online educational programs are worthwhile. However, as colleges and universities realized that they could significantly expand the scope of their outreach efforts by making use of technology, they began to put effort into developing rigorous and worthwhile online programs. Today online courses, certifications, and even degrees are becoming not only ubiquitous but nearly as well-regarded as their traditional campus counterparts.
Indeed, Pennsylvania colleges and universities have taken advantage of hybrid and fully online options for course and program delivery. This means that even if you don't live near a large city center, there may be college, university, or vocational and technical school options that can work for you. Additionally, even students outside of Pennsylvania may find institutions based in that state have distance programs that will work for them, even if they do not intend to relocate.
Nearly a quarter of post-secondary students in the U.S. were taking online courses by 2008. Additionally, over 7.1 million students nationwide were taking at least one online course in 2012, further illustrating the growth of this educational trend. In Pennsylvania, more than 62,000 students were enrolled exclusively in distance education courses and an additional hundred and ten thousand were enrolled in at least one distance education course. That's nearly 20 percent of all post-secondary students in the state at the undergraduate and graduate levels.
U.S. News and World Report highlights some of the standout online schools in Pennsylvania on its national rankings:
Best Online Bachelor's Programs: #1
Best Online MBA Programs: #7
Best Online Graduate Business Programs (Excluding MBA): #5
Best Online Graduate Computer Information Technology Programs: #4
Best Online Graduate Education Programs: #4
Best Online Graduate Engineering Programs: #5

Temple University

Best Online MBA Programs: #1

Best Online MBA Programs: #7

Best Online MBA Programs: #12

Villanova University

Best Online Graduate Business Programs (Excluding MBA): #6
Best Online Graduate Engineering Programs: #27

Best Online Graduate Criminal Justice Programs: #10

Best Online Graduate Nursing Programs: #9

Best Online Graduate Nursing Programs: #21
Top jobs and careers in Pennsylvania
According to the Bureau of Labor Statistics (BLS) May 2013 State Occupational Employment and Wage Estimates, the top five job categories in Pennsylvania are as follows:
Occupation
Top regions
Percentage of total in-state employment
Necessary skills*
Relevant degrees
Office and administrative support positions
In Pennsylvania, the Pittsburgh and Philadelphia metropolitan area employ significant percentages of office and administrative support workers.
16%

Writing
Active listening
Reading comprehension
Speaking
Time management
Service orientation
Critical thinking
Judgment and decision making

Individuals who wish to be more competitive for these types of positions may wish to seek associate's degrees. Those who wish to advance to more specialized positions in this category may want to seek bachelor's degrees in areas or professional licenses or certification.
Sales and related occupations
Philadelphia and Pittsburgh employ many of Pennsylvania's workers in this category.
10%

Active listening
Speaking, persuasion, and negotiation
Social perceptiveness
Reading comprehension
Service orientation
Active learning

According to the BLS, wholesale and manufacturing sales representatives don't always require a bachelor's degree, but may depending on the type of products being sold. if the product is technical or scientific, for example, a bachelor's degree in a related area may be required.
Food preparation and serving-related occupations
As with most occupational categories in the state, the densest population centers employ the majority of workers in food preparation and service. These include Philadelphia and Pittsburgh
8.5%

Active listening
Service orientation
Speaking
Social perceptiveness
Instruction

Most careers in food preparation and service only require a high school diploma or equivalent, according to BLS data. However, individuals interested in management or administration, such as a food service manager, may wish to seek out educational training.
Transport and material moving (including air-traffic controllers)
Philadelphia employs over 100,000 such workers, with Pittsburgh clocking in at over 68,000, making them the two most significant areas of the state for employment in this occupational category.
7.2%

Active listening
Speaking
Critical thinking
Judgment and decision making
Complex problem solving
Time management

According to the BLS, air traffic controllers must be U.S. citizens, pass medical and background checks, achieve a qualifying score on the Federal Aviation Administration (FAA) pre-employment test, and complete a training course at the FAA Academy.
Production occupations (manufacturing/automotive)
Once again the state's largest metropolitan areas of Philadelphia and Pittsburgh employ significant percentages of workers in this category, the remainder of Pennsylvania being predominantly rural.
7%

Operation monitoring
Critical thinking
Active listening
Reading comprehension

According to the BLS, machinists receive the necessary training for the job in a variety of ways. These can include formal apprenticeship programs, vocational schools, community or technical colleges, or on the job.
*Skills lists drawn from O*NET OnLine
Other job categories of note in Pennsylvania include healthcare, education, and business and financial occupations.
Financial aid in Pennsylvania
In 2013-2014, tuition and fees costs in Pennsylvania averaged the following by institution type:
$4,407 for public two-year in-state
$12,802 for public four-year in-state
$35,189 for private nonprofit four-year
Keep in mind prices may vary by individual institutions. The Pennsylvania Department of Education does not administer student financial aid programs via grants, loans and scholarships. However, in addition to the Free Application for Federal Student Aid, Pennsylvania financial aid opportunities include:
Academic Competitiveness and SMART grants
New Economy Technology Scholarships
Additionally, college profiles, gathered as part of the Integrated Postsecondary Education Data System (IPEDS) provide information on tuition, room and board charges, fall enrollments, residency of first-time freshmen, and degrees conferred. This information can help prospective students identify colleges and universities that may be a good fit for their interests and needs.
In 2013-2014, Federal Direct subsidized and unsubsidized loans were being offered at an interest rate of 3.86 percent. Private student loans may be available at a variety of interest rates. Additionally, individual institutions may offer their own forms of financial aid. Not everyone is eligible for all forms of financial aid, but seeking out as many opportunities as possible may help students pay for an education that might otherwise be out of reach.
To find out more about some of the schools and programs available in Pennsylvania, be sure to check out the ones featured in our school listings below.
Article Sources
Sources
"College Navigator," National Center for Education Statistics, December 30, 2014, http://nces.ed.gov/collegenavigator/
"Postsecondary Completers and Completions: 2011-12," U.S. Department of Education, March 2014, http://nces.ed.gov/pubs2014/2014033.pdf
"Enrollment in Distance Education Courses, by State: Fall 2012," U.S. Department of Education, June 2014, http://nces.ed.gov/pubs2014/2014023.pdf
"PDE – Data and Statistics – Higher Education," Pennsylvania Department of Education, December 30, 2014, http://www.education.state.pa.us/portal/server.pt/community/higher_education/8684
"A stronger nation through higher education — and Pennsylvania's role in that effort," Lumina Foundation, March 2012, http://www.luminafoundation.org/publications/state_data/2012/Pennsylvania-2012.pdf"May 2013 State Occupational Employment and Wage Estimates Pennsylvania," U.S. Bureau of Labor Statistics, April 1, 2014, http://www.bls.gov/oes/current/oes_pa
"Pennsylvania Department of Education," Pennsylvania Department of Education, December 30, 2014, http://www.pde.state.pa.us/portal/server.pt/community/pennsylvania_department_of_education/7237
"Tuition and Fees by Sector and State over Time," The College Board, 2013, http://trends.collegeboard.org/college-pricing/figures-tables/tuition-and-fees-sector-and-state-over-time