Education in Oregon
Oregon's 14-member volunteer board responsible for advising the legislature, the governor and the Oregon Education Investment Board on higher education policy is called the Higher Education Coordinating Commission (HECC). According to the HECC, Oregon is home to many colleges and universities, including:
7 public four-year universities
17 public community colleges
67 private for-profit and independent colleges and universities
Hundreds of private career and trade schools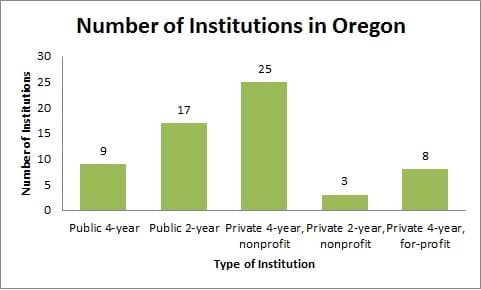 The Beaver State is home to many options for prospective students interested in all types of academic majors and professional programs.
According to the National Center for Education Statistics (NCES), 258,357 students were enrolled in Title IX institutions as of fall 2012. The most recent data provided by the Oregon University System indicate that the state had over one hundred thousand student enrolled in its four-year public universities in Fall 2013. An additional 143,000 students were attending two-year community colleges in Oregon as of Fall 2013. Thousands of additional students were enrolled in private career schools.
Of the approximately 3.9 million state residents, the 2008 census indicates that 2.1 million were "working age," which means 25-64 years of age. Approximately 39 percent of working-age residents of the state had at least a two-year degree.
This is in line with the national average of approximately 38 percent. In 2011-2012, over 54,000 students completed degrees or other awards in Oregon at Title IX institutions. This represents approximately 1.1 percent of the nation's total.
Online education in Oregon

The last twenty years has seen a tremendous surge not only in the availability of online education, but also its quality. This has led to the formation of online-only universities in Oregon and elsewhere. Colleges in Oregon that previously only offered traditional modes of instruction have now begun to add online courses and programs to their educational rosters. This trend, now well-established, has opened up opportunities to students who would have been unable to pursue a bachelor's degree only a generation ago.
In practical terms, this frees students to pursue their educational goals even if they do not live in a major metropolitan area with many choices of colleges, universities and vocational schools. It also means students who live in other areas of the country have the potential to attend universities in Oregon even if they're unwilling or unable to locate to the state.
As of 2008, nearly a quarter of post-secondary students in the United States were taking online courses. This number has only grown in the years since: by 2012 over 7.1 million students nationwide were taking at least one college, university, or post-secondary vocational course in an online format. In Oregon, nearly 23,000 students were enrolled exclusively in distance education courses. An additional 35,000 were enrolled in at least one distance education course. That's approximately 22 percent of all post-secondary students in the state at the undergraduate and graduate levels.
There are several highlight online programs in Oregon based on rankings from U.S. News & World Report:
Best Online Bachelor's Programs #5

Portland State University

Best Online MBA Programs #47
Best Online Graduate Business Programs (Excluding MBA) #28
Top careers in Oregon
According to the Bureau of Labor Statistics (BLS) May 2013 State Occupational Employment and Wage Estimates, the top 5 job categories in Oregon are as follows:
| Occupations | Top regions | Percentage of In-state Employment | Necessary skills | Relevant degrees |
| --- | --- | --- | --- | --- |
| Office and administrative support occupations | In Oregon, the densest population centers of Portland and Salem employ significant percentages of office and administrative support workers. | 15.7% | Writing, active listening, reading comprehension, speaking, social perceptiveness, persuasion, judgment and decision making | Using bill and account collectors as an example, typically a high school diploma is sufficient for entry-level employment. However, individuals wishing to become more competitive for these types of positions may want to attain at least an associate's degree. |
| Sales and related occupations | In Oregon, the densest population centers of Portland and Salem employ many of the state's workers in this category. | 10% | O*NET lists the following as required skills for advertising agents: Persuasion and negotiation, social perceptiveness, critical thinking, reading comprehension, active listening, service orientation | According to the BLS, at least a high school diploma is the minimum educational requirement for entry-level jobs as advertising sales agents. Depending on the exact industry in which an individual is employed, these workers may also need a bachelor's degree. |
| Food preparation and serving related occupations | As with most occupational categories in the state, the densest population centers employ the majority of workers in food preparation and service. These include the Portland and Salem metropolitan areas as well as some of the coastal cities. | 9.3% | O*NET suggests the following as important skills to work in food preparation and service: active listening, service orientation, speaking, social perceptiveness, instruction | BLS data suggest that a high school diploma or equivalent is sufficient for most careers in food preparation and service. However, community colleges, technical or vocational schools, culinary schools, and 4-year colleges may all provide training or relevant bachelor's degrees. |
| Transportation and material moving occupations | The Portland and Salem metropolitan areas employ the greatest numbers of individuals working in transportation and material moving occupations in Oregon. | 7.2% | Taking flight attendants as one example, O*NET lists the following skills as desirable: Speaking, service orientation, social perceptiveness, active listening, critical thinking, judgment and decision making, monitoring and coordination | A bachelor's degree in hospitality and tourism, public relations, business, social science, or communication may be a good fit for those interested in this career path. Also required are a valid passport and passing a background check. For flight attendants on international routes, fluency in another language may be beneficial. |
| Education, training and library occupations | Workers in this field are mostly located in and around the state's major metropolitan areas. | 6.7% | Working in a museum involves more than a nuanced understanding of the subject matter being covered, though undoubtedly that is vital to the role. Being able to clearly articulate the historical significance of an item and to convey that information in a compelling way through placards and other written information, audio tours and in-person tours of the museum are all extremely important. | Most museum workers must have at least a master's degree related to the field in which they work. Art history, public history, and natural history are all common themes for museums, so the exact degree sought may depend on a student's interests and goals. |
Other job categories of note in Oregon include production, management, and healthcare occupations.
Oregon financial aid

In 2013-2014, tuition and fees costs for colleges in Oregon averaged the following by institution type:
$4,555 for public two-year in-state
$8,932 for public four-year in-state
$36,614 for private nonprofit four-year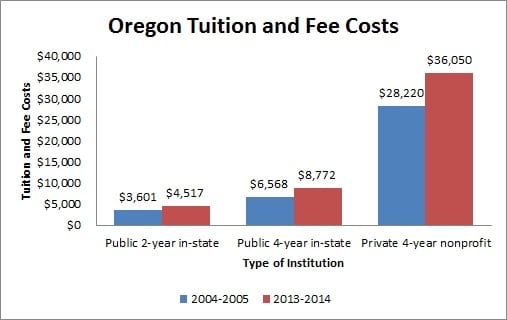 Of course, prices may vary by individual institutions. Tuition is set by the institution or board of regents, but there are many factors to the cost of college that are well within a student's control. Residency status, room/board, books/supplies, transportation, are all areas of potential savings Strategies for making a college education more affordable include:
Applying to institutions where you are an in-state resident
Earning your associate's degree at a community college before transferring to a four-year institution
Living close to campus to cut back on commute and parking costs
Taking some or all coursework online
Buying books and other supplies used
Having roommates or living at home while in school
In addition to the Free Application for Federal Student Aid (FAFSA), Oregon has a variety of state-level financial aid programs available. In addition to the Oregon opportunity grant, the Oregon Office of Student Access and Completion offers an online database representing over $18 million in free scholarships with a wide variety of criteria. Proof of state residency and other requirements may have to be met as proof of eligibility for state financial aid programs. Examples of other requirements include GPA, choice of major, demonstrated financial need, and more.
In 2013-2014, Federal Direct subsidized and unsubsidized loans were being offered at an interest rate of 3.86 percent. Private student loans may also be available at a variety of interest rates. Generally speaking, private loans currently offer lower interest rates than federal loans do. However, as the current economic recovery continues to take hold, this may not always be the case. Additionally, federal student loans typically have a wider variety of repayment options and other benefits that may outweigh those offered by private lenders.
In addition to state or federal financial aid, it's important for prospective students to remember individual institutions may offer their own forms of financial aid. Not everyone is eligible for all forms of financial aid, but seeking out as many opportunities as possible may help students pay for an education that might otherwise be out of reach.
To find out more about some of the schools and programs available in Oregon, be sure to check out the ones featured in our school listings below.
Article Sources
Sources
U.S. Bureau of Labor Statistics Occupational Employment Statistics: "Office and Administrative Support Occupations," May 2013, http://www.bls.gov/oes/current/oes430000, "Sales and Related Occupations," May 2013, http://www.bls.gov/oes/current/oes410000, "Food Preparation and Serving Related Occupations," May 2013, http://www.bls.gov/oes/current/oes350000, "Transportation and Material Moving Occupations," May 2013, http://www.bls.gov/oes/current/oes530000, "Education, Training, and Library Occupations," May 2013, http://www.bls.gov/oes/current/oes250000
O*NET OnLine: "43-9199.00 Office and Administrative Support Workers, All Other," December 10, 2014, http://www.onetonline.org/link/summary/43-9199.00, 41-4012.00 Sales Representatives, Wholesale and Manufacturing, Except Technical and Scientific Products," December 10, 2014, http://www.onetonline.org/link/summary/41-4012.00, "35-2021.00 Food Preparation Workers," December 10, 2014, http://www.onetonline.org/link/summary/35-2021.00, "11-3071.01 Transportation Managers," December 10, 2014, http://www.onetonline.org/link/summary/11-3071.01, "25-9099.00 Education, Training, and Library Workers, All Other," http://www.onetonline.org/link/summary/25-9099.00
"Tuition and Fees by Sector and State over Time," CollegeBoard, December 10, 2014, http://trends.collegeboard.org/college-pricing/figures-tables/tuition-fees-sector-state-time
"Trends in Student Aid," CollegeBoard, December 10, 2014, http://trends.collegeboard.org/sites/default/files/2014-trends-student-aid-source-data-final-web.xls
"Oregon Education Investment Board," OEIB, December 10, 2014, http://education.oregon.gov/Pages/Higher-Ed-Coordinating-Commission.aspx