Education in Oklahoma
While Oklahoma may be known primarily among the states for the Great Plains and its contributions to agriculture and fossil fuel production, the state is a surprisingly strong educational contender for prospective students whether they're interested in traditional academic majors or professional programs.
According to the National Center for Education Statistics (NCES), more than 150 institutions of higher education call The Sooner State home. These include:
Public 4-year institutions: 17
Public 2-year schools: 29
Private 4-year nonprofit schools: 16
Private 2-year nonprofit schools: 1
Private 4-year for-profit schools: 11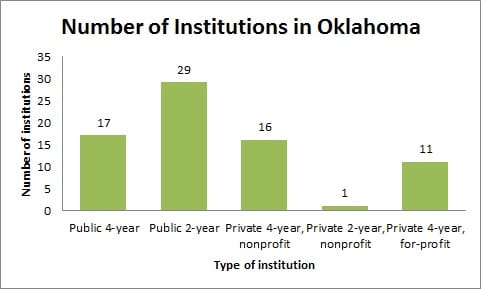 According to the 2014 census, Oklahoma had more than 3.8 million state residents. The Bureau of Labor Statistics (BLS) indicates that 1.5 million were "working age," in other words between the ages of 25 and 64. According to the Lumina Foundation, approximately 32.9 percent of working-age Oklahomans held at least a two-year degree in 2014, below the national average of 39.4 percent. However, this means that residents of the state with a degree or certificate may be especially competitive in the workforce. For those who are not permanent residents of Oklahoma, this means they may have the opportunity to take advantage of a high quality higher education environment in a state with one of the lowest cost of living indexes in the nation. In 2011-2012, over 53,000 students completed degrees or other awards in Oklahoma at Title IX institutions, approximately 1.2 percent of the total in the nation.
According to a 2014 NCES report, federal financial aid-eligible colleges and universities in Oklahoma granted 54,633 degrees and certificates to 53,332 graduating students in 2011-12. Among those students, 58 percent earned their degrees at four-year institutions and 27 percent earned two-year degrees. The remaining 15 percent, a total of 7,415 graduates, earned certificates from less-than-two-year institutions.
Here are some total undergraduate student enrollment numbers collected from the major public universities in Oklahoma according to the NCES, current as of the 2011-2012 academic year:
Northeastern State University: 11,114
Oklahoma City Community College: 22,578
Oklahoma State University: 45,279
University of Central Oklahoma: 20,464
The most recent data provided by the Oklahoma State Regents of Higher Education indicate that the state had nearly 237,000 students enrolled in public colleges in Oklahoma in academic year 2013. Over 27,000 were attending degree-granting independent colleges and universities. Of undergraduate students, 64 percent were enrolled full time and the remainder was enrolled part-time. According to the NCES, there were also an additional 27,000+ graduate students in Oklahoma.
Online education in Oklahoma
The reputation of online education has improved significantly over the past decade. Online delivery of course content has improved, leading to educational innovations including massive open online courses (MOOCs) that have now become commonplace. Course content can be delivered not only easily, but inexpensively via online formats. This means that an online education may be more economically feasible for students than a traditional college experience.
Even many traditional campuses in Oklahoma offer hybrid and fully online options, some at the course level and sometimes for entire programs and degrees. This has allowed students the potential to achieve their educational goals even if they live far away from the particular college, university or vocational school in Oklahoma that they would like to attend. Even students who live outside the state may be able to attend Oklahoma-based schools if they determine that such an institution is the best fit for their educational goals.
Numerous universities in Oklahoma have been recognized by national ranking agencies for certain programs among their online offerings. Here are a few of the nationally recognized online degrees offered by Oklahoma colleges and universities, alongside their national rank as calculated by US News & World Report:
By 2008 almost a quarter of all post-secondary students in the US were taking online courses. That trend has continued, and by 2012 more than 7.1 million post-secondary students nationally were taking at least one online course. In colleges in Oklahoma, more than 26,000 students were enrolled exclusively in distance education courses. An additional 45,000 were enrolled in at least one distance education course. That's approximately 28 percent of all post-secondary students in the state at the undergraduate and graduate levels.
Top jobs and careers in Oklahoma
Here's a table of some of the top careers in Oklahoma, along with information about each and some degrees that can help job candidates in each field stand out from the crowd:
| Occupation | Top regions | Why it's hot | Necessary skills | Relevant degrees |
| --- | --- | --- | --- | --- |
| Healthcare practitioners and technical occupations | Densest concentration in Oklahoma City and Tulsa but opportunity is statewide | The Bureau of Labor Statistics (BLS) indicates this occupational category pays an annual mean wage of $65,730 in Oklahoma. | Service orientation, active listening, social perceptiveness, coordination and monitoring | Individuals wishing to become more competitive for registered nursing positions may want to obtain a bachelor of science in nursing, although other educational paths are available. Registered nurses must also be licensed. |
| Management occupations | Tulsa and Oklahoma City | According to the Oklahoma State Regents for Higher Education, management is one of the most popular choices of major in the state. | Active listening, reading comprehension, speaking, critical thinking and monitoring | According to the BLS, administration services managers may have bachelor's degrees in business, engineering, or facilities management. |
| Education, training and library occupations | Tulsa and Oklahoma City | According to a 2004 report by the National Institute for Early Education Research, Oklahoma was ranked first in the nation for early childhood schooling. | Instructing, speaking, learning strategies, active listening, active learning, monitoring, social perceptiveness, critical thinking, judgment and decision making, reading comprehension | According to the BLS, Kindergarten and elementary school teachers typically must have a bachelor's degree as well as a state-issued certification or license. For higher grades, some states prefer or require a double major in elementary education as well as a content area like math or science. |
| Engineering Occupations | Tulsa and Oklahoma City, though opportunities are statewide. | Oklahoma is an important producer of natural gas and other fossil fuels, meaning engineers are always in demand. | Reading comprehension, active listening, speaking, complex problem solving and critical thinking | Most jobs in this occupational category require specialized training and formal postsecondary education. For example, a bachelor's degree in engineering, petroleum engineering, mechanical engineering, or chemical engineering. Individuals may also be more competitive for these types of positions if they participated in an internship or other form of cooperative education program while in school. |
| Business and financial operations occupations | Statewide | With large sectors of Oklahoma's economy devoted to fossil fuels and agriculture, financial analysts are important to ensure these businesses run smoothly. | Critical thinking, reading comprehension, writing, speaking and active listening | Typically, financial analysts have a bachelor's degree in finance, business, or a related area. A master's degree and/or MBA may be required for more advanced positions. |
Other job categories of note in Oklahoma include sales, production and transportation and materials moving occupations.
Financial aid in Oklahoma
In 2014-2015, tuition and fees costs in Oklahoma averaged the following by institution type, according to data from the College Board:
Public two-year in-state schools

2004-2005: $2,649
2014-2015: $3,493

Public four-year in-state schools

2004-2005: $4,447
2014-2015: $6,895

Private nonprofit four-year schools

2004-2005: $17,678
2014-2015: $23,897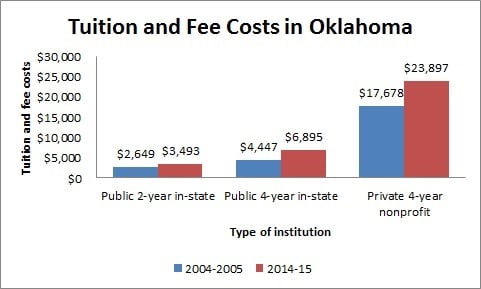 Individual institution's costs will, of course, vary. Students may not be able to control their selected institution's tuition, but there are a variety of factors that can be controlled. Strategies that may make education more affordable for students include:
Applying for in-state residency
Living close to campus for a short commute, and potentially biking to campus
Taking some or all coursework online
Buying books and other supplies used when possible
Having roommates while in school, or living at home
Working part-time or full-time while in school
Oklahoma has an extremely low cost of living index, so living expenses for state residents may not be as high as they would be elsewhere in the country. Additionally, most students who enroll at colleges and universities in Oklahoma will fill out the Federal Application for Student Aid (FAFSA), each year during their college career.
The information recorded on the FAFSA is used by many different potential sources of student aid at both the state and federal level to determine student eligibility and financial need. In addition to the FAFSA, Oklahoma has a variety of state-level financial aid programs available. More information is available at the OK College Start website, but options include:
Oklahoma's Promise
Academic Scholars Program
Regional University Baccalaureate Scholarship
Future Teachers Scholarship Program
Teacher Shortage Employment Incentive Program
Heroes Promise Scholarship Program
Proof of state residency and other requirements may have to be provided as proof of eligibility for state financial aid programs. In 2013-2014, Federal Direct subsidized and unsubsidized loans were being offered at an interest rate of 3.86 percent. Private student loans may also be available at a variety of interest rates. Currently, private loans may offer lower interest rates than federal loans do, but this may not always be the case. Additionally, federal student loans typically have a wider variety of repayment options and other benefits that may be better than those offered by private lenders.
In addition to state and/or federal forms of financial aid, prospective students should remember that individual institutions may offer their own forms of financial aid. Different people will be eligible for different forms of aid, but seeking out as many opportunities as possible may help students pay for their education. Students should aim to be proactive in seeking aid. It's not uncommon to end up with numerous smaller awards from a variety of sources as opposed to a single award covering all their costs.
To find out more about some of the schools and programs available in Oklahoma, be sure to check out the ones featured in our school listings below.
Article Sources
Sources
US News & World Report: "Northeastern State University, Online Programs," http://www.usnews.com/education/online-education/northeastern-state-university-207263, "Oklahoma City University, Online Programs," http://www.usnews.com/education/online-education/oklahoma-city-university-207458, "Oklahoma Panhandle State University, Online Programs," http://www.usnews.com/education/online-education/oklahoma-panhandle-state-university-207351, "Oklahoma State University, Online Programs," http://www.usnews.com/education/online-education/oklahoma-state-university-main-campus-207388, "Oral Roberts University, Online Programs," http://www.usnews.com/education/online-education/oral-roberts-university-207582, "Rogers State University, Online Programs," http://www.usnews.com/education/online-education/rogers-state-university-207661, "Southeastern Oklahoma State University, Online Programs," http://www.usnews.com/education/online-education/southeastern-oklahoma-state-university-207847, "University of Central Oklahoma, Online Programs," http://www.usnews.com/education/online-education/university-of-central-oklahoma-206941, "University of Oklahoma, Online Programs," http://www.usnews.com/education/online-education/university-of-oklahoma-norman-campus-207500, "University of Tulsa, Online Programs," http://www.usnews.com/education/online-education/university-of-tulsa-207971, "Cameron University, Online Programs," http://www.usnews.com/education/online-education/cameron-university-20691
U.S. Bureau of Labor Statistics, Occupational Outlook Handbook: "Administrative Services Managers," http://www.bls.gov/ooh/management/administrative-services-managers, "Registered Nurses," http://www.bls.gov/ooh/healthcare/registered-nurses, "Petroleum Engineers," http://www.bls.gov/ooh/architecture-and-engineering/petroleum-engineers, "Financial Analysts," http://www.bls.gov/ooh/business-and-financial/financial-analysts, Elementary School Teachers (except special education)," http://www.bls.gov/ooh/education-training-and-library/kindergarten-and-elementary-school-teachers,
O*NET OnLine: "Nursing Assistants," http://www.onetonline.org/link/summary/31-1014.00, "General and Occupations Managers," http://www.onetonline.org/link/summary/11-1021.00, "Kindergarten Teachers (except special education)," http://www.bls.gov/ooh/education-training-and-library/kindergarten-and-elementary-school-teachers, "Petroleum Engineers," http://www.onetonline.org/link/summary/17-2171.00, "Financial Analysts," http://www.onetonline.org/link/summary/13-2051.00
Trends in Higher Education, Tuition and Fees by Sector and State over Time, http://trends.collegeboard.org/college-pricing/figures-tables/tuition-fees-sector-state-time
OK.Collegestart.org, https://secure.okcollegestart.org/Financial_Aid_Planning/_default.aspx
Oklahoma, College Navigator, National Center for Education Statistics, http://nces.ed.gov/collegenavigator/?s=OK
May 2013 State Occupational Employment and Wage Estimates, Louisiana, http://www.bls.gov/oes/current/oes_ok
A Stronger Nation through Higher Education, An Annual Report from Lumina Foundation, http://www.luminafoundation.org/files/resources/a-stronger-nation-through-higher-education-2014.pdf
Postsecondary Completers and Completions: 2011-12, Web Tables, U.S. Department of Education, March 2014, http://nces.ed.gov/pubs2014/2014033.pdf
Degrees of Progress in the State of Higher Education in Oklahoma, 2013, Oklahoma State Regents for Higher Education, http://www.okhighered.org/studies-reports/annual-report/annual-report2013.pdf
Enrollment in Distance Education Courses, by State: Fall 2012, Web Tables. U.S. Department of Education, June 2014, http://nces.ed.gov/pubs2014/2014023.pdf
Online Education, US News & World Report, http://www.usnews.com/education/online-education