Education in Nevada
According to the National Center for Education Statistics (NCES), the state of Nevada is home to a total of 51 colleges, universities, trade schools and community education centers. As of 2013, the postsecondary institutions in the state were counted as follows:
Public 4-year: 6
Public 2-year: 4
Private 4-year, nonprofit: 3
Private 2-year, nonprofit: 1
Private 4-year, for-profit: 8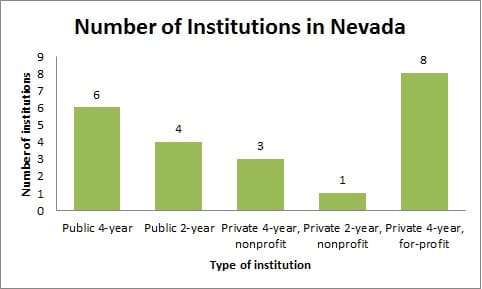 In addition to schools offering two-year and four-year degrees, Nevada is home to a number of institutions that can take less than two years to complete. Included in these schools are postsecondary institutions that teach cosmetology or technical training. Instead of offering traditional degree programs, these schools usually culminate in a certificate of achievement or diploma. Also, instead of offering instruction on a wide range of academic disciplines, they typically focus on career training.
When it comes to degree attainment, colleges in Nevada have a history of conferring numerous two-year and four-year degrees. A 2014 NCES report shows federal financial aid-eligible in-state schools granted 22,235 degrees and certificates during the 2011-12 school year alone. Among those who earned a degree, 68 percent earned their degrees at four-year institutions and 25 percent earned two-year degrees. The remaining 7 percent of students, a population comprised of 1,976 graduates, earned certificates from less-than-two-year institutions.
Although student populations vary from school to school, Nevada boasts impressive enrollment figures. As of Spring 2013, the following schools reported these enrollment figures:
College of Southern Nevada: 34,177
Nevada State College: 3,377
University of Nevada-Las Vegas: 27,848
University of Nevada-Reno: 18,776
Western Nevada College: 3,975
Great Basin College: 3,181
Truckee Meadows Community College: 11,204
Online education in Nevada
Although online education is still in its infancy in many regions, colleges in Nevada have joined the distance education bandwagon in force. Online courses and degree programs has been a boon to college students who may need to earn a degree, but have other obligations, such as families or full-time jobs, to consider. Expanding access isn't the only reason online education in Nevada has been so beneficial, however.
Since online courses and degree programs use significantly fewer resources than traditional offerings, they can often be more affordable for students. All of these benefits mean lower costs and additional flexibility for Nevada's online students, many of whom may be attending school for the first time.
A number of colleges in Nevada have been recognized on a national level for specific online degree programs or their overall performance. Here are a few examples of awards bestowed upon these programs, alongside their national rank as calculated by U.S. News & World Report:
This sample of rankings only represents a few colleges in Nevada offering online learning. Plenty of other schools offer online learning programs. For example, the College of Southern Nevada offers online degrees in a wide range of disciplines including Accounting, Casino Management, Business Management, Dental Hygiene, Psychology and English. Touro University in Nevada offers many graduate degrees that can be completed entirely online including Master's degrees in Camp Administration and Leadership, Education, and Nursing.
Highlighted jobs and careers in Nevada
Students who invest in a college degree will typically want to put that degree to use right away by pursuing a new career. The following table, drawing on data from the U.S. Department of Labor's Bureau of Labor Statistics (BLS), provides information on some of the in-demand careers in the state of Nevada, as well as details on degree and job requirements:
Occupation
Top Regions
Why It's Hot
Necessary Skills
Relevant Degrees
Cost Estimators
Las Vegas – Paradise, Reno – Sparks
According to figures from the U.S. Department of Labor, employment for cost estimators is expected to surge 60 percent in Nevada from 2012 to 2022. That's more than five times the expected rate of increase for all occupations combined nationally.
Analytical skills, attention to detail, communication skills, technical skills, excellent time management, deductive reasoning, experience using advanced mathematical principles
The BLS reports most employers hire candidates with Bachelor's degrees. A strong background in mathematics helps too, along with courses in engineering, construction science, or statistics. Earning a Bachelor's degree in construction science or engineering is the easiest way to get started in this career.
Electrical and Electronics Drafters
Las Vegas – Paradise
Job prospects are expected to be hot for this career during the next decade. The BLS projects that employment for electrical and electronics drafters in Nevada will increase 48 percent from 2012 to 2022. When compared to the national growth predicted for this career over the same timeframe (2%), it's easy to see why so many students drawn to this field would consider pursuing their dreams in Nevada.
Critical thinking skills, attention to detail, artistic ability, a creative mind, the ability to think outside of the box, technical skills, problem solving skills, the ability to manage time effectively, knowledge of computers and computer systems
Most electrical and electronics drafters begin their careers by attending a trade or technical school and earning a certificate of achievement or Associate's degree in Drafting.

While pursuing formal education in this field, students should seek out courses in mathematics, science, and computer technology. Computer graphics and drafting courses will also come in handy for those who pursue this career.

Interpreters and Translators
Las Vegas – Paradise
Interpreters and translators are expected to see some of the best job prospects over the next decade nationally, with a projected 46 per increase from 2012 to 2022. The story in Nevada is similar; the BLS predicts that employment for these workers in this state should increase about 44 percent during the same time frame. Excellent job prospects contribute to the popularity of this career, as do high wages.
Critical thinking skills, cultural sensitivity, concentration, interpersonal skills, absolute fluency in more than one language, excellent communication skills, computer skills, empathy
The BLS reports that most interpreters and translators begin their careers by earning a Bachelor's degree.

Typically, most interpreters and translators pursue a Bachelor's degree in English or another language, although the educational backgrounds for these workers vary widely.

Medical Equipment Repairers
Las Vegas – Paradise, Reno – Sparks
Jobs for medical equipment repairers are expected to increase 30 percent nationally from 2012 to 2022. But the news is even better for professionals in this field who reside in Nevada. According to the U.S. Department of Labor, employment for medical equipment repairers is expected to increase 37 percent in the state from 2012 to 2022.
Communication skills, manual dexterity, ability to read manuals and follow concise instruction, mechanical skills, problem-solving skills, physical stamina
Earning an Associate's degree in Biomedical Technology or Engineering is a smart way to get started in this career. However, candidates for certain jobs may need a Bachelor's degree to get started.
Construction Managers
Las Vegas – Paradise, Reno – Sparks
U.S. Department of Labor figures show that employment for construction managers in Nevada is projected to surge 36 percent from 2012 to 2022. Meanwhile, relatively high wages add to this career's appeal.
Knowledge of advanced mathematics, problem-solving skills, deductive reasoning skills, the ability to manage others, effective communication skills, organizational ability, customer service skills, initiative, writing and speaking skills
Most employers prefer to hire candidates who have experience in construction and/or management and a Bachelor's degree in a construction-related field.

That's why Bachelor's degrees in Construction Management are popular for these workers, as are degrees in Architecture and Engineering.
These are just a few of the careers with high growth potential in Nevada. U.S. Department of Labor figures show that other careers, such as logisticians, geographers, actuaries, materials scientists and diagnostic medical sonographers, are expected to be in demand as well.
Earning a degree in any one of these fields is never a guarantee of employment, but research has shown that a college degree and formal education drastically improve one's job prospects.
Nevada financial aid info
Average college tuition can vary based on a variety of factors. Some of the factors include the choice of a public or private school, nonprofit or for-profit institution, and length of the program. Fortunately, a 2014 report published by the College Board provides information on the average cost of college in Nevada, along with how much tuition has grown over the past decade.
The following College Board data provides a snapshot of where college tuition in Nevada is in today's dollars, and where it was ten years ago:
Public 2-year in-state

2004-05: $1,590
2014-15: $2,700

Public 4-year in-state

2004-05: $2,874
2014-15: $6,418

Private 4-year nonprofit

2004-05: $19,650
2014-15: $28,999
One of the first thing students at colleges and universities in Nevada will be asked to fill out is a Federal Application for Student Aid, or FAFSA form. The information collected on this form will help colleges and universities determine if you are eligible for any federal aid, and if so, how much. Meanwhile, some institutions will use it to determine if you are eligible for any state aid as well.
Nevada students can turn to the Nevada System of Higher Education for information on initiatives aimed at improving postsecondary education access and quality. However, there is no central agency in Nevada offering students support and information on state-specific financial aid. Students who want to learn more can reach out directly to schools in the state to inquire about any aid that may be available, as well as how to apply.
Some in-state colleges also list financial aid opportunities like scholarships and grants directly on their websites. For example, the University of Nevada-Reno offers an array of resources on their financial aid page, including information on external scholarships, university scholarships, and college-based scholarships. The school also offers an external scholarship search engine that can help students find more information on any school-specific aid that may be available.
Different financial aid packages and types of aid come with their own requirements. Students who apply for aid can benefit from learning all they can about specific requirements, and can do so by checking with individual agencies. Some types of aid, such as scholarships and grants, may not need to be repaid, while other types, such as loans, will need to be repaid over time.
To find out more about some of the schools and programs available in Nevada, be sure to check out the ones featured in our school listings below.
Article Sources
Sources:
CareerOneStop, Top 50 Fastest-Growing Occupations, http://www.careerinfonet.org/oview1.asp?next=oview1&Level=edu4&optstatus=&jobfam=&id=1&nodeid=3&soccode=&stfips=32&ShowAll=
College Board, Tuition and Fees by Sector and State over Time, http://trends.collegeboard.org/college-pricing/figures-tables/tuition-fees-sector-state-time
Construction Managers, Occupational Outlook Handbook, 2014-15 Edition, http://www.bls.gov/ooh/management/construction-managers
Construction Managers, Occupational Employment and Wages, May 2013, http://www.bls.gov/oes/current/oes119021
Cost Estimators, Occupational Outlook Handbook, 2014-15 Edition, Bureau of Labor Statistics, http://www.bls.gov/ooh/business-and-financial/cost-estimators
Cost Estimators, Occupational Employment and Wages, May 2013, http://www.bls.gov/oes/current/oes131051
Drafters, Occupational Outlook Handbook, 2014-15 Edition, Bureau of Labor Statistics, http://www.bls.gov/ooh/architecture-and-engineering/drafters
Electrical and Electronics Drafters, Occupational Employment and Wages, May 2013, http://www.bls.gov/oes/current/oes173012
Interpreters and Translators, Occupational Outlook Handbook, 2014-15 Edition, http://www.bls.gov/ooh/media-and-communication/interpreters-and-translators
Interpreters and Translators, Occupational Employment and Wages, May 2013, http://www.bls.gov/oes/current/oes273091
Medical Equipment Repairers, Occupational Outlook Handbook, 2014-15 Edition, Bureau of Labor Statistics, http://www.bls.gov/ooh/installation-maintenance-and-repair/medical-equipment-repairers
Medical Equipment Repairers, Occupational Employment and Wages, May 2013, http://www.bls.gov/oes/current/oes499062
Nevada, College Navigator, National Center for Education Statistics, http://nces.ed.gov/collegenavigator/?s=NV&ct=3&ic=2
Office of Financial Aid and Scholarships, University of Nevada – Reno, http://www.unr.edu/financial-aid/understanding-financial-aid/scholarships
Postsecondary Completers and Completions: 2011-12, Web Tables, U.S. Department of Education, March 2014, http://nces.ed.gov/pubs2014/2014033.pdf
University of Nevada – Reno, Online Programs, U.S. News and World Report, http://www.usnews.com/education/online-education/university-of-nevada-reno-182290
University of Nevada – Las Vegas, Online Programs, U.S. News and World Report, http://www.usnews.com/education/online-education/university-of-nevada-las-vegas-182281