Education in Minnesota
According to the National Center for Education Statistics (NCES), more than 150 colleges, universities and other institutions of higher education call The Land of 10,000 Lakes home. These include:
Public 4-year universities: 12
Public 2-year colleges: 41
Private 4-year universities: 34
Private 2-year nonprofit: 2
Private 4-year for-profit: 39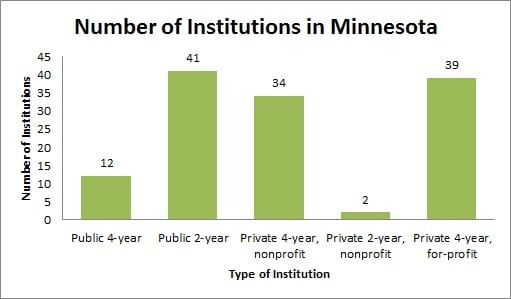 With its population of 5.3 million according to recent census data, Minnesota is the 12th largest and 21st most populated states in the U.S. The state's population is concentrated in the Twin Cities metro area (Minneapolis-St. Paul), home to 60 percent of the state's residents.
According to a 2014 study by 24/7 Wall St., Minnesota had the tenth-highest percentage of adults with bachelor's degrees in the United States. The Census Bureau estimates that in 2013, Minnesota also had one of the nation's lowest poverty rates at just 9.8 percent of all residents and a 3.7 percent unemployment rate as of January 2015. Further, the Bureau estimates that Minnesota's median household income from 2009-2013 was $59,836, the 12th highest in the country.
Minnesota has an extremely diversified economy, including agriculture, forestry, manufacturing and shipping. As a result, the state is clearly an excellent place to live and work. Whether they are interested in traditional colleges and universities or vocational programs, people who want to live in Minnesota may benefit from braving the frigid winters and pursuing higher education in the state.
Of Minnesota's 5.3 million residents, the U.S. Bureau of Labor Statistics (BLS) indicates that 2.7 million were "working age," which is defined as adults between the ages of 25 and 64. According to the Lumina Foundation, approximately 47.7 percent of working-age Minnesota residents hold a two- or four-year degree, which is significantly more than the national average of 39.4 percent. With an overall workforce so educated, a college degree or professional certificate may be required in order for an individual to be competitive in Minnesota's workforce. In 2011-2012, over 95,000 students completed degrees or other awards in Minnesota at Title IX institutions. This is over two percent of the total in the nation.
More specifically, according to a 2014 National Center for Education Statistics (NCES) report, federal financial aid-eligible colleges and universities in Minnesota granted 98,870 degrees and certificates to 95,377 graduating students in 2011-12. Among those students, 70 percent earned their degrees at four-year institutions and 28 percent earned two-year degrees. The remaining two percent, a total of 2,459 graduates, earned certificates from less-than-two-year institutions.
Here are some total undergraduate student enrollment numbers collected from the major public universities in Minnesota, current as of Fall 2014:
Minnesota State University – Mankato: 13,467
Metropolitan State University: 7,647
University of Minnesota – Twin Cities: 34,449
Saint Cloud State University: 15,134
The most recent data provided by the National Center for Education Statistics Integrated Postsecondary Education Data System (NCES IPEDS) indicate that the state had 451,661 students enrolled in active postsecondary institutions in academic year 2012. Data from the Minnesota Office of Higher Education show 433,952 students as of Fall 2014. Of these, 66.5 percent are undergraduate students, 26.3 percent are graduate students, and the remaining 7.2 percent are high school students enrolled in college coursework.
Of postsecondary students, 59 percent were enrolled full time and the remainder were enrolled part-time. According to the Minnesota Office of Higher Education, "Undergraduate enrollment increased 3 percent from 2005 but decreased 12 percent from 2010 to 2014."
Online Education in Minnesota
Online education has increased rapidly over the last decade. Initially, many were skeptical of the quality of this format when compared to traditional face-to-face models of instruction. Perhaps initially, those individuals were correct in their assumptions. Like any new technology, however, subsequent iterations have improved considerably.Even traditional colleges and universities in Minnesota now offer courses in hybrid and fully online formats, whether at the individual course level or for entire programs and degrees. This has had the happy side effect of enabling students to achieve their educational goals even if they live far away from the particular college, university or vocational school in Minnesota that they would like to attend. Additionally, during the winter months when travel becomes difficult in this region of the country, students can still make it to their virtual classrooms. Even students who live outside Minnesota may choose to attend schools in the Gopher State, if they determine that an institution there is the best fit for their educational goals.
Several Minnesota colleges and universities that offer online programs have been recognized by national ranking agencies. Here are a few Minnesota colleges and universities that offer online programs, alongside their national rank as calculated by U.S. News & World Report:
By 2008, almost one quarter of all postsecondary students in the United States were taking online courses. That trend has gained momentum, and by 2012 over 7.1 million postsecondary students nationally were taking at least one online course. According to the NCES, in Minnesota colleges, more than 119,000 students were enrolled exclusively in distance education courses. An additional 57,000 were enrolled in at least one distance education course. That's approximately 38 percent of all post-secondary students in the state at the undergraduate and graduate levels.
Top Jobs and Careers in Minnesota
Here's a table of some of the top careers in Minnesota, along with information about each and some degrees that can help job candidates in each field stand out from the crowd:
| Occupation | Top regions | Why it's hot | Necessary skills | Relevant degrees |
| --- | --- | --- | --- | --- |
| Bookkeeping, accounting and auditing clerks | Twin Cities | The BLS indicates that this occupational category pays an annual mean wage of $38,220 in Minnesota. | Active listening, reading comprehension, speaking, critical thinking, mathematics | For many such positions only a high school diploma and on-the-job training are required. However, Individuals wishing to become more competitive for bookkeeping positions may want to become certified in bookkeeping and the software they will use on the job. Postsecondary coursework or a bachelor's degree in accounting may also be useful, especially for individuals interested in advancing to positions as accountants or auditors. |
| Retail Salespersons | Twin Cities | According to the BLS, this occupational category has an annual mean wage of $24,130 in Minnesota. However, more than 85,000 workers are employed in this category statewide. | Active listening, persuasion, speaking, service orientation, negotiation | The level of education required depends on the industry and an individual's goals. Those selling technical or very expensive items may need postsecondary coursework to familiarize them with the product and industry terminology. Those interested in advancing into management positions may need a college degree in an industry related topic or in management. |
| Registered nurses | Opportunities exist statewide | In Minnesota, the mean annual wage for registered nurses is $71,450. | Service orientation, active listening, social perceptiveness, coordination and monitoring | Individuals wishing to become more competitive for registered nursing positions may want to obtain a bachelor of science in nursing, although other educational paths are available. Registered nurses must also be licensed. |
| General and Operations Managers | Statewide, but particularly in metro areas like the Twin Cities. | According to the BLS, the mean annual wage in this occupational category in Minnesota is $103,270. | Active listening, reading comprehension, speaking, critical thinking and monitoring | Typically, general and operations managers have a bachelor's degree in business or a related area such as hospitality management, leisure studies, human resources, or finance. A master's degree may be required for more advanced positions or at larger organizations. |
| Sales Representatives, Wholesale and Manufacturing, Except Technical and Scientific Products | Twin Cities | According to the BLS, this occupational category has an annual mean wage of $72,460 in Minnesota. | Active listening, speaking, persuasion, social perceptiveness, critical thinking | According to the BLS, a degree in a field related to the product sold, such as chemistry, biology, or engineering, is often required. For nontechnical products, degrees in marketing, economics, or communication may make one more competitive. |
Other job categories of note in Minnesota include food preparation workers, cashiers, personal care aides and office clerks.
Financial Aid in Minnesota
In 2014-2015, tuition and fees costs in Minnesota averaged the following by institution type:
Public two-year in-state

2004-2005: $4,774
2014-2015: $5,391

Public four-year in-state

2004-2005: $8,130
2014-2015: $10,527

Private nonprofit four-year

2004-2005: $26,133
2014-2015: $35,242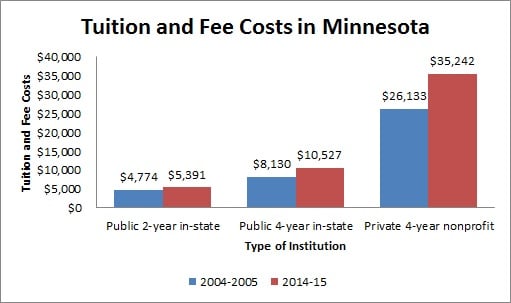 In general, tuition rates in all categories in Minnesota are among the highest in the country. Obviously, however, individual institution's prices will vary, and according to the Minnesota Office of Higher Education, "few students or families are expected to pay, out of pocket, the full two- or four-year price of attendance." While students may not be able to control their college or university's tuition rates, there are a variety of factors that are within an individual's control. Strategies for making one's education more affordable include:
Applying for in-state residency
Living close to campus for a short commute, and potentially biking or taking public transportation to campus
Taking some or all coursework online
Buying books and other supplies used or in e-formats when possible
Having roommates while in school, or living at home
Working part-time or full-time while in school
Most students who enroll at colleges and universities in Minnesota will fill out the Federal Application for Student Aid, or FAFSA, each year. The information recorded on the FAFSA is used by many different potential sources of state and federal student aid as well as to determine an individual student's financial need and eligibility for programs of interest. In addition to the FAFSA, Minnesota has state and private financial aid programs. More information is available at the Minnesota Office of Higher Education website, but options include:
Minnesota State Grant
Minnesota Child Care Grant
Minnesota Public Safety Officer's Survivor Grant
Alliss Opportunity Grant Program
Grants for Dislocated Workers
Military Service Education Benefits
Minnesota Academic Excellence Scholarship
Minnesota Achieve Scholarship
Minnesota Indian Scholarship
Minnesota Educational Assistance for War Orphans
Minnesota Veterans' Dependents Assistance Program
Education Vouchers for Former Youth In Care
Regardless of their ultimate career goals, prospective students should be careful to seek a regionally accredited institution if seeking a traditional academic degree. Accreditation is one of the primary ways the quality of an institution is judged. There are six regional accreditors in the United States. In Minnesota, the accreditation body is the North Central Association of Colleges and Schools (NCA), though some Minnesota ire colleges and universities are accredited by the Accrediting Council for Independent Colleges and Schools (ACICS).
In addition to private, state and federal forms of financial aid, prospective students should remember that colleges and universities may offer their own unique financial aid opportunities. Eligibility will vary for each person and each institution, but investigating any and all opportunities is prudent. Rarely will sources of aid approach eligible individuals directly, so students should expect to be proactive when seeking aid. Usually, students receive multiple small awards from numerous sources, rather than one large award covering all their costs. Though it may be more work upfront, seeking out grants and scholarships that do not have to be repaid is a better long-term financial choice than simply taking out student loans, which can have a negative effect on one's finances post-graduation.
To find out more about some of the schools and programs available in Minnesota, be sure to check out the ones featured in our school listings below.
Article Sources
Sources
Minnesota, College Navigator, National Center for Education Statistics, http://nces.ed.gov/collegenavigator/?s=MN
May 2013 State Occupational Employment and Wage Estimates, Minnesota, http://www.bls.gov/oes/current/oes_mn
"America's Most (and Least) Educated States," 24/7 Wall St., http://247wallst.com/special-report/2014/09/23/americas-most-and-least-educated-states/2/
"Minnesota Quickfacts," The U.S. Census Bureau, http://quickfacts.census.gov/qfd/states/27000
"A Stronger Nation through Higher Education, An Annual Report from Lumina Foundation," Lumina Foundation, http://www.luminafoundation.org/files/resources/a-stronger-nation-through-higher-education-2014.pdf
"Postsecondary Completers and Completions: 2011-12, Web Tables," U.S. Department of Education, March 2014, http://nces.ed.gov/pubs2014/2014033.pdf
"Table 304.10: Total fall enrollment in degree-granting postsecondary institutions, by state or jurisdiction: Selected years, 1970 through 2012," NCES IPEDS, https://nces.ed.gov/programs/digest/d13/tables/dt13_304.10.asp
"Enrollment at a Glance," Minnesota Office of Higher Education, http://www.ohe.state.mn.us/fc/741/pg.cfm
"Full-Time and Part-Time Status Enrollment Trends," Minnesota Office of Higher Education, http://www.ohe.state.mn.us/dPg.cfm?pageID=762
U.S. News & World Report, school profiles: "College of St. Scholastica," http://www.usnews.com/education/online-education/college-of-st-scholastica-174899, "Concordia University – St. Paul," http://www.usnews.com/education/online-education/concordia-university-st-paul-173328, "St. Catherine University," http://www.usnews.com/education/online-education/st-catherine-university-175005, "St. Mary's University of Minnesota," http://www.usnews.com/education/online-education/saint-mary-s-university-of-minnesota-174817, "University of Minnesota – Crookston," http://www.usnews.com/education/online-education/university-of-minnesota-crookston-174075, "University of St. Thomas," http://www.usnews.com/education/online-education/university-of-st-thomas-174914
"Enrollment in Distance Education Courses, by State: Fall 2012, Web Tables," U.S. Department of Education, June 2014, http://nces.ed.gov/pubs2014/2014023.pdf
"Online Education," U.S. News & World Report, http://www.usnews.com/education/online-education
"Bookkeeping, Accounting and Auditing Clerks," Occupational Employment and Wages, May 2014, U.S. Bureau of Labor Statistics, http://www.bls.gov/ooh/office-and-administrative-support/bookkeeping-accounting-and-auditing-clerks
"Bookkeeping, Accounting and Auditing Clerks," Occupational Information Network, http://www.onetonline.org/link/summary/43-3031.00
"Retail Salespersons," Occupational Information Network, http://www.onetonline.org/link/summary/41-2031.00
"Retail Sales Workers," Occupational Employment and Wages, May 2014, U.S. Bureau of Labor Statistics, http://www.bls.gov/ooh/sales/retail-sales-workers
"Registered Nurses," Occupational Employment and Wages, May 2014, U.S. Bureau of Labor Statistics, http://www.bls.gov/ooh/healthcare/registered-nurses
"Registered Nurses," Occupational Information Network, http://www.onetonline.org/link/summary/29-1141.00
"General and Operations Managers," Occupational Information Network, http://www.onetonline.org/link/summary/11-1021.00
"Management Occupations," Occupational Employment and Wages, May 2014, U.S. Bureau of Labor Statistics, http://www.bls.gov/ooh/management/
"Sales Representatives, Wholesale and Manufacturing, Except Technical and Scientific Products," Occupational Information Network, http://www.onetonline.org/link/summary/41-4012.00
"Sales Representatives, Wholesale and Manufacturing, Except Technical and Scientific Products," Occupational Employment and Wages, May 2014, U.S. Bureau of Labor Statistics, http://www.bls.gov/ooh/sales/wholesale-and-manufacturing-sales-representatives
"Trends in Higher Education, Tuition and Fees by Sector and State over Time," CollegeBoard, http://trends.collegeboard.org/college-pricing/figures-tables/tuition-fees-sector-state-time
"Financial Aid You Don't Repay," Minnesota Office of Higher Education, http://www.ohe.state.mn.us/mPg.cfm?pageID=1296