Education in Michigan
Michigan currently has between two and three hundred institutions of higher education. This includes a variety of public, private, not for profit and for-profit schools. There are numerous options for prospective students in the Great Lakes State across various academic or professional interests.
In the 2012-2013 academic year, the state of Michigan had more than half a million enrolled students in its various post-secondary schools. Of these, approximately two hundred fifty thousand were attending four-year colleges and universities in Michigan and nearly three hundred thousand were attending community colleges. Over one hundred thousand additional students were enrolled in career and technical education training programs. That brings Michigan's total number of enrolled undergraduate level post-secondary students to over six hundred seventy thousand. The numbers are even higher if graduate programs are included.
Michigan is also host to a number of different types of educational institutions. This includes, according to the National Center for Education Statistics, 16 public four-year institutions, 31 public 2-year schools, 64 private 4-year nonprofit schools, 13 private 2-year nonprofits and 13 private 4-year for-profit schools.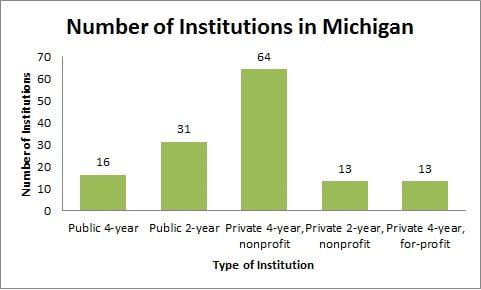 According to the U.S. Census Bureau, of the approximately 9.8 million state residents, more than 35 percent have at least a two-year degree and approximately 25 percent have attained a bachelor's degree or higher. In 2011-2012, based on numbers from the National Center for Education Statistics, nearly 140,000 students completed degrees or other awards in Michigan at Title IX institutions, three percent of the total in the nation.
Online education in Michigan
Once upon a time, online education was considered by some to be a poor substitute for traditional in-person courses. As web-based delivery methods for course content were developed, however, online education gradually became recognized by many as a robust and feasible option for higher education.
Today, many of Michigan's institutions of higher education offer hybrid and fully online options, whether for individual courses or entire programs and degrees. In a state as large as Michigan, this means even students who do not live near a college, university, or vocational school have the opportunity to expand their educational horizons. Additionally, even students who do not reside in Michigan can attend Michigan-based schools if they determine that institution is the best fit for their educational needs.
By 2008, nearly a quarter of post-secondary students in the U.S. were taking online courses, and by 2012 over 7.1 million students nationwide were taking at least one online course according to a 2014 report by Babson Survey Research Group and Quahog Research Group. In Michigan, more than forty eight thousand students were enrolled exclusively in distance education courses and an additional seventy two thousand were enrolled in at least one distance education course. That's nearly 20 percent of all post-secondary students in the state at the undergraduate and graduate levels.
Here are a few of the standout Michigan online schools and programs according to rankings from U.S. News and World Report:
Top jobs and careers in Michigan
According to the Bureau of Labor Statistics (BLS) May 2013 State Occupational Employment and Wage Estimates, the top 5 job categories in Michigan are as follows:
| Occupation | Top regions | Percentage of in-state employment | Necessary skills | Relevant degrees |
| --- | --- | --- | --- | --- |
| Office and administrative support occupations | Grand Rapids and the Warren-Troy-Farmington Hills metropolitan areas employ significant percentages of office and administrative support workers. | 15% | According to O*NET OnLine, the skills required for office and administrative support jobs include: Writing, active listening, reading comprehension, speaking, time management, service orientation, critical thinking, judgment and decision making. | Associate's degrees may make individuals more competitive for these positions. Those interested in advancing to more specialized positions may seek the appropriate degree or certification. Examples of related specializations may include accounting, business administration, or communications. |
| Production occupations | Grand Rapids, Warren-Troy-Farmington Hills and the Detroit-Livonia-Dearborn metropolitan areas employ significant percentages of workers in this category. Production occupations, particularly, thrive in the state because the automobile industry, chemical companies, and manufacturers make up much of Michigan's big business. | 10% | O*NET suggests that production workers should possess the following abilities: deductive reasoning, problem sensitivity and oral comprehension. | Many production occupations only require a high school diploma or equivalent. However, assembly lines and other production centers are becoming increasingly computerized, requiring the use of complex and expensive equipment. As a result, such positions require may require specialized postsecondary training. |
| Sales and related occupations | Grand Rapids, Warren-Troy-Farmington Hills and the Detroit-Livonia-Dearborn metropolitan areas employ many of the state's workers in this category | 10% | According to O*NET, skills required to work as a sales engineer include the following: Persuasion and negotiation, social perceptiveness, critical thinking, reading comprehension, writing, active listening and learning, judgment and decision making. | According to the BLS, sales engineers typically need a bachelor's degree in engineering or a related field. Depending on the industry these workers may also have a degree in the sciences, for example, chemistry. Sales experience or training may also be beneficial for those interested in these types of positions. |
| Food preparation and serving related occupations | As with most occupational categories in the state, the densest population centers employ the majority of workers in food preparation and service. These include Grand Rapids, Warren-Troy-Farmington Hills and the Detroit-Livonia-Dearborn metropolitan areas. | 9% | O*NET suggests the following as important skills to work in food preparation and service: active listening, service orientation, speaking, social perceptiveness and instruction. | BLS data suggest that a high school diploma or equivalent is sufficient for most careers in food preparation and service. However, individuals interested in careers as food service managers may wish to seek out educational training. Options for such training include community colleges, technical or vocational schools, culinary schools, or 4-year colleges. |
| Healthcare practitioners and technical occupations | Grand Rapids, Warren-Troy-Farmington Hills and the Detroit-Livonia-Dearborn metropolitan areas employ significant percentages of workers in this occupational category. | 6.5% | Taking physician assistants as one example, O*NET lists the following skills as desirable: active listening, critical thinking, service orientation, social perceptiveness, judgment and decision making and complex problem solving. | Most jobs in this category require specialized training and postsecondary education. Physician assistants, for example, typically need a master's degree from an accredited institution. The coursework in such a degree would cover topics including pathology, human anatomy, physiology, clinical medicine, pharmacology, physical diagnosis and medical ethics. |
Other job categories of note in Michigan include education, transportation and material moving and management.
Financial aid in Michigan

In 2013-2014, The state of Michigan averaged its tuition and fees costs around the following:
$3,215 for public two-year in-state
$11,600 for public four-year in-state
$21,180 for private nonprofit four-year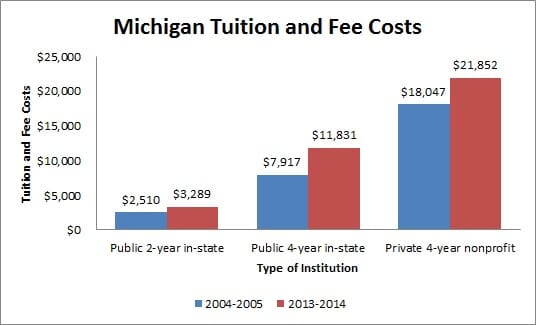 Of course, prices may vary by individual institutions. In addition to the Free Application for Federal Student Aid (FAFSA), several Michigan financial aid programs are also available, including:
Children of Veterans Tuition Grant
Dual Enrollment
GEAR UP programs
Michigan Competitive Scholarship
Michigan Nursing Scholarship
Michigan Tuition Grant
Police and Fire Fighter's Survivors Tuition Grant
Teacher Loan Forgiveness
Tuition Incentive Program
In 2013-2014, Federal Direct subsidized and unsubsidized loans were being offered at an interest rate of 3.86 percent. Private student loans may be available at a variety of interest rates. Additionally, individual institutions may offer their own forms of financial aid.
To find out more about some of the schools and programs available in Michigan, be sure to check out the ones featured in our school listings below.
Article Sources
Sources
"MI Student Aid – Student Financial Aid," State of Michigan, December 1, 2014, http://www.michigan.gov/mistudentaid"Tuition and Fees by Sector and State over Time," CollegeBoard, December 1, 2014, http://trends.collegeboard.org/college-pricing/figures-tables/tuition-and-fees-sector-and-state-over-time
"College Undergraduate Enrollment," MI School Data, December 1, 2014, https://www.mischooldata.org/CareerAndCollegeReadiness/IheEnrollmentByIhe.aspx
"State & County QuickFacts – Michigan," U.S. Census Bureau, July 8, 2014, http://quickfacts.census.gov/qfd/states/26000
"A stronger nation through higher education — and Michigan's role in that effort," Lumina Foundation, January 2011, http://www.luminafoundation.org/publications/state_data/Policy_Brief-Michigan.pdf
"Grade Change: Tracking Online Education in the United States," Grade Change: Tracking Online Education in the United States, January 2014, http://www.onlinelearningsurvey.com/reports/gradechange.pdf
"Enrollment in Distance Education Courses, by State: Fall 2012," U.S. Department of Education, Jane 2014, http://nces.ed.gov/pubs2014/2014023.pdf
"May 2013 State Occupational Employment and Wage Estimates Michigan," U.S. Bureau of Labor Statistics, April 1, 2014, http://www.bls.gov/oes/current/oes_mi
"Occupation Quick Search," O*NET OnLine, December 1, 2014, http://www.onetonline.org/