Education in Massachusetts
According to the National Center for Education Statistics (NCES), there are more than 200 colleges, universities, technical schools, career academies and other postsecondary institutions in the state of Massachusetts. Here's a breakdown of degree-granting schools in state by type:
Public 4-year: 14
Public 2-year: 16
Private 4-year, nonprofit: 84
Private 2-year, nonprofit: 13
Private 4-year, for-profit: 6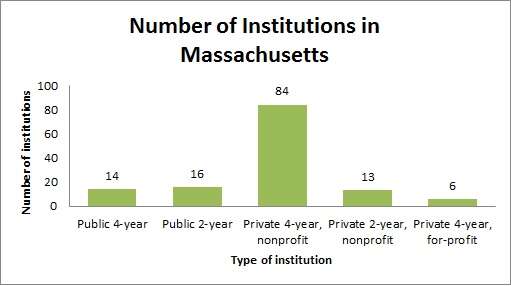 There are also more than 65 postsecondary institutions and colleges that take less than two years to complete in the Bay State. Generally speaking, individuals interested in these types of programs have professional ambitions that require specific career training. These programs often culminate in a certificate, as opposed to a traditional a degree. Beauty schools, barber colleges, technical institutes and non-accredited business schools all fall into this category.
According to a 2014 NCES report, federal financial aid-eligible colleges and universities in Massachusetts granted 130,245 degrees and certificates to 127,065 graduating students in the 2011-12 period. Among those students, 82 percent earned their degrees at four-year institutions and 13 percent earned two-year degrees. The remaining 5 percent, a total of 8,516 graduates, earned certificates from less-than-two-year institutions.
Here are some total undergraduate student enrollment numbers collected from the major public universities in Massachusetts, current as of Fall 2013:
Bridgewater State University: 8,411
Fitchburg State University: 3,622
Framingham State University: 4,216
Massachusetts College of Art and Design: 1,793
Massachusetts College of Liberal Arts: 1,428
Massachusetts Maritime Academy: 1,440
Salem State University: 6,372
Westfield State University: 5,263
Worcester State University: 4,528
Total Fall 2013 enrollment in the Massachusetts State University system was reported at 51,951, with 20 percent of those students, or approximately 10,000, enrolled part time.
Online education in Massachusetts
Steady growth in the availability of online courses and degree programs at Massachusetts' institutions of higher learning has provided an enhanced set of options for prospective students. In fact, Massachusetts Institute of Technology's (MIT) OpenCourseWare project has made course materials for over 2,000 MIT classes available online free of charge since 2002. Although the free courses do not offer college credit, they do enable individuals to pursue an education for personal enrichment purposes.
Online courses allow students to take class lectures on their own time and earn a college degree or other postsecondary achievement for less overall cost than at a traditional university. Numerous Massachusetts colleges and universities have been recognized by national ranking agencies for certain programs in their online catalog. Here are a few of the well-regarded online degrees offered by Massachusetts colleges and universities, alongside their national rank as calculated by U.S. News and World Report:
Not all types of program are ranked by U.S. News and World Report, and many more online degrees than those above can be earned at colleges and universities in Massachusetts. MIT and Harvard, for example, are both affiliated with the OpenCourseWare project, and as such have robust online options for credit as well.
Jobs and careers in Massachusetts
Here's a table of some of the top careers in Massachusetts according to data from the U.S. Bureau of Labor Statistics, along with information about each and some degrees that can help job candidates in each field stand out from the crowd:
Occupation
Top regions
Why it's hot
Necessary skills
Relevant degrees
Office and Administrative Support
Densest concentration in Boston but opportunity is statewide
The Bureau of Labor Statistics (BLS) indicates that Massachusetts is one of the top-paying states within this occupational category at $40,140. Because the state is so densely populated, opportunities for this type of position are not restricted to one geographic area. Additionally, public transportation is easily accessible, making commuting possible even for those without cars.
Writing, active listening, reading comprehension, speaking, time management, service orientation, critical thinking, judgment and decision making
Individuals wishing to become more competitive for office and administrative support positions may want to obtain at least an associate's level degree. Persons with ambitions to work in more specialized positions or even supervisory roles within this occupational category may be interested in earning a bachelor's degree or relevant additional certification.

Relevant office and administrative support specializations include areas like accounting, business administration, or communications. Additionally, employers in fields like healthcare or legal fields may also require specific coursework, degrees, certification, or other training.

Healthcare Practitioners
Boston
Healthcare practitioners cover a wide range of possible careers, including everything from family and general practitioners to chiropractors and physician assistants. The federal Affordable Care Act (ACA) was based on a 2006 healthcare reform law in Massachusetts that provided health insurance to nearly all of its residents. This means that demand for healthcare practitioners has been robust in the state for nearly a decade.
Active learning, active listening, critical thinking, reading comprehension, social perceptiveness, speaking, complex problem solving, judgment and decision making, monitoring, science, medical terminology, technical familiarity with medical devices
Most jobs in this occupational category require specialized training and formal postsecondary education. For example, physician assistants generally need a master's degree from an accredited institution. Relevant degrees would require coursework in areas such as pathology, human anatomy, physiology, clinical medicine, pharmacology, physical diagnosis, and medical ethics. Those interested in careers like medical and clinical laboratory technologists may seek a bachelor's degree in medical technology or the life sciences. Many positions in healthcare require individuals to receive a certification or be licensed.
Management Occupations
Boston
Management occupations, such as administrative services managers, plan, direct, and coordinate supportive services of an organization. With administrative and office support also a top career in the state, it is not surprising that the management side of administration is also in high demand.
Speaking, active listening, coordination, reading comprehension, time management, writing, critical thinking, negotiation, judgment and decision making, management of personnel resources
Management analysts typically need at least a bachelor's degree in an area such as business, engineering, or facility management to be considered seriously by employers. According to the BLS, a master's degree in business administration or a related field can enhance a manager's opportunities to advance to higher level positions.
Education, training, and library occupations
Boston
Elementary and secondary teachers are two of the largest types of employment within this occupational category in the state. Massachusetts is home to the oldest public elementary and high schools in the U.S., and also has the fifth-largest per-student expenditures at the primary and secondary levels according to the National Education Association.
Instructing, learning strategies, speaking, active listening, coordination, critical thinking, judgment and decision making, reading comprehension, social perceptiveness, time management
Secondary school teachers must usually have at least a bachelor's degree, most often in education with a content area emphasis based on the subject being taught, such as chemistry or history. A master's degree can make individuals more competitive for these types of positions. Educators also need a state-level certification or license.
Business and financial operations occupations
Boston
Massachusetts has one of the highest concentration of jobs and location quotients in this occupation, according to the BLS. It is also one of the top-paying states within this occupational category, with an annual mean wage of $79,820. Financial analysts, one of the more significant job titles within this occupational category in the state, has an even higher annual mean wage of $101,500.
Critical thinking, reading comprehension, writing, speaking, active listening, complex problem solving, judgment and decision making, mathematics, active learning, monitoring
Most positions require a bachelor's degree in an area such as accounting, economics, finance, statistics, mathematics, or engineering. To be competitive for more advanced positions, individuals may find it necessary to seek a master's in business administration (MBA) or finance.
Keep in mind no particular degree can guarantee a job after graduation. However, targeting your education to the career of your choice can help eliminate some of the uncertainty that new grads typically face when entering the workforce.
Massachusetts financial aid info
College tuition varies according to many different factors. Factors like major and choice of public or private institution can have a huge impact on the cost of your education. A 2014 report published by the College Board illustrates the increases the average cost of college between 2004 and 2014.
Here's a list of average tuition figures at colleges and universities in Massachusetts which gives an idea of the cost of an education in the state:
Public 2-year in-state

2004-05: $4,428
2013-14: $5,325

Public 4-year in-state

2004-05: $8,848
2013-14: $10,951

Private 4-year nonprofit

2004-05: $32,839
2013-14: $40,748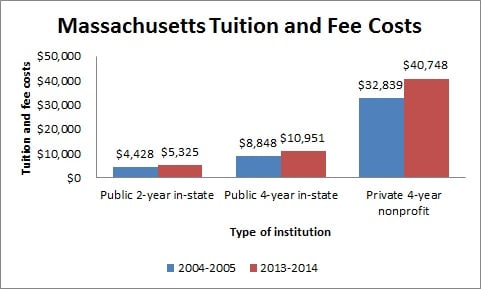 Most students who enroll at colleges and universities in Massachusetts will be asked to fill out the Federal Application for Student Aid (FAFSA), very early in their college career. The information recorded on FAFSA documentation is used by many different potential sources of student aid at both the state and federal level to determine student eligibility and financial need.
Students at Massachusetts colleges and universities can refer to the Massachusetts Department of Higher Education Office of Student Financial Assistance for information about state-specific grants, scholarships, tuition waiver programs and low-interest loans. State grants include:
MASSGrant
Massachusetts Gilbert Matching Student Grant
Massachusetts Cash Grant
Massachusetts Part-Time Grant
Massachusetts Public Service Grant
Paraprofessional Teacher Preparation Grant
Educational Rewards Grant
Performance Bonus Grant
State scholarships include:
Early Childhood Educators Scholarship
GEAR UP Scholarship
One Family Inc. Scholarship Program
Tomorrow's Teachers Scholarship
Math and Science Teachers Scholarship
The Scholar-Internship Match Fund Program
State tuition waiver programs include:
Career Advancement Program Tuition Waiver
Categorical Tuition Waiver
Collaborative Teachers Tuition Waiver
Graduate Tuition Waiver
High Technology Scholar/Intern Tuition Waiver
Incentive Program For Aspiring Teachers Tuition Waiver
Need Based Tuition Waiver
Valedictorian Program Tuition Waiver
The Massachusetts No Interest Loan (NIL) is interest-free and has a 10-year repayment period.
Many aid packages offered by state-specific organizations pull the majority of their required information from the FAFSA. However, students should check with the individual agencies and the specific college or university they will be attending to see if any additional eligibility requirements must be met.
To find out more about some of the schools and programs available in Massachusetts, be sure to check out the ones featured in our school listings below.
Article Sources
Sources:
"Massachusetts, College Navigator," National Center for Education Statistics, http://nces.ed.gov/collegenavigator/?s=MA
"Postsecondary Completers and Completions: 2011-12, Web Tables," U.S. Department of Education, March 2014, http://nces.ed.gov/pubs2014/2014033.pdf
"State University — Fall Full-Time Enrollment (FTE) Credit Headcount," Massachusetts Department of Higher Education Data Center, August 2014, http://www.mass.edu/datacenter/access/SUFallFTE.asp
"Online Education," U.S. News & World Report, http://www.usnews.com/education/online-education
U.S. News & World Report, December 2014: "Westfield State University, Online Programs," http://www.usnews.com/education/online-education/westfield-state-university-2189/bachelors, "University of Massachusetts, Dartmouth, Online Programs," http://www.usnews.com/education/online-education/university-of-massachusetts-dartmouth-2210/bachelors, "Bay State College, Online Programs," http://www.usnews.com/education/online-education/bay-state-college-3965/bachelors, "Fitchburg State University, Online Programs," http://www.usnews.com/education/online-education/fitchburg-state-university-2184/bachelors, "Bay Path College, Online Programs," http://www.usnews.com/education/online-education/bay-path-college-2122/bachelors, "Boston University, Online Programs," http://www.usnews.com/education/online-education/boston-university-OBUS0059/mba, "University of Massachusetts — Amherst, Online Programs," http://www.usnews.com/education/online-education/university-of-massachusetts-amherst-OBUS0707/mba, "Worcester Polytechnic Institute, Online Programs," http://www.usnews.com/education/online-education/worcester-polytechnic-institute-OBUS0870/mba, "Northeastern University, Online Programs," http://www.usnews.com/education/online-education/northeastern-university-OBUS0430/mba
U.S. Bureau of Labor Statistics, Occupational Employment and Wages, May 2013: "Secondary School Teachers," http://www.bls.gov/oes/current/oes252031, "Business and Financial Operations Occupations," http://www.bls.gov/oes/current/oes130000, "Financial Analysts," http://www.bls.gov/oes/current/oes132051, "Administrative Services Managers," http://www.bls.gov/oes/current/oes113011, "Physician Assistants," http://www.bls.gov/oes/current/oes291071, Medical Assistants," http://www.bls.gov/oes/current/oes319092
"Massachusetts, May 2013 State Occupational Employment and Wage Estimates," U.S. Bureau of Labor Statistics, http://www.bls.gov/oes/current/oes_ma
"Secondary School Teachers, Except Special Education," Occupational Information Network, http://www.onetonline.org/link/summary/25-2031.00
"Administrative Services Managers," Occupational Information Network, http://www.onetonline.org/link/summary/11-3011.00
"Physician assistants," Occupational Information Network, http://www.onetonline.org/link/summary/29-1071.00
"Medical Assistants," Occupational Information Network, http://www.onetonline.org/link/summary/31-9092.00
"Tuition and Fees by Sector and State over Time, Trends in Higher Education," The College Board, http://trends.collegeboard.org/college-pricing/figures-tables/tuition-and-fees-sector-and-state-over-time
"Information & Tools for Financial Aid," Massachusetts Department of Higher Education Office of Student Financial Assistance, December 2014, http://www.osfa.mass.edu/default.asp?page=aidPrograms