Education in Louisiana
According to the National Center for Education Statistics (NCES), more than 120 institutions of higher education call the Pelican State home. These include:
17 public four-year universities, including the Louisiana State University system, the Southern University system and the University of Louisiana system
17 public two-year community and technical colleges
17 private nonprofit two- and four-year colleges
28 private for-profit two- and four-year colleges
49 private schools, including seminary colleges and occupational schools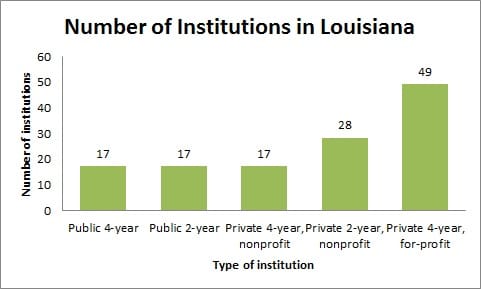 With this many options available, Louisiana is clearly a strong contender for prospective students whether they are interested in traditional academic majors or professional programs.
According to the 2014 census, Louisiana had more than 4.6 million state residents. The U.S. Bureau of Labor Statistics (BLS) indicates 1.8 million were of "working age," which means between the ages of 25 and 64. According to the Lumina Foundation, approximately 29 percent of working-age Louisianans hold at least a two-year degree. In 2011-2012, over 66,000 students completed degrees or other awards in Louisiana at Title IX institutions, approximately 1.5 percent of the total in the nation.
According to a 2014 NCES report, federal financial aid-eligible colleges and universities in Louisiana granted 73,258 degrees and certificates to 66,258 graduating students in 2011-12. Among those students, 51 percent earned their degrees at four-year institutions and 37 percent earned two-year degrees. The remaining 12 percent, a total of 7,874 graduates, earned certificates from less-than-two-year institutions.
Here are some total undergraduate student enrollment numbers collected from the major public universities in Louisiana, current as of Fall 2013:
Louisiana Tech University: 9,242
Southeastern Louisiana University: 13,747
University of Louisiana – Lafayette: 15,276
University of Louisiana – Monroe: 7,304
LSU at Alexandria: 2,211
LSU A&M: 25,074
LSU in Shreveport: 3,673
Southern University A&M: 5,756
Southern University in New Orleans: 2,690
The most recent data provided by the Louisiana Board of Regents indicates the state had over 220,000 students enrolled in post-secondary schools in academic year 2013. Of these, more than 141,000 were attending four-year colleges and universities and almost 80,000 were attending two-year colleges and technical institutions. According to the NCES, there were also an additional 32,000+ graduate students in Louisiana. Total Fall 2013 enrollment in the Louisiana public systems was reported as over 220,000, with 64 percent enrolled full time and 36 percent enrolled part-time. Approximately 89.4 percent were state residents while 7.9 percent were U.S. citizens from other states and 2.6 percent were international students.
Online education in Louisiana
Even as recently as a decade ago, online education was not especially well-regarded, and was not generally considered comparable to traditional in-person postsecondary education. Improvements in online delivery, however, have led to innovations like massive open online courses (MOOCs). The ease of online delivery of course content has made an online education economically feasible for more students than the traditional college experience.
As a result of having access to a broader population of potential students, institutions have begun to pay close attention to the quality of these courses. This has helped a variety of institutions reach students who might never have had the opportunity to earn a bachelor's degree only a generation ago and provide them with a quality education.
Even numerous traditional campuses in Louisiana offer hybrid and fully online options, both for specific courses as well as entire programs and degrees. As a result, students can achieve their educational goals even if they don't live near a college, university or vocational school. Even students who live outside the state can expand their educational horizons and attend Louisiana-based schools if they determine that's the best fit for their educational needs and goals.
Numerous Louisiana colleges and universities have been recognized by national ranking agencies for certain programs in their online catalog. Here are a few of the well-regarded online degrees offered by Louisiana colleges and universities, alongside their national rank as calculated by U.S. News and World Report:
Nearly a quarter of all post-secondary students in the U.S. were taking online courses by 2008. That trend has continued. In fact, by 2012 more than 7.1 million students in the nation were taking at least one post-secondary course in an online format. In Louisiana more than 11,000 students were enrolled exclusively in distance education courses. An additional 30,000 were enrolled in at least one distance education course. That's approximately 15 percent of all post-secondary students in the state at the undergraduate and graduate levels.
Louisiana Online, an organization sponsored by the Louisiana Board of Regents, provides a gateway to Louisiana public higher education institutions that offer online and hybrid degree programs and courses in the Louisiana Community and Technical College system, the Louisiana State University system, the University of Louisiana system and Southern University system. Their goal is to increase instructional access for everyone to the online courses and programs offered by institutions state-wide.
Highlighted jobs and careers in Louisiana
Here's a table of some of the top careers in Louisiana, along with information about each and some degrees that can help job candidates in each field stand out from the crowd:
Occupation
Top regions
Why it's hot
Necessary skills
Relevant degrees
Office and Administrative Support
Densest concentration in Baton Rouge and New Orleans but opportunity is statewide
The BLS indicates that this occupational category pays an annual mean wage of $30,490 in Louisiana.
Writing, active listening, reading comprehension, speaking, time management, service orientation, critical thinking, judgment and decision making
Individuals wishing to become more competitive for office and administrative support positions may want to obtain at least an associate's level degree. Persons with ambitions to work in more specialized positions or even supervisory roles within this occupational category may be interested in earning a bachelor's degree or relevant additional certification.

Relevant office and administrative support specializations include areas like accounting, business administration, or communications. Additionally, employers in fields like healthcare or legal fields may also require specific coursework, degrees, certification, or other training.

Sales and Related Occupations
Baton Rouge and New Orleans
The Pelican State relies heavily on the tourist industry, especially in the New Orleans area, and sales and related occupations play a large role in that. Louisiana is also very friendly to small businesses. Industry also generates chemical and petroleum products, including oil and coal, providing opportunities in industrial sales such as sales engineers.
Persuasion, Negotiation, Social perceptiveness, Critical thinking, Reading comprehension, Writing, Active listening and learning, Judgment and decision making
According to the BLS, sales engineers typically need a bachelor's degree in engineering or a related field. Depending on the industry these workers may also have a degree in the sciences, for example, chemistry. Sales experience or training may also be beneficial for those interested in these types of positions.
Transportation and Material Moving Occupations
Baton Rouge and New Orleans
Louisiana is home to the Port of South Louisiana, on the Mississippi River between the metropolitan areas of Baton Rouge and Louisiana. The Port of South Louisiana is the largest tonnage port in the Western Hemisphere as well as the largest bulk cargo port in the world. That's a lot of materials that need to be moved!
Critical thinking, Active listening, Equipment maintenance, Troubleshooting, Monitoring, Operation monitoring, Operation and control, Quality control Analysis, Repairing and Speaking
According to the BLS, marine engineers and naval architects must have a bachelor's degree in marine engineering, naval architecture, marine systems engineering, or marine engineering technology. Math and science courses are important, as well as cooperative education programs that provide college credit for structured job experience.
Healthcare practitioners
Baton Rouge and New Orleans
Healthcare practitioners cover a wide range of possible careers, including everything from family and general practitioners to chiropractors and physician assistants. The passage of the Affordable Care Act has led to an expansion in the availability of health insurance, and thus increased demand for providers of healthcare services.
Active learning, active listening, critical thinking, reading comprehension, social perceptiveness, speaking, complex problem solving, judgment and decision making, monitoring, science, medical terminology, technical familiarity with medical devices
Most jobs in this occupational category require specialized training and formal postsecondary education. For example, physician assistants generally need a master's degree from an accredited institution. Relevant degrees would require coursework in areas such as pathology, human anatomy, physiology, clinical medicine, pharmacology, physical diagnosis, and medical ethics. Those interested in careers like medical and clinical laboratory technologists may seek a bachelor's degree in medical technology or the life sciences. Many positions in healthcare require individuals to receive a certification or be licensed.
Construction and extraction occupations
New Orleans
Demand for construction and extraction occupations comes from two main sources. First, rebuilding New Orleans after Hurricane Katrina devastated the region in 2005. Second, Louisiana is rich in petroleum and natural gas, both onshore and offshore in state-owned waters.
Operation monitoring, Operation and control, Critical thinking, Monitoring, Repairing, Speaking, Active listening, Complex problem solving, Quality control analysis, Troubleshooting
Derrick operators rig derrick equipment and operate pumps. These positions are expected to grow faster than average with a growth rate of 19 percent. Becoming a derrick operator requires on the job training, although individuals interested in positions such as first-line supervisors, operating engineers, or petroleum engineers, may require additional on-the-job training as well as a bachelor's or master's degree in a related area such as petroleum engineering, chemical engineering, or mechanical engineering.
Other job categories of note in Louisiana include food preparation and serving and production occupations.
Financial aid in Louisiana
In 2013-2014, tuition and fees costs in Louisiana averaged the following by institution type according to the College Board:
Public two-year in-state

2004-2005: $2,186
2014-2015: $3,683

Public four-year in-state

2004-2005: $4,445
2014-2015: $7,314

Private nonprofit four-year

2004-2005: $24,655
2014-2015: $33,340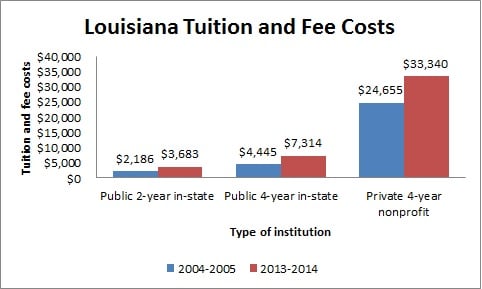 Of course, prices may vary by individual institutions. This means while a student may not have control over a particular institution's tuition, there are a variety of factors that can be controlled that may make the education more affordable, including:
Applying as an in-state resident
Living close to campus to cut back on commute and parking costs
Taking some or all coursework online
Buying books and supplies used
Having roommates or living at home while in school
Working part-time or full-time while in school
Most students who enroll at colleges and universities in Louisiana will be asked to fill out the Federal Application for Student Aid (FAFSA), early into their college career. The information recorded on your FAFSA is used by many different potential sources of student aid at both the state and federal level to determine student eligibility and financial need. In addition to the FAFSA, Louisiana has a variety of state-level financial aid programs available. More information is available at the Louisiana Office of Student Financial Assistance (LOSFA), but options include:
Go Grant
Taylor Opportunity Program for Students (TOPS)
START savings program (Louisiana's 529 College Savings Plan)
Proof of state residency and other requirements may have to be met as proof of eligibility for state financial aid programs. In 2013-2014, Federal Direct subsidized and unsubsidized loans were being offered at an interest rate of 3.86 percent. Private student loans may also be available at a variety of interest rates. Generally, while private loans may currently offer lower interest rates than federal loans do, this may not always be the case. Additionally, federal student loans typically have a wider variety of repayment options and other benefits that may outweigh those offered by private lenders.
In addition to state or federal forms of financial aid, it's important for prospective students to remember individual institutions may offer their own forms of financial aid. Not everyone is eligible for all forms of financial aid, but seeking out as many opportunities as possible may help students pay for an education that might otherwise be out of reach. Students should expect to be proactive in seeking aid. Most students will end up with numerous smaller awards from a variety of sources as opposed to a single award covering all their costs.
To find out more about some of the schools and programs available in Louisiana, be sure to check out the ones featured in our school listings below.
Article Sources
Sources
"Louisiana, College Navigator," National Center for Education Statistics, http://nces.ed.gov/collegenavigator/?s=LA
"Postsecondary Completers and Completions: 2011-12, Web Tables," U.S. Department of Education, March 2014, http://nces.ed.gov/pubs2014/2014033.pdf
"Online Education," U.S. News & World Report, http://www.usnews.com/education/online-education
U.S. News & World Report, January 2015: "Louisiana State University — Baton Rouge, Online Programs," http://www.usnews.com/education/online-education/louisiana-state-university-and-agricultural — mechanical-college-159391, "Northwestern State University of Louisiana, Online Programs," http://www.usnews.com/education/online-education/northwestern-state-university-of-louisiana-160038, "University of Louisiana–Lafayette, Online Programs, http://www.usnews.com/education/online-education/northwestern-state-university-of-louisiana-160038, "University of Louisiana–Monroe, Online Programs," http://www.usnews.com/education/online-education/university-of-louisiana-monroe-159993
U.S. Bureau of Labor Statistics, Occupational Employment and Wages: "Sales Engineers," http://www.bls.gov/ooh/sales/sales-engineers, "Marine Engineers and Naval Architects," http://www.bls.gov/ooh/architecture-and-engineering/marine-engineers-and-naval-architects, "Administrative Services Managers," http://www.bls.gov/oes/current/oes113011, "Physician Assistants," http://www.bls.gov/oes/current/oes291071, "Data for Occupations Not Covered in Detail," http://www.bls.gov/ooh/about/data-for-occupations-not-covered-in-detail, "Sales Engineers," http://www.bls.gov/ooh/sales/sales-engineers,
"May 2013 State Occupational Employment and Wage Estimates, Louisiana," U.S. Bureau of Labor Statistics, http://www.bls.gov/oes/current/oes_la
"Louisiana, State Education Data Profiles," NCES, http://nces.ed.gov/programs/stateprofiles/sresult.asp?mode=full&displaycat=4&s1=22
"Louisiana Higher Education Fact Book," Louisiana Board of Regents, http://as400.regents.state.la.us/pdfs/Retention/hesfb/Louisiana-Higher-Education-Fact-Book.pdf
"Administrative Services Managers," Occupational Information Network, http://www.onetonline.org/link/summary/11-3011.00
"Sales Engineers," Occupational Information Network, http://www.onetonline.org/link/summary/41-9031.00
"Ship engineers," Occupational Information Network, http://www.onetonline.org/link/summary/53-5031.00
"Physician assistants," Occupational Information Network, http://www.onetonline.org/link/summary/29-1071.00
"A Stronger Nation through Higher Education, An Annual Report from Lumina Foundation," Lumina Foundation, http://www.luminafoundation.org/files/resources/a-stronger-nation-through-higher-education-2014.pdf
"Enrollment in Distance Education Courses, by State: Fall 2012, Web Tables," U.S. Department of Education, June 2014, http://nces.ed.gov/pubs2014/2014023.pdf
"E-Learning: Increasing Your Learning Options," Louisiana Online, https://louisianaonline.org/Growth-of-Online-Learning.php
"Trends in Higher Education, Tuition and Fees by Sector and State over Time," The College Board, http://trends.collegeboard.org/college-pricing/figures-tables/tuition-fees-sector-state-time
Louisiana Office of Student Financial Assistance, http://www.osfa.la.gov/