Education in Indiana
According to the National Center for Education Statistics (NCES), there are 164 colleges, universities, technical and vocational schools, career academies and other postsecondary educational institutions in the state of Indiana. The types of schools in Indiana can be classified in the following way.
Public 4-year: 15
Public 2-year: 16
Private 4-year, nonprofit: 40
Private 2-year, nonprofit: 3
Private 4-year, for-profit: 29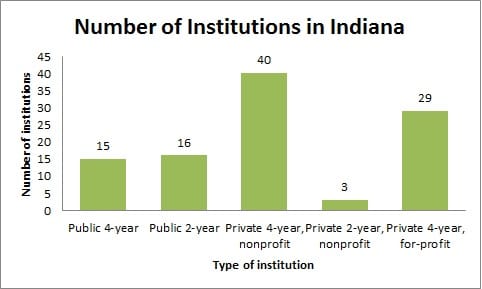 Institutions requiring less than two years to complete are prevalent throughout Indiana. Most schools in this category focus on providing career training to students with specific professional ambitions and typically culminate in a certificate, or license, instead of a degree. Most of these types of schools are beauty schools, barber colleges, culinary institutes, technical institutes and non-accredited business schools.
According to the Indiana Commission for Higher Education, Indiana ranked 43rd in the nation for the number of adults who have a Bachelor's degree. While any type of post-secondary education may offer a competitive advantage in the state, a Bachelor's degree can be particularly attractive to potential employers as the state is in need of college graduates.
The Indiana Commission for Higher Education reports that, through 2016, there will be more than 250,000 job openings in Indiana requiring some amount of higher education. More than 9,500 of these jobs will require an Associate's or certification for eligibility with the majority requiring at least a Bachelor's degree. When this fact is combined with the Indiana Commission's commitment to making higher education the most affordable when compared to peer states, it's clear that pursuing a higher education is advantageous and widely accessible.
There are a variety of potential in-state financial aid options as well. The Lumina Foundation selected Indiana as one of eleven states to participate in the "Making Opportunity Affordable" grant program. The program is designed to encourage policy makers to keep the higher education affordable. In two years, each state's efforts will be analyzed and the ones with the most effective cost-control strategies will be awarded an additional $2 million to invest in cost-control programs.
Accessible community college opportunities abound in Indiana and are quite economical when compared to some other options. Ivy Tech Community College, the state-run community college system, has more than 30 campuses statewide and is one of the largest community college systems in the nation with online, traditional and hybrid courses available in more than 75 communities. The system serves more than 200,000 students each academic year and the cost to earn a degree is approximately $3,860 per year. In comparison, earning a degree at one of Indiana University campuses will cost approximately $10, 000 per year for Indiana residents.
Though the below offers only a small sample of the many publicly available opportunities, it does share an overview of the enrollment numbers for Indiana colleges. Here are some total student enrollment numbers collected from the major public colleges and universities in Indiana as of fall 2014, according to the Indiana Commission on Higher Education:
Ball State University: 20,655
Indiana University, Bloomington: 46,416
Indiana University, South Bend: 7,859
Indiana State University: 13,178
Purdue University, Main: 23,005
Purdue University, Indianapolis: 30,690
Fall 2014 enrollment in the Indiana community college and public university system was reported as 328,159 with approximately 239,313 students enrolled full time as undergraduate or graduate students.
Online education in Indiana
Indiana has been at the forefront of developing innovative educational opportunities for college students. At many universities and colleges in Indiana, some online offerings can be found. Many schools offer online only degree programs. Others offer a combination of traditional in-class learning environments while others combine the two approaches into a hybrid. Schools like Capella University and other for-profit colleges have robust online educational infrastructure that are also widely accessible throughout Indiana.
Many colleges and universities in Indiana have been recognized by national ranking agencies for the excellence of particular online programs. Some examples of online programs offered by universities and colleges in Indiana that have been recognized by U.S. News and World Report:
Not all programs or schools are ranked by U.S. News and World Report. The publication typically only ranks traditional schools that offer online classes and even then, they do not include every such school in their list. For-profit private universities are also not typically included in their rankings. Many more online degrees than the above can be earned at colleges and universities throughout Indiana. Many schools inside and outside Indiana offer a variety of online courses for undergraduate and graduate programs and certifications in specific vocations.
Top jobs and careers in Indiana
Some of the highlight careers in Indiana are included in the table below. Included with this sample is information, provided the U.S. Bureau of Labor Statistics (BLS) and O*NET OnLine, regarding each career and some degrees that can help job candidates in each field stand out from the competition:
| Occupation | Top regions | Why it's hot | Necessary skills | Relevant degrees/Salary |
| --- | --- | --- | --- | --- |
| Elementary Teaching | Urban areas such as Indianapolis and Fort Wayne are in most need, but teacher shortages are reported throughout the state by the Indiana State Teachers Association | The Indiana Department of Workforce Development indicates the need for elementary school teacher employment will be approximately 20 percent higher than it is currently is by 2020. Preschool and Kindergarten teachers are in great demand. Fields of specialization such as Special Education are also in particularly high demand at all levels of elementary education. | Group speaking, active listening, materials organization, instructional design, social perceptiveness, subject proficiency, empathy, conflict mediation, written and oral comprehension, decision making | Teachers must have at least a Bachelor's degree. Indiana, unlike some states, will allow you teach without a degree in education and without a degree in the specific subject you teach. However, there is a certification process that must be completed. A degree in Special Education may be necessary to become a special education teacher in Indiana though it may not be mandatory. |
| Home/Personal Health Aides | Statewide | Home health aide jobs are among the fastest-growing careers in the country according to the BLS. Indiana is no exception. The Indiana Department of Workforce Development projects there will be a 70% increase in opportunities in this field by 2020. | Active listening, time management, oral communication, empathy, knowledge of medical terminology, technical proficiency with medical devices, situational awareness, understanding of physical health, psychology | While home health aide jobs don't typically come with formal education requirements, a degree in health and medical science can ensure that you have the skills you need to provide effective care to your clients. Home health aides who want to go deeper into the health care field can pursue LPN/LVN training or a medical assisting degree. |
| Veterinarian Technologists and Technicians | Statewide | Throughout the nation there is a high degree of turnover in this job. Additionally, nationwide spending on pets, including medical care for pets, is growing at a dramatic rate. As a result, jobs will be plentiful for the foreseeable future. The Indiana Department of Workforce Development research shows that demand for Vet Techs will increase by 53% by 2020 while, nationwide, the need is only expected to grow by 10%, according to the BLS. | Critical thinking, problem solving, oral communication, empathy, knowledge of animal physiology, pharmacology, medical technology and nutrition | Veterinarian Technologists and Technicians are also referred to as Veterinarian Assistants or Techs and are required to have certain educational qualifications that can be obtained with an Associate's Degree. |
| Biomedical Engineers | Indianapolis, Fort Wayne and other urban areas where medical centers, large private laboratories and university research projects are ongoing, | Expanded understanding of biomedical technology and a rising number of elderly people will contribute to the dramatic increase in employment among all health care professions including those that require a high degree of specialization. The Indiana Department of Workforce Development research shows that demand for biomedical engineers will increase by 53% by 2020. | Medical technology, physiology and biology, health care terminology, attention to detail, clinical hygiene, sanitary sampling and testing practices, public safety | This career requires a considerable amount of formal education with a Bachelor's Degree necessary for entry level positions. There are several programs throughout Indiana that offer the necessary degrees and training. |
| Marriage and Family Therapists | Statewide, urban centers | The Indiana Department of Workforce Development shows that the opportunities for marriage and family therapists will increase nearly 50% by 2020. The BLS reports nearly the same type of growth nationwide. One of the reasons for this growth is that more insurance carriers cover such therapy compared to prior years. | Active listening skills, effective communication skills, empathy, understanding of psychology | Family counselors typically need a degree in counseling, psychology or related field. They also need a license to practice. |
There are no guarantees a particular degree will lead to a job or that job growth projections will be on target. However, data indicates having some higher education can lead to much higher wages over the course of a lifetime, and insulate a graduate from dramatic fluctuations in the employment market. Furthermore, focusing education on a field projected to grow over the next several years can help eliminate some of the uncertainty new grads sometimes face when entering the workforce.
Indiana financial aid info
College tuition varies depending on factors such as major and choice of public or private institution. Unfortunately, tuition has risen throughout the nation at an exponential rate. Universities in Indiana are no exception. Fortunately, sources of financial aid for higher education have also increased.
Below is a list of average tuition figures at some major colleges and universities in Indiana as of 2014. You will see that the cost can vary significantly depending on the institution but financial aid is available at most schools and will be proportionate to overall cost.
Ivy Tech, Public 2-year in-state annual full-time enrollment cost: $3, 860
Ball State University, public 4-year in-state annual full-time enrollment cost: $9, 160
University of Notre Dame, private 4-year nonprofit 2013-14: $46, 237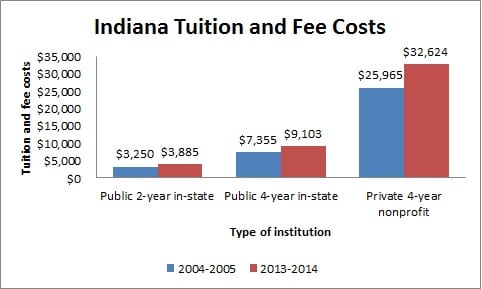 Like all students seeking financial aid at any accredited college in the nation, students seeking financial aid to attend colleges and universities in Indiana will need to fill out the Federal Application for Student Aid (FAFSA). The information recorded on the FAFSA is used by potential sources of student aid at the state and federal level to determine eligibility for financial aid. Many students qualify for at least some financial aid, including loans that must be repaid. If a student is currently or was previously a member of the United States Armed Forces, they may qualify for loans, grants and scholarships that are designed only for active members and veterans. For more information, visit the Indiana Department of Veteran Affairs.
For veterans and non-veterans alike, there are many resources available to identify financial aid opportunities. The first step is to determine if the school is accredited and thus eligible to distribute publicly available financial aid. To ensure a school is accredited, research them at the U.S. Department of Education's "Database of Accredited Postsecondary Institutions and Programs," and visit the individual school's website to determine available financial aid and requirements for applying.
For more information on aid available to pay for Indiana colleges and universities, refer to Indiana's Division of Student Financial Aid or the Indiana Student Financial Aid Association. Regions of Indiana also have geographically specific information on financial aid like the Central Indiana Community Foundation.
Some aid packages offered by state-specific organizations obtain the bulk of their required information from the FAFSA, but students should check with the individual agencies to see if any additional eligibility requirements must be met.
To find out more about some of the schools and programs available in Indiana, be sure to check out the ones featured in our school listings below.
Article Sources
Sources:
Bureau of Labor Statistics. "Biomedical Engineers." Occupational Outlook Handbook 2014-15 Edition, http http://www.bls.gov/ooh/architecture-and-engineering/biomedical-engineers
Bureau of Labor Statistics. "Home Health Care Aides." Occupational Outlook Handbook 2014-15 Edition, http://www.bls.gov/ooh/healthcare/home-health-aides
Bureau of Labor Statistics. "Mental Health Counselors and Marriage and Family Therapists." Occupational Outlook Handbook 2014-15 Edition, http://www.bls.gov/ooh/community-and-social-service/mental-health-counselors-and-marriage-and-family-therapists
Bureau of Labor Statistics. "Veterinarian Technologists and Technicians." Occupational Outlook Handbook 2014-15 Edition, http://www.bls.gov/ooh/healthcare/veterinary-technologists-and-technicians
Indiana, College Navigator, National Center for Education Statistics, http://nces.ed.gov/collegenavigator/?s=IN
Indiana Commission for Higher Education. "College Completion. Adult Enrollment," http://www.in.gov/che/files/Dashboard_13009.pdf
Indiana Department of Workforce Development. "Hoosiers by the Numbers," http://www.hoosierdata.in.gov/dpage.asp?id=39&view_number=2&menu_level=&panel_number=2
Indiana State Teachers Association. "What is causing Indiana's teacher shortage?" https://ista-in.org/what-is-causing-indianas-teacher-shortages
Ivy Tech Community College, http://www.ivytech.edu/about/
Lumina Foundation. "Making Opportunity Affordable," http://strategylabs.luminafoundation.org/wp-content/uploads/2013/10/tipsheetonperformancefunding-copy.pdf
The National Education Association, "Indiana State Teachers Association." http://www.nea.org/home/49848
US News and World Report. "Best Online Programs," http://www.usnews.com/education/online-education
Ball State University. "Bachelor's Degrees." Online Programs, U.S. News and World Report, http://www.usnews.com/education/online-education/ball-state-university-1786/bachelors
Ball State University. "Graduate Programs in Nursing." Online Programs, U.S. News and World Report, http://www.usnews.com/education/online-education/ball-state-university-ONUR0020/nursing
Indiana University-Bloomington. "Graduate Programs in Business," Online Programs, U.S. News and World Report, http://www.usnews.com/education/online-education/indiana-university-bloomington-OBUS0276/mba
Indiana University-Bloomington. "Graduate Programs in Education," Online Programs, U.S. News and World Report, http://www.usnews.com/education/online-education/indiana-university-bloomington-OEDU0324/education
Indiana University/Purdue University."Bachelor's Degrees." Online Programs, U.S. News and World Report, http://www.usnews.com/education/online-education/indiana-university-purdue-university-fort-wayne-1812/bachelors
Notre Dame News. "Notre Dame tuition increase same as previous year's." http://news.nd.edu/news/46383-notre-dame-tuition-increase-same-as-previous-years-4/
Purdue University-West Lafayette. "Graduate Degrees in Engineering." Online Programs, U.S. News and World Report, http://www.usnews.com/education/online-education/purdue-university-main-campus-OENG0108/engineering