Education in Delaware
According to the National Center for Education Statistics, 19 institutions of higher education call this relatively small state home. Included in that figure are diverse array of colleges, universities, technical schools and other postsecondary institutions. Here's a breakdown of degree-granting schools in Delaware, by type:
Public 4-year: 2
Public 2-year: 9
Private 4-year, nonprofit: 4
Private 2-year, nonprofit: 2
Private 4-year, for-profit: 1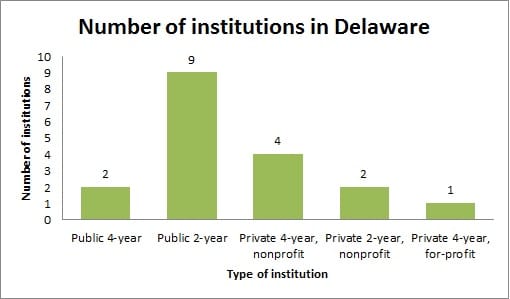 In addition to the degree-granting schools listed above, Delaware is also home to institutions of higher education that offer less-than-two-year degrees or credentials. In some cases, that might include postsecondary certifications, and in others, career diplomas or certificates. Programs that fall into this category primarily serve the purpose of teaching student specific skills or trades that can prepare them for quick entry into the workforce. Institutions that fit this description can include beauty schools, barber colleges, technical institutes and non-accredited business schools.
Among Delaware's institutions of higher education, you'll find exemplary graduation rates and degree completion. As a 2014 report from the National Center for Education Statistics found, federal financial aid-eligible colleges and universities in Delaware granted 13,418 degrees and certificates to 13,308 students during the 2011-2012 school year. Breaking the student's educational attainment down further shows that approximately 72 percent earned their degrees at four-year institutions. Meanwhile, 14 percent earned degrees at two-year institutions. The remaining 14 percent, a total of 1,866 graduates, earned certificates or postsecondary credentials from less-than-two-year institutions.
Although the state has a fairly small footprint, Delaware's colleges, universities, trade schools and community colleges educate thousands of students on an annual basis. Using data from the National Center for Education Statistics, we compiled this list of the total enrollment from institutions of higher education in the state of Delaware, current as of Fall 2013:
Academy of Massage and Bodywork: 68
Dawn Career Institute, Inc.: 638
Delaware College of Art and Design: 196
Delaware Learning Institute of Cosmetology: 80
Delaware State University: 4,336
Delaware Technical Community College – Owens: 4,429
Delaware Technical Community College – Stanton/Wilmington: 7,030
Delaware Technical Community College – Terry: 3,031
Goldey-Beacom College: 1,868
Harris School of Business – Dover: 438
Harris School of Business – Wilmington: 480
Margaret H. Rollins School of Nursing: 55
Paul Mitchell School: 129
Schilling-Douglas School of Hair Design: 146
University of Delaware: 22,166
Wesley College: 1,655
Widener University: 905
Wilmington University: 13,621
As you can see, the total fall enrollment for students at colleges in Delaware came out to 61,621 students in 2013. While the vast majority of the state's students attended either the University of Delaware or Wilmington University, other types of schools — including small community colleges and trade or technical schools – are represented too.
Online Education in Delaware
While online education is still gaining steam at trade schools, colleges and universities in Delaware, many of the state's institutions have blazed trails to offer a multitude of new hybrid and online offerings. Since online education has begun to take hold, a slew of new programs have been introduced with each passing year.
Part of the popularity of online education has to do with the level of convenience they offer. When you're pursuing a degree online, you're usually able to study and take exams at any time or place of your choosing. While this can be a valuable perk for nearly any time of student, it can be especially helpful to those who want to continue working or raising a family while they finish school. Meanwhile online programs at colleges in Delaware can help workers remain in the workforce – and continue building seniority – while they earn an advanced degree or learn new skills that could lead to higher pay or promotion.
Thanks to an overall dedication to online programming, several colleges and universities in Delaware have been recognized by national ranking agencies for certain programs in their online catalog. Here are a few of the award-winning online degrees offered by colleges in Delaware, alongside their national rank as calculated by U.S. News & World Report:
University of Delaware
Best Online MBA Programs (2015): No. 101
Best Online Graduate Nursing Programs (2015): No. 25
Wilmington University
Best Online Bachelor's Programs (2015): No. 161
The state's largest online education program comes from the University of Delaware. Currently, students can access the school's online learning platform to earn undergraduate degrees in Arts or RN-BSN, along with graduate degrees in a number of high demand industries including Business Administration, Economics, Engineering, Nursing, Social Studies and Educational Leadership.
Delaware's largest community college, Delaware Technical Community College, has also branched out into online learning. With its distance education program, students can choose to complete their studies in web-enhanced, hybrid, or fully online formats.
Top Jobs and Careers in Delaware
According to the U.S. Bureau of Labor Statistics, Delaware's workforce included 424,330 individuals in 2014. While the state's economy is strong overall, some careers and jobs offer better job prospects and wages than others. The following table illustrates the top jobs and careers in Delaware, along with the requirements needed to get started in each.
Occupation
Top Regions
Why It's Hot
Necessary Skills
Relevant Degrees
Diagnostic Medical Sonographers
Wilmington, Sussex County
As U.S. Department of Labor figures show, employment for diagnostic medical sonographers in Delaware could surge in the coming decade. Specifically, they predict a growth rate of 37 percent for these workers through 2022.

Excellent job prospects certainly add to the popularity of this career, but another popular perk of this occupation is quick entry into the workforce. Since becoming a diagnostic medical sonographer typically only requires an Associate's degree from an accredited school, it is possible to enter the workforce within two years of starting a program.

Interpersonal skills, physical stamina, technical ability, hand-eye coordination, attention to detail, decision-making skills
Most hospital and clinics that hire diagnostic medical sonographers expect candidates to have an Associate's degree from an accredited school at the very least. However, many people in this field choose to earn a Bachelor's degree in Diagnostic Medical Sonography or Sonography.

Someone in a related occupation, such as radiation therapy, may also be able to secure employment as a diagnostic medical sonographer after completing some supervised on-the-job training.

Meeting, Convention and Event Planners
Wilmington
Meeting, convention and event planning is often seen as an exciting alternative to a traditional office job. Instead of sitting in a cubicle all day, workers in this field get to spend their days visiting vendors, visualizing convention plans and state set-ups and meeting clients.

Because of the demand in this field, the U.S. Department of Labor predicts that employment could for these workers could surge up to 34 percent in Delaware from 2012 to 2022.

Interpersonal skills, negotiation skills, composure, organizational skills, problem-solving skills, communication skills
Although a bachelor's degree in any field is the typical requirement for this career, most get started with at least some experience in event planning.

Common degrees that meeting, convention and event planners get their start with include Bachelor's degrees in Public Relations, Communications, Business and Marketing.

Operations Research Analysts
Opportunities available statewide
The U.S. Department of Labor predicts a growth rate of approximately 28 percent for operations research analysts in Delaware through 2022.

In addition to excellent job prospects, however, other factors – such as high pay – help this career remain popular among students.

Analytical skills, problem-solving skills, ingenuity, math skills, writing skills, critical thinking skills, interpersonal skills and the ability to communicate effectively
Although a Master's degree might be required for certain research positions, a Bachelor's degree in a field such as Engineering, Mathematics, Physics, or Computer Science will usually suffice for entry-level positions. Degrees in Operations Research are also available from a small number of schools.

Since this career is analytical in nature, it requires not only a degree, but also relevant experience in quantitative analysis and advanced math.

Cost Estimators
Dover, Sussex County
In order to remain as productive as possible, businesses and corporations need qualified cost estimators to accurately predict how much projects and manufacturing schemes will cost. Due to the overall need for these workers, government figures show that employment for cost estimators in Delaware could increase by as much as 26 percent during the decade leading up to 2022.
Knowledge of advanced math, problem-solving skills, analytical skills, technical skills, time management skills, the ability to communicate effectively verbally or in writing
Most employers who hire cost estimators prefer candidates with a Bachelor's degree. However, some workers with an extensive background in construction might qualify for entry-level work.

Popular degrees for these workers include Construction Management, Building Science and Engineering. Experience or certifications in math and science-related fields can also help one get their foot in the door.

Physical Therapy Assistants
Opportunities are available all over the state
Almost every career in health care is growing in Delaware, and for good reason. Because of the overall demand for diagnostic and rehabilitative health care, many careers in this field are expected to grow quite a bit during the coming decade. The BLS reports that employment for physical therapy assistants in Delaware could even increase by as much as 26 percent from 2012 to 2022.

Quick entry into the workforce is also a factor in the popularity of this degree. Since candidates are typically only required to earn a two-year degree, they can usually begin working within a few years of starting their program.

Physical stamina, interpersonal skills, listening skills, dexterity, compassion
According to the Bureau of Labor Statistics, most physical therapy assistants get an Associate's degree from an accredited physical therapy assistant program.

These programs typically last around two years, and include courses in English, anatomy and physiology, psychology and algebra.
While no degree can guarantee you a job, it makes sense to pursue degrees at colleges in Delaware that are most likely to help you land your dream career.
Financial Aid in Delaware
Although college costs have been rising steadily all over the county, they can vary widely due to your choice of major and the type of school you choose. A 2014 report published by the College Board shows just how much the average cost of college has changed between 2005 and 2015. The following list of average college tuition figures in today's dollars for each type of institution in the state can give an idea of the overall upward trend in the cost of an education:
Public 2-year in-state

2004-05: $2,028
2014-15: $3,471

Public 4-year in-state

2004-05: $6,629
2014-15: $11,448

Private 4-year nonprofit

2004-05: $10,673
2014-15: $14,786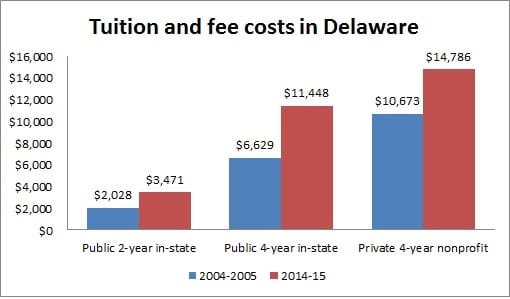 Although these tuition figures can seem high, it's important to know that you may qualify for substantial state or federal aid. To find out, you will most likely be asked to fill out a Free Application for Federal Student Aid form (FAFSA) very early on. The information you provide on the FAFSA can be used by state and federal level to determine student eligibility and financial need.
In addition to federal aid, you may also qualify for Delaware-specific aid. The Delaware Department of Education offers plenty of resources that can help you figure out what type of aid opportunities may be available to you based on your income and other factors. Meanwhile, they also offer resources on undergraduate and graduate financial assistance programs, regional partnerships and loan forgiveness programs. Certain types of financial aid may not even need to be paid back, although requirements and terms and conditions vary.
To find out more about some of the schools and programs available in Delaware, be sure to check out the ones featured in our school listings below.
Article Sources
Sources
College Navigator, National Center for Education Statistics, Delaware, http://nces.ed.gov/collegenavigator/?s=DE
Cost Estimators, Occupational Outlook Handbook, 2014-15 Edition, Bureau of Labor Statistics, http://www.bls.gov/ooh/business-and-financial/cost-estimators
Cost Estimators, Occupational Employment and Wages, May 2014, Bureau of Labor Statistics, http://www.bls.gov/oes/current/oes131051
Delaware Higher Education Office, Delaware Department of Education, http://www.doe.k12.de.us/Page/316
Diagnostic Medical Sonographers, Occupational Employment and Wages, May 2014, Bureau of Labor Statistics, http://www.bls.gov/oes/current/oes292032
Diagnostic Medical Sonographers and Cardiovascular Technologists and Technicians, Including Vascular Technologists, Occupational Outlook Handbook, 2014-15 Edition, Bureau of Labor Statistics, http://www.bls.gov/ooh/healthcare/diagnostic-medical-sonographers
Fastest Growing Occupations, CareerOneStop, http://acinet.org/oview1.asp?next=oview1&Level=edu4&optstatus=&jobfam=&id=1&nodeid=3&soccode=&stfips=10&ShowAll=
May 2014 State Occupational Employment and Wage Estimates, Bureau of Labor Statistics, Delaware, http://www.bls.gov/oes/current/oes_de
Meeting, Convention and Event Planners, Occupational Outlook Handbook, 2014-15 Edition, Bureau of Labor Statistics, http://www.bls.gov/ooh/business-and-financial/meeting-convention-and-event-planners
Meeting, Convention and Event Planners, Occupational Employment and Wages, May 2014, Bureau of Labor Statistics, http://www.bls.gov/oes/current/oes131121
Operations Research Analysts, Occupational Employment and Wages, May 2014, Bureau of Labor Statistics, http://www.bls.gov/oes/current/oes152031
Operations Research Analysts, Occupational Outlook Handbook, 2014-15 Edition, Bureau of Labor Statistics, http://www.bls.gov/ooh/math/operations-research-analysts
Physical Therapy Assistants and Aides, Occupational Outlook Handbook, 2014-15 Edition, Bureau of Labor Statistics, http://www.bls.gov/ooh/healthcare/physical-therapist-assistants-and-aides
Physical Therapy Assistants, Occupational Employment and Wages, May 2014, http://www.bls.gov/oes/current/oes312021
Postsecondary Completers and Completions: 2011-12, Web Tables, U.S. Department of Education, March 2014, http://nces.ed.gov/pubs2014/2014033.pdf
Tuition and Fees by Sector and State over Time, Trends in Higher Education, The College Board, http://trends.collegeboard.org/college-pricing/figures-tables/tuition-and-fees-sector-and-state-over-time
UD Online Distance Learning, University of Delaware, http://www.pcs.udel.edu/udonline/
University of Delaware, Online Programs, U.S. News & World Report, http://www.usnews.com/education/online-education/university-of-delaware-130943
Wilmington University, Online Programs, U.S. News & World Report, http://www.usnews.com/education/online-education/wilmington-university-131113