Education in Colorado
Colorado has a number of different institutions of higher education. According to the Colorado Department of Higher Education, all types of schools are represented in this total including:
13 public four-year universities
18 public two-year colleges
103 private and seminary colleges
354 private occupational schools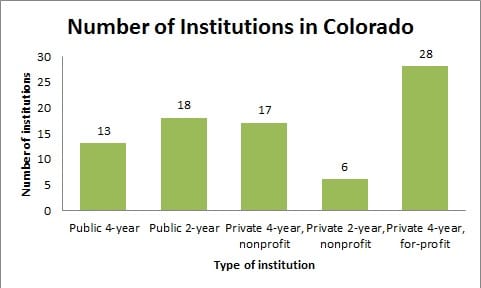 The Centennial State is home to many options for prospective students interested in a wide variety of academic majors and professional programs.
The most recent data provided by the Colorado Department of Higher Education indicate universities in Colorado had over four hundred thousand student enrolled in its various post-secondary schools. Of these, approximately 150,000 were attending four-year colleges and universities and another hundred thousand or so were attending community colleges. More than 122,000 were attending private or seminary schools and more than 31,000 were enrolled at private occupational schools.
Of the approximately 5.2 million state residents, the 2008 census indicates that 2.7 million were "working age," which means 25-64 years of age. Approximately 45 percent of working-age Coloradans hold at least a two-year degree, making the state one of the most educated in the nation. In 2011-2012, over 85,000 students completed degrees or other awards in Colorado at Title IX institutions, almost two percent of the total in the nation.
In fall 2012, over 131,000 individuals applied to four-year institutions, according to the Colorado Department of Higher Ed. Of these, 57 percent were state residents while the other 43 percent came from outside the state, made easier by the increasing presence of online coursework as addressed in the next section. Four-year colleges and universities in Colorado have an overall acceptance rate of 78 percent. In 2009-2010 the retention rate for four-year colleges in Colorado was 75.8 percent and for two-year institutions it was 53.8 percent.
Online education in Colorado
Improvements in online delivery have made online education an economically feasible option for some students. Additionally, institutions have begun to pay close attention to the quality of these courses, helping to provide a quality educational option for students who might never have had the opportunity to earn a bachelor's degree only a generation ago.
Even traditional universities in Colorado offer hybrid and fully online options, both for specific courses as well as entire programs and degrees. In a state like Colorado where the mountainous geography and harsh winter weather can make travel difficult, the availability of online courses can be a boon for students and instructors alike.
Students can achieve their educational goals even if they do not live near a college, university or vocational school. Additionally, even students who live outside the state can expand their educational horizons and attend Colorado-based schools if they determine that is the best fit for their educational needs and goals.
Nearly 25 percent of post-secondary students in the U.S. were taking online courses by 2008. That trend has continued, since by 2012 over 7.1 million students in the nation were taking at least one post-secondary course in an online format. In Colorado, over 72,000 students were enrolled exclusively in distance education courses. An additional 35,000 were enrolled in at least one distance education course. That's approximately 29 percent of all post-secondary students in the state at the undergraduate and graduate levels.
Colorado Online and Distance Education is a consortium of Colorado's public four-year institutions. This consortium provides information on all Colorado's distance programs, including online courses and programs. Their mission is to help students "overcome the boundaries of distance and time" and provides not only lists of schools and programs, but also information on how to succeed as an online student and in all types of distance education programs.
Here are some of the highlighted online programs in Colorado based on rankings from U.S. News and World Report:
Colorado State University–Global Campus

Best Online Bachelor's Program #7

University of Denver

Best Online Bachelor's Programs #27
Best Online Graduate Business Programs (Excluding MBA) #22
Best Online Graduate Computer Information Technology Programs #29

University of Colorado–Denver

Best Online Graduate Criminal Justice Programs #9
Best Online Graduate Nursing Programs #5

Colorado Technical University

Best Online Graduate Computer Information Technology Programs #18
Best Online Graduate Criminal Justice Programs #22

University of Northern Colorado

Best Online Graduate Education Programs #13

University of Colorado–Colorado Springs

Best Online Graduate Engineering Programs #20
Top jobs and careers in Colorado
According to the Bureau of Labor Statistics (BLS) May 2013 State Occupational Employment and Wage Estimates, the top 5 job categories in Colorado are as follows:
Occupation
Top regions
Percentage of total in-state employment
Necessary skills
Relevant degrees
Office and administrative support occupations
Denver, Boulder, Colorado Springs and Fort Collins
15%
According to O*NET, the skills required for office and administrative support jobs include:

Writing
Active listening
Reading comprehension
Speaking
Time management
Service orientation
Critical thinking
Judgment and decision making

Individuals wishing to become more competitive for these types of positions may want to attain at least an associate's degree. Those interested in advancing to more specialized positions or supervisory roles within this occupational category may seek a bachelor's degree or relevant additional certification.
Sales and related occupations
Denver, Boulder, Colorado Springs and Fort Collins
11%
Sales is a broad category. To take sales engineers as an example, O*NET lists the following as required skills:

Persuasion and negotiation
Social perceptiveness
Critical thinking
Reading comprehension
Writing
Active listening and learning
Judgment and decision making

According to the BLS, a bachelor's degree in engineering or a related field is a common educational requirement for entry-level jobs as sales engineers. Depending on the exact industry in which an individual is employed, these workers may also need a bachelor's degree in the sciences, such as chemistry.
Food preparation and serving related occupations
Denver, Boulder, Colorado Springs and Fort Collins
9.5%
O*NET suggests the following as important skills to work in food preparation and service:

Active listening
Service orientation
Speaking
Social perceptiveness
Instruction

BLS data suggests a high school diploma or equivalent is sufficient for most careers in food preparation and service. However, individuals interested in advancing within the industry and perhaps pursuing careers as food service managers may wish to seek out educational training.
Business and financial operations occupations
Denver, Boulder, Colorado Springs and Fort Collins
7%
To take human resources specialists as one example, O*NET lists the following skills as desirable:

Active listening and learning
Reading comprehension
Judgment and decision-making
Monitoring and coordination of the actions of oneself and others
Social perceptiveness

Most individuals working in business and financial operations occupations, including human resources specialists, require at least a bachelor's degree in a related area. To be competitive applicants for positions as human resources specialists, for example, individuals would likely be expected to have a degree in human resources or business.
Education, training, and library occupations
Denver, Boulder, Colorado Springs and Fort Collins
5.9%
O*NET lists the following skills as desirable for secondary school teachers (excepting special education and career/technical education):

Instructing
Speaking
Active listening
Critical thinking
Judgment and decision making
Social perceptiveness
Time management

Secondary (also called high school) teachers must have a bachelor's degree, according to the BLS. Most individuals major in a subject area, such as English, history, or chemistry, as well as enrolling in a higher education teacher preparation program.
Other job categories of note in Colorado include transportation and material moving, healthcare, construction, and management.
Financial aid in Colorado
In 2013-2014, tuition and fees costs in Colorado averaged the following by institution type:
$3,902 for public two-year in-state
$9,487 for public four-year in-state
$37,064 for private nonprofit four-year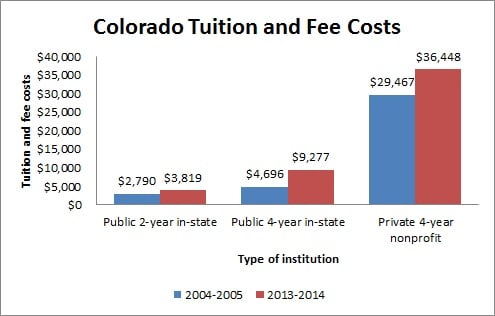 Of course, prices may vary by individual institutions. According to the Colorado Department of Higher Education, calculating the true total cost of college hinges on various different factors, including tuition, service fees, residency status, program, room and board, books/supplies and transportation. This means that while a student may not have control over an institution's tuition, there are a variety of factors that can be controlled that may make the education more affordable, including:
Applying as an in-state resident
Living close to campus to cut back on commute and parking costs
Taking some or all coursework online
Buying books and supplies used
Having roommates or living at home while in school
In addition to the Free Application for Federal Student Aid (FAFSA), Colorado has a variety of state-level financial aid programs available, including:
Need-based awards such as the Colorado Student Grant and the Colorado Graduate Grant
Colorado work-study
The dependent tuition assistance program, which pays tuition, on-campus room and board for dependents of Colorado law enforcement officers, fire or national guard personnel killed or disabled in the line of duty, and for dependents of prisoners of war or service personnel listed as missing in action
The Colorado National Guard Tuition Assistance program, which pays up to 100 percent of tuition costs at state supported institutions, for its members
Proof of state residency and other requirements may have to be met as proof of eligibility for state financial aid programs. In 2013-2014, Federal Direct subsidized and unsubsidized loans were being offered at an interest rate of 3.86 percent. Private student loans may also be available at a variety of interest rates. Generally speaking, while private loans may currently offer lower interest rates than federal loans do, this may not always be the case. Additionally, federal student loans typically have a wider variety of repayment options and other benefits that may outweigh those offered by private lenders.
In addition to state or federal forms of financial aid, it is important for prospective students to remember that individual colleges in Colorado may offer their own forms of financial aid. Not everyone is eligible for all forms of financial aid, but seeking out as many opportunities as possible may help students pay for an education that might otherwise be out of reach. Students should expect to be proactive in seeking aid. Most students will end up with numerous smaller awards from a variety of sources as opposed to a single award covering all their costs.
To find out more about some of the schools and programs available in Colorado, be sure to check out the ones featured in our school listings below.
Article Sources
Sources
"Colleges and Universities – Colorado Department of Higher Education," Colorado Department of Higher Education, November 2014, http://highered.colorado.gov/Data/Colleges/Default.aspx
"Lumina Publications," Lumina Foundation, November 2014, http://www.luminafoundation.org/publications/state_data/Policy_Brief-Colorado.pdf
"Enrollment in Distance Education Courses, by State: Fall 2012," U.S. Department of Education, June 2014, http://nces.ed.gov/pubs2014/2014023.pdf
"Postsecondary Completers and Completions: 2011-12," U.S. Department of Education, March 2014, http://nces.ed.gov/pubs2014/2014033.pdf
"May 2013 State Occupational Employment and Wage Estimates — Colorado," U.S. Bureau of Labor Statistics, May 2013, http://www.bls.gov/oes/current/oes_co
"About Us — Colorado Online and Distance Education," Colorado Online and Distance Education, November 2014, http://www.coloradoindependentstudy.org/public/About