Education in Arkansas
The National Center for Education Statistics (NCES) lists 94 career schools, technical academies, professional institutions, community colleges and universities in Arkansas as of spring 2015. Here's a quick rundown of how many schools fit into each NCES category:
Public 4-year: 11
Public 2-year: 23
Private 4-year, non-profit: 12
Private 2-year, non-profit: 5
Private 4-year, for-profit: 4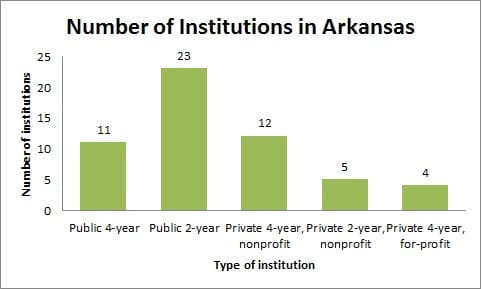 Institutions whose programs typically take less than two years to complete tend to prepare students for the specialized nuances of professions like health care technology, office technology, child care, cosmetology, auto body repair, HVAC/R and others. Although some coursework completed at accredited institutions may transfer into similarly accredited degree programs after graduation, graduates of these programs usually earn professional certificates rather than academic degrees.
The NCES also publishes data on the number of degrees earned by graduates in each state, and a 2014 report states Arkansas colleges granted 41,437 degrees and certificates to 39,198 graduating students in the 2011-12 academic year. Degrees earned at four-year colleges and universities accounted for 57.5 percent of the total, with associate degrees and other two-year awards adding up to 37.1 percent of awards conferred. The remaining 5.4 percent, earned by a total of 2,207 graduates, were awarded by less-than-two-year institutions.
Here's a list of 2014 data on student body enrollment totals for certain Arkansas universities, collected and published by U.S. News and World Report:
University of Arkansas: 21,009
Arkansas Tech University: 10,482
Arkansas State University: 10,098
University of Central Arkansas: 9,754
Harding University: 4,428
Henderson State University: 3,199
Southern Arkansas University: 2,960
John Brown University: 2,081
Ouachita Baptist University: 1,543
Hendrix College: 1,416
Acceptance rates at Arkansas colleges and universities vary across a fairly wide range. Also according to U.S. News research, the schools listed above fluctuate from around 92 percent at the least exclusive to 27.7 percent at the most selective. The list of 18 acceptance rate figures reported by U.S. News averaged to a median rate of 65.07 percent, with a mean just slightly lower at 64.95 percent.
Online education in Arkansas
The increasing number of online courses, certifications and degrees offered by Arkansas schools continue to provide opportunities for students to continue their education in a fashion suiting their personal circumstances. Online options at colleges and universities can be particularly useful to rural residents, busy professionals, stay-at-home caretakers and other segments of the population whose everyday schedules would conflict with a traditional campus-based university education.
What's more, numerous online degrees at Arkansas institutions have earned recognition from national education analysts and ranking agencies. Here are some of the programs listed by U.S. News and World Report as among the best in their field for 2015, along with ranked category and their numerical standing wherever available:
Many more online degree plans can be found at Arkansas schools, including graduate degrees and certificates in fields like information systems, business analytics, environmental sciences and sustainable technology. Additionally, some institutions focus tightly on particular subject areas in their online offerings. Arkansas State University, for example, provides students with multiple specialized graduate programs in the fields of education and educational leadership.
Top jobs and careers in Arkansas
Many occupations in Arkansas are projected to see job gains over the next several years, but analysts report a particularly positive outlook for certain areas. Here's a table detailing some of the hottest occupations in Arkansas and a few degrees that aspiring professionals can earn to prepare themselves for each career:
| Occupation | Top regions | Why it's hot | Necessary skills | Relevant degrees |
| --- | --- | --- | --- | --- |
| Postsecondary Nursing Instructors and Teachers | Little Rock, Conway, Greater South Arkansas | Health care careers are on the rise all over the state, and the need for instructors and teachers to educate the health care professionals of tomorrow is increasing right alongside it. Data produced by the Arkansas Department of Workforce Services indicates expected employment growth of a whopping 45 percent for nursing teachers between 2012 and 2022. | Group speaking, active listening, instructional design, social perceptiveness, diagnostic and therapeutic principles, medical terminology, empathy, conflict mediation, written expression, leadership, decision making | Like most teachers at colleges and universities, the Occupational Information Network (O*NET) indicates that nearly 90 percent of working postsecondary nursing instructors earn at least a master's level education before moving into teaching. A Master of Science in Nursing degree is one potential route into the profession, with a doctorate in nursing possibly required for elevated positions. |
| Home Health Aides | Opportunities are strong statewide; highest salaries reported in Hot Springs and the Little Rock area | Opportunities for home health aides are among the fastest-growing in the surging national health care market, according to U.S. Bureau of Labor Statistics (BLS) data. While it falls short of the national projection of 48 percent growth in home health aide jobs, Arkansas data indicates a robust 34 percent employment increase that should lead to nearly 3,000 new jobs in the state. | Active listening, time management, oral communication, empathy, medical terminology, technical familiarity with medical devices, situational awareness, memory, physical health, psychology | Most home health aide positions don't require candidates to have passed a certain academic threshold before being considered for employment, but applicants with a health and medical science degree or other relevant formal training may be favored by employers. Students may also be able to find work as home health aides while in the process of earning a degree in medical assisting or related health field. |
| Food Scientists and Technologists | Pine Bluff, Fayetteville | Perhaps a surprising entry in the top ten fastest growing Arkansas careers, food scientist and technologist positions are projected to increase 39 percent statewide between 2012 and 2022. The BLS reports that growing demand for new food products and sustainable ways to produce everyday staples are expected to drive growth in the industry. | Chemistry, biology, engineering principles, complex problem solving, critical thinking, experiment design, data gathering and analysis, decision making, inductive reasoning, team communication, computer literacy | A bachelor's degree is cited as the entry-level education necessary for a career in food science, and an O*NET survey indicates that about a quarter go on to earn master's or doctoral degrees. A degree in biology or another life science can be a good place to start, and some institutions offer a dedicated degree in food science for students who decide early that the field is right for them. |
| Information Security Analysts | Little Rock, North Little Rock | The relentless advancements of technology in both our business and personal lives has led to rapid growth in the need to ensure that the information we share is secure. Arkansas labor numbers indicate projected growth of 28 percent among information security analysts statewide, with growth likely to concentrate in urban areas and with the most sought-after positions requiring extensive IT career experience or education. | Critical thinking, problem solving, reading comprehension, active learning, time management, systems monitoring, performance assessment, troubleshooting, technical writing, principles of telecommunications | A bachelor's-level degree in computer science is one common path to a career in information security, but competition for highly desirable positions is likely to intensify as the sudden gap in the labor market begins to close. Some employers may prefer candidates with a master's degree in information systems security or other advanced degree. |
| Market Research Analysts and Marketing Specialists | Fayetteville, Fort Smith, Little Rock | The ability of companies of all sizes to gather and sift through data has skyrocketed in the last several years, and professionals trained in the art of interpreting that data and constructing action plans based on their results should see high demand for their services through the foreseeable future. A projected 26 percent growth in non-management marketing jobs is expected to open hundreds upon hundreds of new jobs in Arkansas by 2022. | Reading comprehension, data literacy, sales principles, advertising tactics, statistical mathematics, critical thinking, project management, office skills, brainstorming, professional communication, creativity, oral expression | A degree in marketing or market research at the bachelor's level is the industry standard for careers in market analysis, although a degree in statistics or mathematics may be preferred for more technically oriented analysis positions. Some market research jobs, particularly those with leadership responsibilities, may require a Master of Business Administration degree or a graduate-level education in statistics or marketing. |
Source: U.S. Bureau of Labor Statistics and O*NET OnLine
While it's as true as ever that there's no degree plan that can guarantee job placement for its graduates, there are steps students can take to make themselves as good a candidate for employment as possible once they've got their degree in hand. A few meetings with an advisor or career counselor can provide valuable tips on how to work toward minimizing the uncertainty upon venturing out into the career market for the first time.
Arkansas financial aid info
A multitude of factors can influence the individual cost of a university education, but official data is fairly convincing on the point that tuition and other costs associated with colleges and universities in Arkansas are on a general upward trend. Here's a list of figures taken from a 2014 College Board report that shows just how much the average cost of a university education has changed between 2004 and 2014.
Public 2-year in-state

2004-05: $1,874
2013-14: $3,101

Public 4-year in-state

2004-05: $4,581
2013-14: $7,567

Private 4-year non-profit

2004-05: $12,075
2013-14: $20,743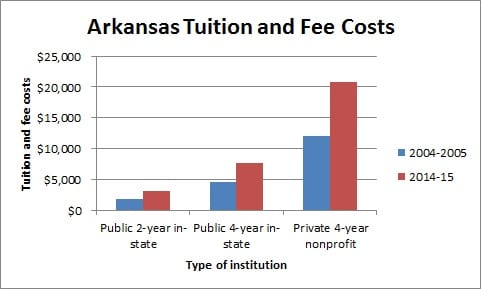 Fortunately for prospective students of higher education in Arkansas, financial assistance is often available for those who need it. The first step in the student financial aid process is the Federal Application for Student Aid, or FAFSA, which registers a student's candidacy for federal programs such as Pell Grants and Ford and Stafford Loans. Most potential sources of aid at the state and institutional level also make use of the information on a student's FAFSA to determine need and eligibility.
Arkansas is also home to a number of state-specific programs that can help students find the aid they need to continue their education, including but not limited to the following:
The Academic Challenge Program is a lottery-funded Arkansas financial aid program that makes its scholarships available to students of any academic status, whether they're recent high school graduates, current college students or adults returning to school after some time away.
The GO! Opportunities Grant, also known as the Arkansas Higher Education Opportunities Grant, is a need-based award of $1,000 per year for full-time students and $500 annually for those enrolled part-time.
The Nursing Educator Loan aims to provide forgivable loans of up to $5,000 per semester for full-time students, designed to lighten the financial burden for students on the path to becoming qualified as nursing instructors and teachers.
Financial aid departments at individual universities can be a good first step for students looking for tuition and fee support, but they aren't the only information resource out there. Other services designed to connect students and families with the right financial aid programs for their circumstances include the YOUniversal Scholarship Search, the Fund My Future Scholarship and Grant Search and the Arkansas Department of Higher Education (ADHE) Financial Aid Division, which administers most of the in-state higher education financial aid programs.
Article Sources
Sources:
Arkansas, College Navigator, National Center for Education Statistics, http://nces.ed.gov/collegenavigator/?s=AR
Postsecondary Completers and Completions: 2011-12, Web Tables, U.S. Department of Education, March 2014, http://nces.ed.gov/pubs2014/2014033.pdf
College Search – Arkansas, U.S. News and World Report, http://colleges.usnews.rankingsandreviews.com/best-colleges/search?name=&location=AR&enrollment-min=0&enrollment-max=14000&tuition-min=5000&tuition-max=50000&acceptance-min=10&acceptance-max=90&major=&spp=25&page=1&sort=total_undergrads&sortdir=desc
U.S. News and World Report, 2015: "University of Arkansas, Online Programs," http://www.usnews.com/education/online-education/university-of-arkansas-106397, "Arkansas State University, Online Programs," http://www.usnews.com/education/online-education/arkansas-state-university-106458, "Arkansas Tech University, Online Programs," http://www.usnews.com/education/online-education/arkansas-state-university-106458, "Southern Arkansas University, Online Programs," http://www.usnews.com/education/online-education/southern-arkansas-university-107983, "University of Central Arkansas, Online Programs," http://www.usnews.com/education/online-education/university-of-central-arkansas-106704, "University of Arkansas – Little Rock, Online Programs," http://www.usnews.com/education/online-education/university-of-arkansas-at-little-rock-106245, "John Brown University, Online Programs," http://www.usnews.com/education/online-education/john-brown-university-107141
"Online Degree and Certificate Programs," University of Arkansas, 2015, https://online.uark.edu/programs/
"Arkansas State University Online Degree Programs," Arkansas State University, 2015, http://degree.astate.edu/
"Online Degree Programs," Arkansas Tech University, 2015, http://www.atu.edu/etech/degrees.php
"Arkansas, May 2013 State Occupational Employment and Wage Estimates," U.S. Bureau of Labor Statistics, May 2013, http://www.bls.gov/oes/current/oes_ar
"Data Analysis," Discover Arkansas, 2015, http://www.discoverarkansas.net/cgi/dataanalysis/?PAGEID=94
"Postsecondary Teachers, Occupational Outlook Handbook 2014-15 Edition," U.S. Bureau of Labor Statistics, 2014-2015, http://www.bls.gov/ooh/Education-Training-and-Library/Postsecondary-teachers
"Nursing Instructors and Teachers, Postsecondary, Occupational Employment and Wages, May 2013," U.S. Bureau of Labor Statistics, May 2013, http://www.bls.gov/oes/current/oes251072
"Nursing Instructors and Teachers, Postsecondary," O*NET OnLine, 2015,http://www.onetonline.org/link/summary/25-1072.00
"Nursing Instructors and Teachers, Postsecondary: Arkansas," Career InfoNet, 2015, http://www.careerinfonet.org/occ_rep.asp?level=Overall&optstatus=101000000&id=1&nodeid=2&soccode=251072&stfips=05&jobfam=25
"Agricultural and Food Scientists, Occupational Outlook Handbook 2014-15 Edition," U.S. Bureau of Labor Statistics, 2015, http://www.bls.gov/ooh/Life-Physical-and-Social-Science/Agricultural-and-food-scientists
"Food Scientists and Technologists, Occupational Employment and Wages, May 2013," U.S. Bureau of Labor Statistics, May 2013, http://www.bls.gov/oes/current/oes191012
"Food Scientists and Technologists," Occupational Information Network, 2015, http://www.onetonline.org/link/summary/19-1012.00
"Food Scientists and Technologists: Arkansas," Career InfoNet, 2015, http://www.careerinfonet.org/occ_rep.asp?level=Overall&optstatus=101000000&id=1&nodeid=2&soccode=191012&stfips=05&jobfam=19
"Information Security Analysts, Occupational Outlook Handbook 2014-15 Edition," U.S. Bureau of Labor Statistics, 2015, http://www.bls.gov/ooh/computer-and-information-technology/information-security-analysts
"Information Security Analysts, Occupational Employment and Wages, May 2013," U.S. Bureau of Labor Statistics, May 2013, http://www.bls.gov/oes/current/oes151122
"Information Security Analysts," Occupational Information Network, 2015, http://www.onetonline.org/link/summary/15-1122.00
"Information Security Analysts: Arkansas," Career InfoNet, 2015, http://www.careerinfonet.org/occ_rep.asp?level=Overall&optstatus=101000000&id=1&nodeid=2&soccode=151122&stfips=05&jobfam=15
"Home Health Aides, Occupational Outlook Handbook 2014-15 Edition," U.S. Bureau of Labor Statistics, 2014-2015, http://www.bls.gov/ooh/healthcare/home-health-aides
"Home Health Aides, Occupational Employment and Wages, May 2013," U.S. Bureau of Labor Statistics, May 2013, http://www.bls.gov/oes/current/oes311011
Home Health Aides, Occupational Information Network, "31-1011.00 – Home Health Aides," O*NET OnLine, 2015, http://www.onetonline.org/link/summary/31-1011.00
"Occupation Profile – Home Health Aides," CareerOneStop, 2015, http://www.careerinfonet.org/occ_rep.asp?level=Overall&optstatus=101000000&id=1&nodeid=2&soccode=311011&stfips=05&jobfam=31
"Market Research Analysts," U.S. Bureau of Labor Statistics, 2015, http://www.bls.gov/ooh/business-and-financial/market-research-analysts
"13-1161 Market Research Analysts and Marketing Specialists," U.S. Bureau of Labor Statistics, May 2013, http://www.bls.gov/oes/current/oes131161
"13-1161.00 – Market Research Analysts and Marketing Specialists," O*NET OnLine, 2015, http://www.onetonline.org/link/summary/13-1161.00?redir=19-3021.00
"Occupation Profile – Market Research Analysts and Marketing Specialists," CareerOneStop, 2015, http://www.careerinfonet.org/occ_rep.asp?level=Overall&optstatus=101000000&id=1&nodeid=2&soccode=131161&stfips=05&jobfam=13
"Tuition and Fees by Sector and State over Time," The College Board, 2014-2015, http://trends.collegeboard.org/college-pricing/figures-tables/tuition-and-fees-sector-and-state-over-time
"Financial Aid Division," Arkansas Department of Higher Education, 2015, http://www.adhe.edu/DIVISIONS/FINANCIALAID/Pages/financialaid.aspx
"Financial Aid Information," Arkansas.gov, 2015, http://www.arkansas.gov/education/scholarship-and-financial-aid-information
"Arkansas YOUniversal Scholarship Search and Application," Arkansas Department of Higher Education, 2015, https://www.ark.org/adhe_financialaid/login.aspx
Fund My Future, 2015, http://www.fundmyfuture.info/