When various online courses first became red-hot higher education news, the classes that drew enrollments of over 100,000 were in subjects like computer science and electrical engineering — i.e., fields related to STEM (Science, Technology, Engineering and Math).
There continues to be a debate over whether the U.S. is facing a crisis with regard to having enough STEM-literate students joining the workforce. But the continued popularity of massive online courses on challenging subjects like artificial intelligence and statistics indicate STEM areas might lend themselves to online learning — even in environments as challenging as crowded MOOC classrooms.
There are several reasons why online learning might be more effective for STEM subjects than for fields like the social sciences and the humanities:
Sequential learning: Learning math and science is often an exercise of mastering facts taught in a sequence with new concepts building on earlier ones. And, as Khan Academy has demonstrated, videos featuring a skilled teacher explaining specific topics can be strung together to support a variety of learning sequences.
Easier testing: Automated assessment, difficult for subjects that require demonstrating subjective knowledge (such as an understanding of literature), works well in areas where numerical input can replace picking an answer from a multiple-choice list. For example, an Udacity course in statistics doesn't allow students to progress until they successfully perform calculations using techniques taught in the lecture video they just completed. And, unlike other forms of online evaluation, numerical input leaves little room for guessing your way to a passing grade.
Binary right/wrong test answers: Educational exercises generating output that can be evaluated automatically as right or wrong increase the complexity of subjects that can be assessed and taught. For example, Harvard's Science and Cooking MOOC asks students to perform lab experiments in their own kitchens and input numeric values (such as measurements or the results of calculations) into on-screen fields for the automatic grading of real-world experience. And many online courses in computer programming use automated tools to determine if students have written code that matches criteria for accuracy and efficiency.
It should also be noted that students gravitating towards subjects like engineering and computer science are likely to be more comfortable with the technology used to deliver online learning.
A mixed track record?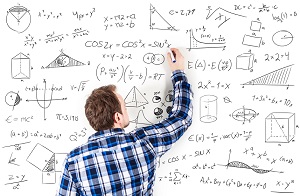 All that said, online STEM courses focused on remedial subjects haven't fared well when compared to live classroom subjects covering the same material. For example, an Udacity pilot program at San Jose State University that used online teaching to instruct students in introductory math and statistics demonstrated limited effectiveness, even when lecture videos were supplemented with different types of direct student support (such as online and classroom-based one-on-one instruction and tutoring).
With regard to online degree programs, one of the most popular online majors, computer and information technology (IT), falls into the tech component of STEM. Several other popular online degree programs, such as business (including accounting and finance), nursing, healthcare and psychology have significant science and math components.
In addition, traditional online academic courses that (unlike MOOCs) provide students options for college credit tend to be strong on math and science (at least at the introductory level), even if they are lighter in technology and engineering subjects. For example, the online course provider StraighterLine offers 101-level courses in algebra, calculus and statistics as well as biology, chemistry and physics, which students can take for credit at one of the company's 50+ partner schools.
Keep in mind current college-level online course options in STEM fields, whether StraighterLine's calculus and chemistry intro courses or some of the advanced computer science and engineering courses available from Coursera, edX and others, tend to cover subjects which fall into one of the four categories of science, technology, engineering or mathematics.
Online STEM Bundles
StraighterLine does offer a STEM "course bundle" where students can choose three courses out of a pool of introductory math and science classes for a single package rate.
Multidisciplinary vs. single subject STEM
When the term "STEM" was first introduced by the National Science Foundation (NSF) more than a decade ago, however, the field described was a "meta-discipline," one which combined areas usually taught as discreet subjects by different teachers and departments.
For educational researchers and policymakers trying to advance an interdisciplinary approach to these broadly defined subjects, STEM education is meant to foster discovery of how science, technology, engineering and math overlap and interact, with a special emphasis on problem solving drawing from multiple disciplines.
STEM advocates also emphasize the need to bring more people — including women, minorities and the financially disadvantaged — into the STEM fold as early as possible, which is why public investments in this area have focused on K-12 education. And while a number of technology-based resources can help teachers expand access to STEM education in the classroom, online courses (MOOC or otherwise) that embrace those broader definitions have yet to play a major role in helping to achieve the ultimate goals of STEM education.
Partnerships in STEM
In May 2014 NASA announced a partnership with Khan Academy to produce a series of tutorials about the science, math and engineering NASA uses to do things like measure interstellar distances and plan expeditions to other planets. The ultimate goal is to get more students interested in going into interdisciplinary STEM fields.
If you're looking to find out more about the kinds of STEM courses you can take online, be sure to check out some of the school listings below, or use the search bar on the right to get matched to a program that fits your needs.
Sources
"Debating the STEM Crisis – or Lack Thereof," U.S. News & World Report, April 25, 2014, http://www.usnews.com/news/articles/2014/04/24/debating-the-stem-crisis-or-lack-thereof
"Engaging Diverse Learners Through the Provision of STEM Education Opportunities," Southwest Educational Development Laboratory, May 2012, http://secc.sedl.org/resources/briefs/diverse_learners_STEM/
"NASA, Khan Academy Collaborate to Bring STEM Opportunities to Online Learners," NASA, May 27, 2014, http://www.nasa.gov/content/nasa-khan-academy-collaborate-to-bring-stem-opportunities-to-online-learners
"Online College Courses For Credits Towards Your Degree," StraighterLine, 2014, http://www.straighterline.com/online-college-courses/
"San Jose State U. Puts MOOC Project With Udacity on Hold," The Chronicle of Higher Education, July 19, 2014, http://chronicle.com/article/San-Jose-State-U-Puts-MOOC/140459/