Think of a career in sports and the first image that pops into mind is probably the supremely talented pro athlete who got drafted out of college. There's an appeal to the idea of making a full-time career out of a game that one might have had a passion for since grade school, but how do the numbers actually pan out?
The statistical reality is that only a fraction of college athletes end up moving up into a professional league. The NCAA put out the following numbers for men's sports in 2013:
| | | |
| --- | --- | --- |
| | NCAA Student Athletes | Student Athletes Drafted |
| Baseball | 32,450 | 678 |
| Basketball | 17,984 | 46 |
| Football | 70,147 | 254 |
What's easy to overlook, however, is the other ways to potentially become a part of professional sports than trying to get a big break as a pro athlete. There's a whole array of different roles involved in the sports industry, roles which incorporate skill sets from a variety of different disciplines.
Check out these five fields to see how sports medicine degrees and other programs may help aspiring professionals break into this field.
Sports Management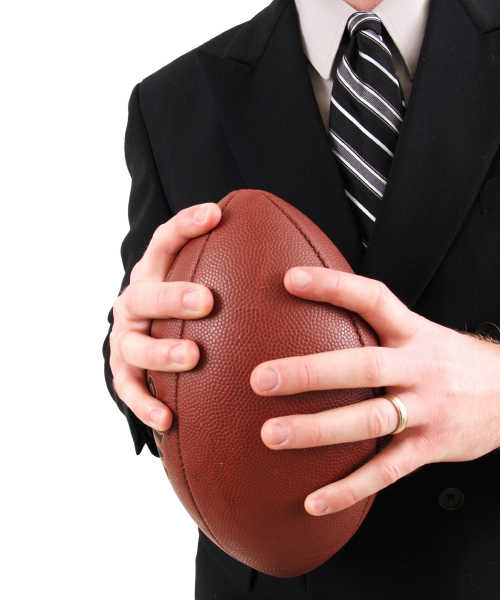 Sports managers, aka general managers, handle the business side of pro sports. They're typically the people handling trades in the off-season, signing new players to the team (college drafts as well as free agents) and managing budget and salaries. In a description of sports managers, The Princeton Review states that they're often the public face for major team events both positive, like the signing of a high-quality player, and negative, like the loss of a valuable player to another team or a losing streak in the wake of a modified team roster.
Sports management programs provide some flexible options for students seeking careers in sports. Management techniques can be applied to various spheres of the sports business industry, from coaching and scouting to brand marketing, event production and organizational leadership.
At schools that offer a Bachelor of Science (B.S.) in sports management, programs may contain elements of basic kinesiology — the study of movement and physical activity — alongside both general and sport-specific management principles.
Some universities offer sports management programs at the graduate level.
Sports Management skills highlight*
---
Business development
Sports law and ethics
Intercollegiate athletics
Finance
Revenue and budgeting in sports
Organizational management
Physical Therapy
In virtually every sport the reality is that a pro athlete will likely only have a limited amount of time to play at their prime. The RAM Financial Group places the average career length for an NFL pro at 3.5 years, with MLB and the NBA at 5.6 and 4.8 years respectively. While the wear-and-tear effects on the body are arguably inevitable, sports therapists can help mitigate potentially debilitating injuries.
Injuries and, by extension, physical therapy, is a fact of life for competitive athletes. Many professional or intercollegiate organizations keep a licensed physical therapist on staff to help with muscle soreness, injuries and issues with conditioning.
State licensing requirements for physical therapists vary from state to state, but a Doctor of Physical Therapy (DPT) degree from an accredited institution tends to be mandatory before applying for a license.
Students who want to pursue sports medicine may start studying sports medicine as early as possible in their academic work. A potential path is through undergraduate work in kinesiology, and a master's of physical therapy degree.
Physical Therapy skills highlight*
---
Analytical anatomy
Cellular systems
Clinical exercise physiology
Principles of disease
Neurobiology
Therapeutic exercise
Biomechanics
Pharmacology
Statistics
Coaches and scouts use statistics to make sound decisions about play packages to run and athletes to recruit. Sportswriters and analysts sometimes use statistical data from recent games as well as previous games to draw and report conclusions about teams, match ups and individual players. Watching teams and individual
Stats can apply to virtually every sport, but has had a strong connection to baseball in recent years. Nate Silver, who rose to fame by predicting the 2008 and 2012 national elections with near-perfect accuracy, started out by creating and helping to develop a groundbreaking statistical system used in baseball forecasting. That system, sabermetrics, had been in development since the 1960s, but rose to greater prominence later on in the 20th century and beyond on the heels of sports writer Bill James' coining of the term and the high-profile success of the Oakland A's under general manager Billy Beane.
Some statisticians have a master's degree in statistics, applied statistics or mathematics. Computer software is a big part of statistics jobs, so employers may also accept a degree in computer science with significant coursework in related skills.
Statistics skills highlight*
---
Probability
Regression modeling
Variance analysis
Data sampling
Experiment design
Predictive analytics
Photojournalism
Sports photography occupies its own whole segment of the diverse world of photojournalism. The only way to be closer to the action, photographers will tell you, is to be in the game yourself.
Learning the fundamentals of photography and photojournalism tends to be vital for freelancers, wire service photographers or photographers at regional publications.
The amount of training needed by photojournalists can vary quite a bit depending on the employer. Some candidates earn at least a bachelor's degree before moving into full-time photojournalism work.
Photojournalism skills highlight*
---
Visual storytelling
Arts and culture reporting
Journalistic ethics and law
Photographic tools
Media business
Digital imaging
Marketing and public relations
Sports teams have a public image like any other business organization, and public relations professionals work to ensure that the image projected by the organization matches the way they want to be seen. Marketers and public relations specialists are in charge of making that happen.
Bachelor's degrees in mass communications or marketing are common in this field, although some graduate with degrees in English, business, management or design.
Marketing/PR skills highlight*
---
Mass communications techniques
Sociology
Visual layout and design
Public opinion
Organizational communication
Public relations writing
Public relations management
Propaganda
Ready to find out more? Review some of the related programs below or use the search tool on the right to get matched to a school that fits your requirements.
* Skills drawn from a review of the course curricula cited below
Sources:
"Estimated Probability of Competing in Athletics Beyond the High School Interscholastic Level," NCAA Research, September 24, 2013, https://www.ncaa.org/sites/default/files/Probability-of-going-pro-methodology_Update2013.pdf
"Athletic Services," RAM Financial Group, August 19, 2014, http://www.ramfg.com/RAM-Financial-Group-Solutions-Professional-Athletes-Athletes-Services
"Career: Sports Manager," The Princeton Review, August 19, 2014, http://www.princetonreview.com/careers.aspx?cid=148
B.S. in Sports Management, New York University, http://scps.nyu.edu/academics/departments/tisch/academic-offerings/undergraduate/bs-sports-management/core-major-curriculum#Social_Sciences
MS in Sport Management – Curriculum, Southern New Hampshire University, http://www.snhu.edu/online-degrees/graduate-degrees/sport-management-MS-online/curriculum.asp
Master of Science in Sports Management, Columbia University, http://ce.columbia.edu/sports-management/courses
Physical Therapists, Occupational Outlook Handbook 2014-15 Edition, Bureau of Labor Statistics, http://www.bls.gov/ooh/Healthcare/Physical-therapists
Doctor of Physical Therapy, University of Southern California, http://pt.usc.edu/Education/Programs/PhysicalTherapy/DPT/Curriculum/
Statisticians, Occupational Outlook Handbook 2014-15 Edition, Bureau of Labor Statistics, http://www.bls.gov/ooh/Math/Statisticians
Courses – Master of Applied Statistics, The Pennsylvania State University, http://www.worldcampus.psu.edu/degrees-and-certificates/applied-statistics-masters/courses
MS in Statistics: Required Courses, Stanford University, https://statistics.stanford.edu/academics/ms-statistics-required-courses
Photographers, Occupational Outlook Handbook 2014-15 Edition, Bureau of Labor Statistics, www.bls.gov/ooh/Media-and-Communication/Photographers
Photojournalism Courses – Spring 2014, University of California Berkeley, http://journalism.berkeley.edu/program/photo/courses/
Photography – Curriculum, Odessa College, http://www.odessa.edu/dept/photo/curriculum#desc
Public Relations Specialists, Occupational Outlook Handbook 2014-15 Edition, Bureau of Labor Statistics, www.bls.gov/ooh/media-and-communication/public-relations-specialists
Curriculum – Public Relations, University of Florida, http://www.jou.ufl.edu/academic/pr/curriculum.asp
Curriculum for Bachelor's Degree Public Relations, Delaware State University, http://www.desu.edu/curriculum-bachelors-degree-public-relations
May 2013 National Occupational Employment and Wage Estimates, Bureau of Labor Statistics, http://www.bls.gov/oes/current/oes_nat