No specific degree is required before attempting a career as an independent artist, but some people working and teaching in the field may choose to earn a master's degree in art and design, for a variety of reasons. There are several fields in which art and design students might specialize depending on the industry they're aiming to join after graduation:
| | |
| --- | --- |
| Animation and visual effects | Coursework may focus on computer animation and require specific software packages. |
| Computer arts and new media | Students in computer arts typically become accustomed to working with industry-standard hardware and software in pursuit of this high-tech art and design degree. |
| Creative writing | Though the Master of Fine Arts (MFA) is popular, some schools offer a Master of Arts (MA) course designed in part to prepare students for doctoral work. |
| Fashion design | Master of Design (MDes) programs typically culminate in a professional practice degree, combining academic coursework with applied research, while the MFA involves full-time studio practice. |
| Graphic design | Graduates from both MFA and MA programs can possibly go on to teach, freelance, find a salaried design position or pursue further education. |
| Illustration | Illustration degrees stress visual communication and technique. Students will usually study illustration in electronic and print media, preparing for technical or artistic careers in the field. |
| Industrial design | Help create the high-tech products and useful objects we use every day with a master's degree in industrial design. Both MFA and MA programs are typically offered. |
| Interior architecture and design | Architecture degrees come in pre-professional, professional, post-professional, and non-professional varieties. |
| Photography | MA and MFA degrees in photography can prepare students who're interested in teaching photography or specializing in fine art, portraiture, wedding photography or photojournalism. |
Prospective students can examine the published work of a school's faculty to help make a decision about which program would best suit the direction they hope to take their own work.
Path to a master's degree in art and design
In pursuing an art and design degree students typically have the choice between a Master of Arts (MA) degree and a Master of Fine Arts (MFA) degree. These two degrees may have some coursework similarities, but there are some main distinctions between them:
MA study is considered strong training for aspiring educators, professionals, and those wishing to pursue a PhD. Students take some studio art and design courses alongside graduate-level theory. An MA may take less time than an MFA, though programs vary.
MFA degrees are oriented more toward aspiring artists than historians or educators. Although the MFA is typically the terminal art and design degree at most institutions, some art and design fields may offer training at the post-graduate level.
Individual master's degree programs vary, which means you may find a theory-based MFA in photography or a workshop-heavy MA in creative writing. According to the standards stated by the College Art Association, "To earn an MFA, a practicing artist must exhibit the highest level of accomplishment through the generation of a body of work. The work needs to demonstrate the ability to conceptualize and communicate effectively by employing visual language to interpret ideas."
Typically, the MA ends with a lengthy written academic analysis while the MFA culminates in a thesis exhibition.
Art and design specializations and careers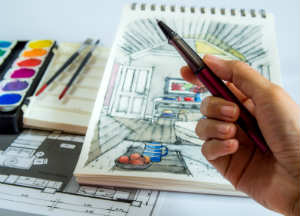 The master's degree in art and design prepares graduates for two career paths: teaching and professional practice. Both the MA and MFA tracks can qualify an individual to teach art at the college level as an assistant or adjunct professor.
A master's level art and design degree can also take you into arts administration or communication design roles. Creative writers can pursue jobs creating advertising copy, for example, and illustrators may work for publishing companies. Some of the professional disciplinesthat may be available to graduates with art and design degrees, according to the U.S. Bureau of Labor Statistics, include:
Museum curator
Arts program administrator
Creative director or art director
Advertising creative director
Commercial photographer
Industrial designer
Retail display designer
Fine arts fields
The MFA degree in art and design is designed to foster mastery of a particular craft or fine arts practice. According to a review of related skills documented on O*NET OnLine, here are some of the fine arts disciplines that may be available to students:
Painting
Printmaking
Sculpture
Photography
Illustration or drawing
Interactive art
Electronic arts (usually classified separately among media arts or digital arts)
Digital painting or printmaking
Graphic design
These are only a few of the specializations available for students earning a master's degree in art and design. A professional organization within the discipline can give hints on where to look.
Sources
"26-1013.00 - Fine Artists, Including Painters, Sculptors, and Illustrators," O*NET OnLine, October 6, 2014, http://www.onetonline.org/link/summary/27-1013.00

"Craft and Fine Artists," U.S. Bureau of Labor Statistics, October 6, 2014, http://www.bls.gov/ooh/arts-and-design/craft-and-fine-artists.htm#tab-2

"Fine Art - Graduate Degrees," Academy of Art University, October 6, 2014, https://www.academyart.edu/academics/fine-art/graduate-degrees

"Art/Fine Arts/Studio Art," Association of Independent Colleges of Art and Design, October 6, 2014, http://www.aicad.org/careers-majors/fine-arts/art-fine-arts-studio-art/

"Fine Arts | California College of the Arts," California College of the Arts, October 6, 2014, https://www.cca.edu/academics/graduate/fine-arts

"Standards and Guidelines - MFA Standards," College Art Association, October 6, 2014, http://www.collegeart.org/guidelines/mfa

"NASAD Home," National Association of Schools of Art and Design, October 6, 2014, http://nasad.arts-accredit.org/

"M.F.A. in Studio Art," Department of Art, Art History & Design, October 6, 2014, http://artdept.nd.edu/graduate-programs/m-f-a-in-studio-arts/

"Major: Architecture," The Princeton Review, October 6, 2014, http://www.princetonreview.com/Majors.aspx?cip=040201

"Database of Accredited Postsecondary Institutions and Programs," U.S. Department of Education, October 6, 2014, http://ope.ed.gov/accreditation/

"Master of Fine Arts," University of Cincinnati, October 6, 2014, http://daap.uc.edu/academics/art/m_fine_arts.html

"A Career Guide for Studio Art Majors," University of Texas Fine Arts Career Services, October 6, 2014, http://www.utexas.edu/finearts/sites/default/files/attach_download/TestCareerGuide.pdf