Public and Private Colleges in Texas

The state of Texas is home to more than 24.6 million residents according to the United States Census Bureau. Furthermore, a recent report from the Lumina Foundation shows approximately 34.5 percent of Texas adults ages 25-64 held at least an Associate's degree in 2011. That number represents a slight increase over 2008, in which only 33.3 percent of working age adults in Texas held an Associate's degree. Looking at figures beyond mere degree attainment, Lumina Foundation research also shows over 3 million Texas adults having some college experience but no degree in 2011.
These numbers say much about the future of higher education in Texas, including the fact that overall interest in higher education seems to be on the rise. Fortunately for Texas students, there are plenty of on-campus and online universities where students can pursue their interests and educational goals.
The National Center for Education Statistics (NCES) reports that Texas students have 135 schools to choose from when pursuing a Bachelor's degree in state. The Texas Higher Education Coordinating Board reports that colleges, trade schools and universities in New York enrolled approximately 596,000 students in 2013. Furthermore, Texas schools handed out undergraduate credentials to approximately 236,682 students in 2012.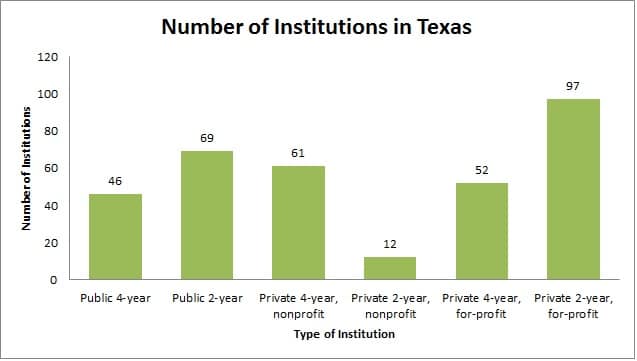 Online Colleges in Texas
Some Texas students opt out of traditional education and choose to pursue an online degree instead. This strategy can be especially beneficial for students who need to continue working full-time or need to be able to study at a time and place that's most convenient for them.
Fortunately, a wide range of colleges and universities in Texas have broadened their educational offerings to include flexible online degree programs and alternative degrees offered in a hybrid format. In fact, some of the largest universities in Texas now offer distance learning options, including Central Texas College, Texas Tech University, Texas A&M and University of Texas.
U.S. News and World Report provides ranking on some of the highlight online schools and programs in Texas in its rankings:
Best Online Graduate Education Programs: #1


Best Online MBA Programs: #6
Best Online Graduate Business Programs (Excluding MBA): #2

Best Online Graduate Nursing Programs: #15

Best Online Graduate Nursing Programs: #9

Best Online Graduate Computer Information Technology Programs: #7
Best Online Graduate Criminal Justice Programs: #5
Best Online Graduate Education Programs: #28

Best Online Graduate Computer Information Technology Programs: #14
Best Online Graduate Engineering Programs: #20
Top Jobs and Careers in Texas
Texas is not only home to a large population, but several thriving industries as well. Even better, those industries and jobs are largely dispersed across the state and not only concentrated in bigger metropolitan areas like Houston and Dallas. What this means is students can often pursue top careers in Texas regardless of where they choose to live.
The Texas Workforce Commission used labor statistics data to create a list of jobs in Texas and highlight their various characteristics-including long-term projected growth. Combining that data with wage and employment data from the Bureau of Labor Statistics, we've compiled this list of promising careers in Texas.
| Occupation | Top regions | Growth prospects | Necessary skills | Relevant degrees |
| --- | --- | --- | --- | --- |
| Diagnostic Medical Sonographers | Some of the regions in Texas employing the highest number of these individuals include the Houston- Sugar Land -Baytown area (1,050), Dallas-Plano-Irving division (1,130) and Fort Worth-Arlington division (350). | According to Texas Workforce Commission data, employment for diagnostic medical sonographers is expected to increase an astounding 57.5 percent in the state during the decade leading up to 2022 | Diagnostic medical sonographers must be detail-oriented and have adequate technical and interpersonal skills. | The BLS reports that diagnostic medical sonographers typically need an Associate's degree or Bachelor's degree in either sonography or cardiovascular and vascular technology. Furthermore, employers in this field typically prefer to hire candidates with a degree and/or certification from a hospital training program. |
| Interpreters and Translators | the state of Texas also showed the third highest employment in this profession in the nation, with 3,470 interpreters and translators employed in 2013. Many of those workers were concentrated in the following areas that year: Houston-Sugar Land-Baytown area (1,050), Dallas-Plano-Irving (620) and Austin-Round Rock-San Marcos (280). | Texas Workforce Commission data shows that Texas workers could expect employment for interpreters and translators to increase by as much as 49 percent from 2012 to 2022 | The most important requirements are fluency in at least two languages, cultural sensitivity and listening skills. | According to the BLS, interpreters and translators typically need a Bachelor's degree. Choosing to major in English and a minor in a foreign language such as Spanish is a common path for students who pursue a career in this field. |
| Petroleum Engineers | Texas is home to the most petroleum engineers in the country according to the BLS, with almost 20,000 employed in 2013. Most of them work and live in the following regions in the state: Houston-Sugar Land-Baytown area (12,520), Dallas-Plano-Irving (1,210) and Northwestern Texas (1,200). | Due to a growing demand for fossil fuels in Texas and elsewhere in the world, the Texas Workforce Commission predicts that employment for Petroleum Engineers will surge 45.3 percent in the decade leading up to 2022. | All 50 states require licensure for this profession according to the BLS, and problem-solving skills, analytical skills and math skills. | The BLS notes that most employers in this field prefer to hire a candidate with a Bachelor's degree in Petroleum Engineering. |
| Information Security Analysts | Texas holds the spot for the state employing the third highest number of these professional in this nation, with most of them residing in the following regions: Houston-Sugar Land-Baytown area (1,580), Dallas-Plano-Irving (1,950), San Antonio-New Braunfels (740). | Technology has infiltrated nearly every aspect of the workplace, leading to a huge growth in jobs related to computers and computer science. Because of the overall curve of growth, the Texas Workforce Commission predicts that employment for information security analysts will grow 45 percent from 2012 to 2022. | Analytical skills, attention to detail, ingenuity and problem-solving skills also help information security analysts perform their basic duties, such as creating strategies to protect their company's data and developing security standards. | The BLS reports information security analysts typically need a Bachelor's degree in computer science, computer programming, or software development. |
| Physician Assistants | BLS figures show that Texas employed the third highest number of Physician Assistants in the nation in 2013 at 5,410. The vast majority of them live and work in the following regions: Houston-Sugar Land-Baytown area (1,710), Dallas-Plano-Irving (1,110) and San Antonio- New Braunfels (430). | Overall growth in the need for health care has led to a huge demand for many professionals in this industry- including Physician Assistants. According to the Texas Workforce Commission, employment for Physician's assistants is expected to increase 44.1 during the decade leading up to 2022. | Since many of their duties mimic the duties performed by traditional physicians, they need the same skills sets and qualities such as an attention to detail, a compassionate nature and emotional stability. | The BLS reports nearly all physician assistants earn a Bachelor's degree in a health care field then transition into an accredited Physician Assistant program. |
Texas Financial Aid Information
College Board figures show college tuition in Texas for the 2013-14 school year averaged out to $8,690 for a four-year school for in-state students. The cost for a private 4-year nonprofit was much higher, averaging at $30,380, while public 2-year schools were at $2,248.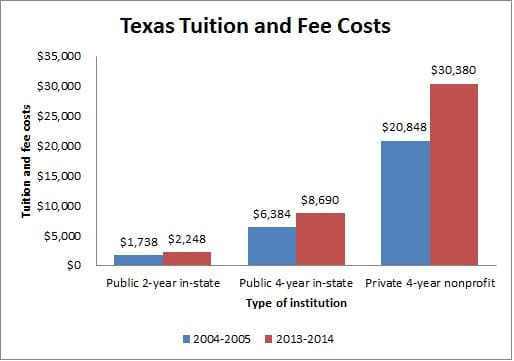 There are certain types of Texas financial aid that can potentially make college more affordable in certain situations. The Texas Higher Education Coordinating Board lists the following Texas financial aid resources as potentially available for students:
Federal Grants
Pell Grants
Federal Supplemental Educational Opportunity Grant
TEACH Grants
Iraq and Afghanistan Service Grants
State and Federal Grants and Scholarships
Education and Training Vouchers for Youths Aging Out of Foster Care
Fifth Year Accounting Student Scholarship Program
Kenneth H. Ashworth Fellowship Program
Marine Corps Foundation Scholarship
National Health Service Corps (NHSC) Scholarship
Texas Armed Services Scholarship Program
Texas Educational Opportunity Grant Program (TEOG)
TEXAS Grant
Texas Public Educational Grant
Top 10 Percent Scholarship
Tuition Equalization Grant Program
Federal Loans
Federal Direct Loan Programs
Federal Perkins Loan Program (expired 9/30/17, although Congressional bills have been introduced that support its extension)
Federal Direct PLUS Loan Program
Federal Direct Graduate/Professional PLUS Loan Program
State Loans
Texas Armed Services Scholarship Program
Texas B-On-Time Student Loan Program
Texas College Access Loan Program
In addition to these resources, various student loan forgiveness plans also exist. These programs act as a reward to students who choose to pursue their career in a state-supported or high need area, or work in a non-profit or for the government.
To find out more about some of the schools and programs available in Texas, be sure to check out the ones featured in our school listings below.
Article Sources
Sources:
U.S. Bureau of Labor Statistics, Occupational Employment and Wages: "Diagnostic Medical Sonographers," May 2013, http://www.bls.gov/oes/CURRENT/oes292032, "Physician's Assistants," May 2013, http://www.bls.gov/oes/current/oes291071, Information Security Analysts, May 2013, http://www.bls.gov/OES/current/oes151122, "Interpreters and Translators," May 2013, http://www.bls.gov/OES/current/oes273091, "Petroleum Engineers," May 2013, http://www.bls.gov/oes/CURRENT/oes172171,
U.S. Bureau of Labor Statistics, Occupational Outlook Handbook 2014-2015 Edition: "Diagnostic Medical Sonographers," http://www.bls.gov/ooh/healthcare/diagnostic-medical-sonographers#tab-4, "Physician Assistants," http://www.bls.gov/ooh/healthcare/physician-assistants#tab-1, "Information Security Analysts," http://www.bls.gov/ooh/computer-and-information-technology/information-security-analysts#tab-1, "Petroleum Engineers," http://www.bls.gov/ooh/architecture-and-engineering/petroleum-engineers#tab-1, "Interpreters and Translators," http://www.bls.gov/ooh/media-and-communication/interpreters-and-translators#tab-4
"Texas," U.S. Bureau of Labor Statistics, May 2013 State Occupational Employment and Wage Estimates, http://www.bls.gov/oes/current/oes_tx#29-0000
"A Stronger Texas through Higher Education," Lumina Foundation, http://www.luminafoundation.org/stronger_nation_2013/downloads/pdfs/texas-brief-2013.pdf
"National Center for Education Statistics," http://nces.ed.gov/collegenavigator/?s=TX&l=93
"Online Consortium," University of Texas System, http://www.utcoursesonline.org/programs/about
"State and County QuickFacts," U.S. Census Bureau, Texas, http://quickfacts.census.gov/qfd/states/48000
"The 2013 State of Higher Education Address," Texas Higher Education Coordinating Board, State of Higher Education Address, 2013
"Texas Higher Education Coordinating Board," http://www.thecb.state.tx.us/
"Texas Long-term Occupation Projections," Texas Workforce Commission, http://www.tracer2.com/publication.asp?PUBLICATIONID=826
"Types of Financial Aid," Texas Higher Education Coordinating Board, http://www.collegeforalltexans.com/index.cfm?ObjectID=699A998A-E7F3-1DCC-3F460F26136EEA05