Education in Illinois
With competitive salaries and both large cities such as Chicago and fast-growing cities such as Joliet, Illinois offers a variety of educational and career opportunities. In fact, 66 Fortune 500 companies are located in Illinois. This can make Illinois an attractive option for prospective students interested in fields ranging from healthcare to IT and beyond.
Illinois has over 300 institutions of higher education, including public two- and four-year colleges and universities as well as private for-profit and not-for profit schools. Illinois also has a robust adult education system with technical colleges and vocational schools. In 2010, according to the National Center for Education Statistics (NCES), Illinois enrollment in postsecondary institutions was as follows:
205,023 at public universities
379,736 at community colleges
230,382 at independent not-for-profit institutions
91,797 at independent for-profit institutions
17,811 at out-of-state institutions with an Illinois presence
That is a total of nearly 925,000 students! In 2011-2012, a total of 191,396 students completed degrees or awards in Illinois at Title IX institutions. That is over four percent of the nation's total completions. According to the Lumina Foundation, 41.3 percent of working-age adults in Illinois (ages 25-64) have at least a two-year degree.
Additionally, the NCES provides a breakdown of the total number of higher education institutions in Illinois, listing 16 public 4-year universities, 31 public 2-years, 64 private 4-year nonprofit schools, 13 private 2-year nonprofits, 13 private 4-year for-profits and 18 private 2-year for-profits.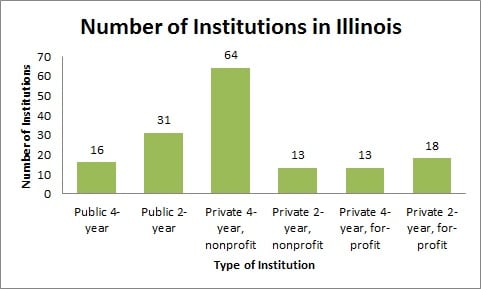 Online education in Illinois
Distance education has come a long way since traditional correspondence courses. Today, well-designed online courses and programs involve much more than simply dumping a syllabus online and accepting assignments by email. Indeed, online education has become a robust option for individuals who can't or don't want to relocate in order to pursue their educational dreams.
Many Illinois colleges, universities, and other institutions of higher education offer online courses and programs. No longer do you have to live in or near a large city such as Chicago to have access to a quality education. Additionally, prospective students may have the opportunity to study at Illinois-based institutions without relocating (and subjecting themselves to the frigid and windy winters for which the region is known).
In 2008, almost 25 percent of postsecondary U.S. students were taking coursework online. By 2012, over 7.1 million students were taking at least one online course. In Illinois, over 90,000 students were enrolled exclusively in online programs and an additional 85,000 were taking at least one distance education course. That's nearly 20 percent of Illinois postsecondary undergraduate and graduate students.
Here's a list of several standout online programs and schools in Illinois as ranked by U.S. News and World Report:
University of Illinois–Chicago

Best Online Bachelor's Programs: #2
Best Online Graduate Engineering Programs: #29

Best Online Bachelor's Programs: #20
Best Online Graduate Business Programs (Excluding MBA): #17

Best Online Graduate Education Programs: #3

Best Online Graduate Nursing Programs: #2

Best Online Graduate Nursing Programs: #13
Top jobs and careers in Illinois
According to the U.S. Bureau of Labor Statistics (BLS) May 2013 State Occupational Employment and Wage Estimates, the top five job categories in Illinois are as follows:
Occupation
Top regions
Percentage of in-state employment
Necessary skills*
Relevant degrees
Office and administrative support occupations
In Illinois, the Chicago-Joliet-Naperville metropolitan area employs a significant percentage of office and administrative support workers in the state.
More than 15%

Speaking
Active listening
Service orientation
Reading comprehension
Social perceptiveness
Time management
Writing
Complex problem solving
Critical thinking

Individuals who wish to be more competitive for these types of positions may wish to seek associate's degrees. Those who wish to advance to more specialized positions in this category, such as medical secretaries, may want to seek bachelor's degrees in related areas or professional licenses or certification.
Sales and related occupations
By far the densest population center in the state, the greater metropolitan area of Chicago, Joliet, and Naperville employs many of Illinois sales workers.
10%

Social perceptiveness
Active listening
Speaking, persuasion, and negotiation
Time management
Reading comprehension
Service orientation
Critical thinking

While BLS data suggest that a bachelor's degree is not always required for a position as an advertising sales agent, employers may prefer it. Degrees or coursework in areas including marketing, communications, business, and advertising may be preferred.
Food preparation and serving-related occupations
As with most occupational categories in the state, the Chicago area employs the majority of workers in food preparation and service.
8%

Active listening
Service orientation
Speaking
Social perceptiveness
Instruction

The BLS states that most careers in food preparation and service only require a high school diploma or equivalent. Community colleges, technical or vocational schools, culinary schools, and 4-year colleges may offer degrees and other programs that can provide the experience and education necessary for these types of jobs.
Transportation and material moving occupations
The Chicago-Joliet-Naperville area employs over 300,000 of the 458,000 Illinois workers in this occupational category.
8%

Speaking
Service orientation
Social perceptiveness
Active listening
Critical thinking
Judgment and decision making
Monitoring and coordination

While the BLS states that the minimum educational attainment for a position as a flight attendant is a high school diploma or equivalent, they note that some employers may prefer applicants with at least some college. Degree in hospitality and tourism, public relations, business, social science, or communication may be a good fit for those interested in this career path.
Production occupations including manufacturing and automotive
The Chicago-Joliet-Naperville metro area actually has one of the highest employment levels in this occupation in the country.
7.6%

Reading comprehension
Judgment and decision making
Operation monitoring
Active listening
Coordination
Critical thinking

According to the BLS, workers usually must have at least a high school diploma before becoming an assembler, though they typically receive extensive on-the-job training. Sometimes that training may include employer-sponsored technical instruction. An associate's degree may be required for the most skilled assembly and fabrication jobs. Apprenticeship programs are also available.
*Skills breakdowns from O*NET OnLine
Other job categories of note in Illinois include education, management, and healthcare occupations.
Financial aid in Illinois
In 2013-2014, tuition and fees costs in Illinois averaged the following by institution type:
$3.378 for public two-year in-state
$12,550 for public four-year in-state
$31,145 for private nonprofit four-year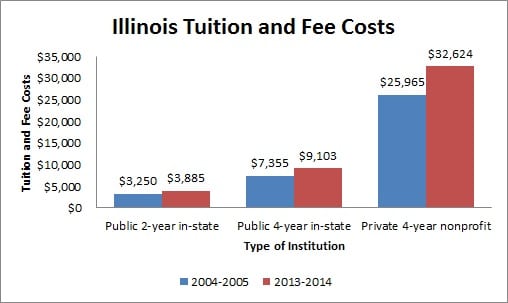 Of course, prices may be more or less than the average. However, in addition to the Free Application for Federal Student Aid, Illinois financial aid opportunities include:
Minority Teachers of Illinois (MTI) Scholarship Program
Illinois Special Education Teacher Tuition Waiver (SETTW) Program
Golden Apple Scholars of Illinois
MIA/POW Scholarship
Nursing Education Scholarship Program
Illinois National Guard (ING) Grant Program
Illinois Veteran Grant (IVG) Program
Grant Program for Dependents of Police or Fire Officers
Grant Program for Dependents of Correctional Officers
Higher Education License Plate (HELP) Program
In 2013-2014, the interest rate on Federal Direct subsidized and unsubsidized loans was 3.86 percent. Private student loans may be available at a variety of interest rates. Additionally, individual institutions may offer their own forms of financial aid, so once an individual has selected a school, talking to the financial aid office at that college or university may be helpful.
While not everyone is eligible for every financial aid opportunity, seeking out as many opportunities as possible may help students pay for an education that might otherwise be out of reach. It is important to be proactive in seeking aid.
To find out more about some of the schools and programs available in Illinois, be sure to check out the ones featured in our school listings below.
Article Sources
Sources
"Tuition and Fees by Sector and State over Time," The College Board, 2013, http://trends.collegeboard.org/college-pricing/figures-tables/tuition-and-fees-sector-and-state-over-time
"Illinois and Federal Financial Aid Programs," Illinois Student Assistance Commission, December 19, 2014, http://www.isac.org/students/during-college/types-of-financial-aid/illinois-and-federal-financial-aid-programs
"O*NET – Find Occupations," O*NET OnLine, December 19, 2014, http://www.onetonline.org/find/
"A stronger nation through higher education," Lumina Foundation, March 2012, http://www.luminafoundation.org/publications/state_data/2012/Illinois-2012.pdf
"Data Book on Illinois Higher Education," State of Illinois Board of Higher Education, 2011, http://www.ibhe.org/Data%20Bank/DataBook/2011/DATABOOK2011.pdf
"Enrollment in Distance Education Courses, by State: Fall 2012," U.S. Department of Education, June 2014, http://nces.ed.gov/pubs2014/2014023.pdf
"Postsecondary Completers and Completions: 2011-12," U.S. Department of Education, March 2014, http://nces.ed.gov/pubs2014/2014033.pdf