Education in Hawaii
According to the National Center for Education Statistics (NCES), 27 colleges, universities and other institutions of higher learning call the Aloha State home. These include:
4 public four-year universities
7 public two-year community and technical colleges
6 private nonprofit two- and four-year colleges
7 private for-profit two- and four-year colleges
4 private schools, including seminary colleges and occupational schools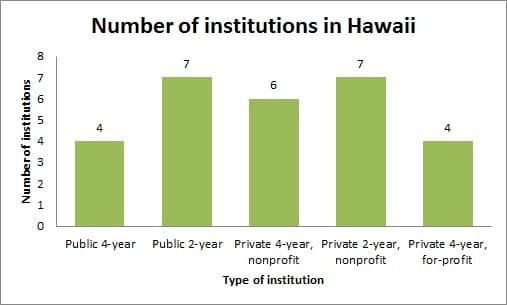 Hawaii has a population of only 1.4 million according to 2014 census data, making it the 8th-smallest and the 11th-least populous, but the 13th-most densely populated of the fifty states. The majority of the state's population — almost two-thirds — live on the island of O'ahu. Also, according to data from the US Census Bureau, Hawaii has the highest percentage of Asian-Americans and multiracial Americans of any state, as well as the lowest percentage of white Americans. It was also the most recent state to join the Union and is the only state not located in the Americas (officially, it's in Polynesia, in Oceania).
Hawaii is largely known as a tropical paradise, tourist destination, and home of many US military personnel. Census data indicate that 90.4 percent of Hawaiians have at least a high school diploma and 29.6 percent of Hawaiians have at least a bachelor's degree. However, a large amount of Hawaii residents are military personnel not seeking private sector employment. As such, the percentage of non-military Hawaiian residents with a bachelor's degree may be lower than the national average. This means that having such a degree may make one more competitive for private-sector jobs in the state. Thus, whether they are interested in traditional colleges and universities or vocational programs, individuals interested in pursuing higher education may do well to consider Hawaii seriously.
Of Hawaii's 1.4 million residents, the Bureau of Labor Statistics (BLS) indicates more than 612,000 are of "working age," which the BLS defines as adults between the ages of 25 and 64. According to the Lumina Foundation, approximately 42.6 percent of working-age Hawaiians hold at least a two-year degree, which is more than the national average of 39.4 pecent. However, as stated above many Hawaiians are in the military and thus guaranteed governmental employment. A college degree or professional certificate may make a non-military individual more competitive in Hawaii's private sector workforce. In 2011-2012, approximately 13,500 students completed degrees or other awards in Hawaii at Title IX institutions. This is approximately 0.3 percent of the total in the nation.
More specifically, according to a 2014 NCES report, federal financial aid-eligible colleges and universities in Hawaii granted 14,351 degrees and certificates to 13,569 graduating students in 2011-12. Among those students, 70 percent earned their degrees at four-year institutions and 25 percent earned two-year degrees. The remaining five percent, a total of 447 graduates, earned certificates from less-than-two-year institutions.
Here are some total undergraduate student enrollment numbers collected from the major public universities in Hawaii, current as of Fall 2014 unless otherwise stated:
University of Hawaii at Manoa: 13,952
University of Hawaii at Hilo: 3,396 (Fall 2009)
Honolulu Community College: 4,000
Kapi?olani Community College: 31,100
The most recent data provided by the NCES indicates the state had 79,332 students enrolled in Title IX colleges and universities in academic year 2012.
Online education in Hawaii
A number of brick-and-mortar colleges and universities in Hawaii also offer hybrid and fully online courses for individual classes as well as entire programs and degrees. This has had the happy side effect of enabling students to achieve their educational goals even if they live on a different island from the particular college, university or vocational school in Hawaii that they would like to attend. Even students who live outside Hawaii may opt for a school in the Aloha State, if they determine that an institution there is the best fit for their educational goals.
Numerous Hawaii colleges and universities that offer online programs have been recognized by national ranking agencies. The University of Hawaii has the most developed online programs. Here are the university's national ranks as calculated by US News & World Report:
Nearly a quarter of all post-secondary students in the US were taking online courses by 2008. That number has grown, and as of 2012 over 7.1 million postsecondary students nationally were taking at least one online course. In colleges in Hawaii, 8,736 students were enrolled exclusively in distance education courses. An additional 12,494 were enrolled in at least one distance education course. That's approximately 27 percent of all post-secondary students in the state at the undergraduate and graduate levels.
Top jobs and careers in Hawaii
Here's a table highlighting standout career paths in Hawaii, along with information about each and related degree programs::
| Occupation | Top regions | Why it's hot | Necessary skills | Relevant degrees |
| --- | --- | --- | --- | --- |
| Hotel, Motel and Resort Desk Clerks | Statewide | Tourism is by far the largest industry in the state's economy. According to the BLS, the annual median wage for this occupational category in Hawaii as of May 2014 was $37,310. | Social perceptiveness, service orientation, speaking, active listening, coordination. | For many such positions only a high school diploma and on-the-job training are required. However, since tourism is such a large part of Hawaii's economy, this can be considered an entry-level position. A bachelor's degree in hospitality management, leisure studies, or another related area may, when combined with on-the-job experience, make an individual competitive for professional advancement into positions including general and operations managers. |
| Bookkeeping, accounting, and auditing clerks | Statewide | The BLS indicates that this occupational category pays an annual median wage of $37,470 in Hawaii. Any business where money changes hands has a demand for bookkeepers. Again, because tourism is such a huge component of the state's economy, there may be a particular demand for individuals who possess these skills. | Active listening, reading comprehension, speaking, critical thinking, mathematics | For many such positions only a high school diploma and on-the-job training are required. However, Individuals wishing to become more competitive for bookkeeping positions may want to become certified in bookkeeping and the appropriate software. Postsecondary coursework or a bachelor's degree in accounting may also be useful, especially for individuals interested in advancing to positions as accountants or auditors. |
| Elementary School Teachers, Except Special Education | Statewide | According to the BLS, this occupational category had a median annual wage of $54,690 in 2014 in Hawaii. | Instructing, speaking, learning strategies, active listening, active learning, monitoring, social perceptiveness, critical thinking, judgment and decision making, reading comprehension | According to the BLS, Kindergarten and elementary school teachers must have a bachelor's degree as well as a state-issued certification or license. For higher grade levels, some states prefer or require a double major in elementary education as well as a content area such as math or science. |
| Registered nurses | Statewide | The BLS indicates that this occupational category pays an annual median wage of $88,230 in Hawaii, significantly higher than the average income in the state. | Service orientation, active listening, social perceptiveness, coordination and monitoring | Individuals wishing to become more competitive for registered nursing positions may want to obtain a bachelor of science in nursing, although other educational paths are available. Registered nurses must also be licensed. |
| General and Operations Managers | Statewide | According to the BLS, the median annual wage in this occupational category in Hawaii is $96,940, much higher than the state average. Additionally, GMs have significant opportunities in tourism, the state's largest industry. | Active listening, reading comprehension, speaking, critical thinking and monitoring | Typically, general and operations managers have a bachelor's degree in business or a related area such as hospitality management, leisure studies, human resources, or finance. A master's degree may be required for more advanced positions or at larger organizations. |
Other job categories of note in Hawaii include food preparation and service, sales, building and grounds cleaning and maintenance and transportation and material moving occupations.
Financial aid in Hawaii
In 2014-2015, tuition and fees costs in Hawaii averaged the following by institution type according to The College Board:
Public two-year in-state institutions

2004-05: $1,834
2014-15: $3,492

Public four-year in-state institutions

2004-05: $4,259
2014-15: $9,740

Private nonprofit four-year

2004-05: $11,140
2014-15: $15,417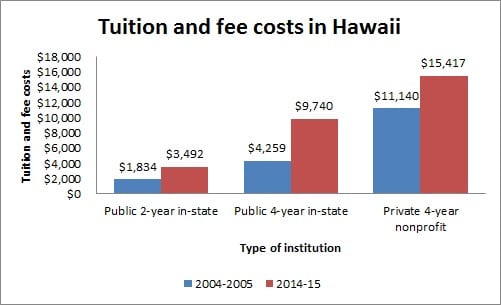 While public tuition rates are comparable to those in other states, the rate for private nonprofits in Hawaii are significantly lower than elsewhere in the country. Obviously, however, individual institutions' prices will vary, and out-of-state students pursuing an education in Hawaii will expect to pay more than residents (though they may consider it worth it to have access to the beautiful beaches the state is known for!).
While students may not be able to control their college or university's tuition, there are a variety of strategies individuals can employ to make their education more affordable, including:
Obtaining in-state residency
Living close to school, and walking or biking to campus
Taking some or all coursework online
Buying books and other supplies used
Having roommates while in school, or living at home
Working part-time or full-time while in school
Most students who enroll at colleges and universities in Hawaii will fill out the Federal Application for Student Aid (FAFSA) each year. Many sources of state and federal student aid use the information on the FAFSA to determine an individual student's financial need and eligibility for relevant programs. In addition to the Free Application for Federal Student Aid, Hawaii has a variety of state-level financial aid programs, including:
Hawaii B+ Scholarship
Second Century Scholars Program
Hawaii Community Foundation scholarships
Proof of state residency and other requirements may have to be met to verify eligibility. As of 2013-2014, Federal Direct subsidized and unsubsidized loans were being offered at an interest rate of 3.86 percent. Private student loans may also be available, though the interest rate offered often depends on credit rating. Typically, federal student loans have a wider variety of repayment options and other benefits that may be better than those offered by private loan servicers.
One benefit of federal loans is clear guidelines on eligibility for forbearance and deferral. Individuals with federal student loans may also be able to participate in Pay As You Earn (PAYE), a repayment program that caps monthly student loan payments at a set percentage of one's income. PAYE also offers forgiveness on the balance after a set period of on-time payments. Since student loans are not dischargeable in bankruptcy, forgiveness is a valuable benefit. Contrast this with private lenders, which may or may not offer forbearance and deferral programs, and do not participate in PAYE. Some private lenders may offer comparable benefits to federal loans, so it is always important to check the fine print and ask questions about any terms or conditions that seem unclear.
Prospective students should be careful to seek a regionally accredited institution if seeking a traditional academic major, regardless of their ultimate career goals. The accreditation process is one of the primary means by which the quality of an institution is judged. There are six regional accreditors in the US. In Hawaii, the accreditation body is the Western Association of Schools and Colleges.
Some vocational and technical schools are nationally accredited rather than regionally accredited. Some individual technical, vocational, or academic programs are accredited by the professional organization associated with the topic or content area being taught. Students should take it upon themselves to learn the expected accreditation(s) for a particular degree or certification.
Regional accreditation has a number of benefits other than appeal to prospective employers. First, credits from regionally accredited institutions are easier to transfer to other institutions than credits from unaccredited institutions are. At first it may not seem as if this is important. However, if students move to another area, want to change their major to one not offered by their current school, or if they are completing an associate's degree at a community college and want to transfer to a four-year university to complete a bachelor's, then being able to easily transfer credits to a new institution is suddenly important. No one wants to start their educational process over because a new college or university won't accept a former institution's credits.
The US Department of Education requires that schools participating in federal student aid programs be accredited. State aid may also be dependent on a college or university's accreditation status, and Hawaii is particularly strict about this. If an institution does not require the FAFSA and/or does not participate in the federal student aid programs (including federal student loans and the Pell Grant program), it may be because it doesn't have the requisite accreditation. Be cautious when considering such an institution. Asking for job-placement data and talking to former students and alumni can help determine whether the degree or certification will yield long-term career benefits.
In addition to state or federal forms of financial aid, prospective students should keep in mind that schools sometimes offer their own unique financial aid options. Hawaii has many such programs, particularly for native students. While eligibility will vary for each person, applying for as many as possible may help students pay for their education. Students should expect to be proactive in seeking aid, particularly non-federal aid not regulated by FAFSA.
To find out more about some of the schools and programs available in Hawaii, be sure to check out the ones featured in our school listings below.
Article Sources
Sources
"Hawaii," College Navigator, National Center for Education Statistics, http://nces.ed.gov/collegenavigator/?s=HI
"Educational Attainment by State: 1990-2009," Census Bureau, http://www.census.gov/compendia/statab/2012/tables/12s0233.pdf
May 2013 State Occupational Employment and Wage Estimates, Hawaii, http://www.bls.gov/oes/current/oes_ut
"A Stronger Nation through Higher Education, An Annual Report from Lumina Foundation,"Lumina Foundation, http://www.luminafoundation.org/files/resources/a-stronger-nation-through-higher-education-2014.pdf
"Postsecondary Completers and Completions: 2011-12, Web Tables," U.S. Department of Education, March 2014, http://nces.ed.gov/pubs2014/2014033.pdf
"Enrollment in Distance Education Courses, by State: Fall 2012, Web Tables," U.S. Department of Education, June 2014, http://nces.ed.gov/pubs2014/2014023.pdf
"Online Education," U.S. News & World Report, http://www.usnews.com/education/online-education
"University of Hawaii, Manoa," U.S. News & World Report, http://colleges.usnews.rankingsandreviews.com/best-colleges/university-of-hawaii-manoa-141574/overall-rankings
"Information Clerks," Occupational Employment and Wages, May 2014, U.S. Bureau of Labor Statistics, http://www.bls.gov/ooh/office-and-administrative-support/information-clerks
"Hotel, Motel, and Resort Desk Clerks," Occupational Information Network, http://www.onetonline.org/link/summary/43-4081.00
"Bookkeeping, Accounting, and Auditing Clerks," Occupational Employment and Wages, May 2014, U.S. Bureau of Labor Statistics, http://www.bls.gov/ooh/office-and-administrative-support/bookkeeping-accounting-and-auditing-clerks
"Bookkeeping, Accounting, and Auditing Clerks," Occupational Information Network, http://www.onetonline.org/link/summary/43-3031.00
"Elementary School Teachers (except special education)," Occupational Employment and Wages, May 2014, U.S. Bureau of Labor Statistics, http://www.bls.gov/ooh/education-training-and-library/kindergarten-and-elementary-school-teachers
"Elementary School Teachers (except special education)," Occupational Information Network, http://www.onetonline.org/link/summary/25-2021.00
"Registered Nurses," Occupational Employment and Wages, May 2014, U.S. Bureau of Labor Statistics, http://www.bls.gov/ooh/healthcare/registered-nurses
"Registered Nurses," Occupational Information Network, http://www.onetonline.org/link/summary/29-1141.00
"General and Operations Managers," Occupational Information Network, http://www.onetonline.org/link/summary/11-1021.00
"Management Occupations," Occupational Employment and Wages, May 2014, U.S. Bureau of Labor Statistics, http://www.bls.gov/ooh/management/
"Trends in Higher Education, Tuition and Fees by Sector and State over Time," CollegeBoard, http://trends.collegeboard.org/college-pricing/figures-tables/tuition-fees-sector-state-time