While the ads for work-at-home jobs that pop up online can make them seem too good to be true, there really are a handful of home-based positions that can earn you a respectable living. Here are five standout work-from-home careers, along with the degrees it takes to potentially get you there. With an online associate degree, you can even attend school from home, completing your education at your own pace.
1. Computer support specialist: Degree in computer science
Working in tech support comes with several advantages, like being paid to learn general troubleshooting techniques and advanced computer skills. IT personnel with enough formal training can even work on a freelance basis as independent computer support specialists.
A computer science degree at either the associate or bachelor's level can help you blaze your own trail in the IT field. Some colleges and universities may also offer degrees in information technology, which can also help you use your tech skills to move into the world of work-from-home jobs.
Salary Facts
---
According to the U.S. Bureau of Labor Statistics (BLS), computer support specialists nationwide earned median annual wages of $53,660 in 2013. Those who used their skills to support users directly earned $50,450 on average, while those who worked to support entire computer networks earned a median 2013 salary of $64,160.
2. Private Detective: Degree in Criminal Justice
With an associate's degree in criminal justice (along with whatever other credentials are required by your state's private investigations licensing board), you can start a career as a freelance detective. The right degree program can help graduates start work-from-home careers in private detection without having spent years in the police force.
In some states, peace officer certification or other non-degree award may be the requirement for a private investigator's license. Because so much private detective work in the age of big data requires some skill with computers, taking courses in computer science can help you get ahead of the curve.
Salary Facts
---
The BLS reported a median annual salary of $53,890 for private detectives and investigators in 2013.
3. Web Designer: Degree in Graphic Design or Computer Programming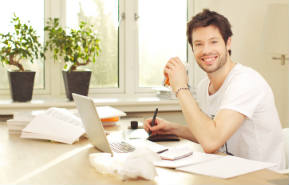 Web design is among the most flexible careers in terms of location, since every stage of the process can typically be accomplished with Web-based presentations, teleconferences and email communication. Many of the flashier websites in fashion today may require at least an associate degree in computer programming to put together, and a full bachelor's degree in the IT field can open up even more opportunities.
Since Web design also leans heavily on an ability to construct pleasing visual experiences with computer code, a graphic and multimedia design degree is a common way into the industry. Whether you'd rather focus on presenting a sleek and unified look or developing interactive elements, there's a Web design degree out there that can help.
Salary Facts
---
BLS salary figures for Web designers fall into two separate categories. Web developers, who may build websites and may develop apps, earned median annual wages of $67,540 in 2013. Graphic designers, who may do Web work and may focus on non-interactive visual development, made a median salary of $49,610 in 2013.
4. Child Care Provider: Degree in Early Childhood Development
An in-home daycare center can be a way to combine a love of children and a desire to be your own boss. A degree in early childhood development can help you become recognizably qualified as a childcare provider, and basic business classes can give you the training you need to organize your revenues and expenses.
If you're looking to add value with some basic educational services as well, an early childhood education degree can help demonstrate to potential clients that you're able to provide quality services.
Salary Facts
---
The BLS reports 2013 median annual salaries of $21,490 for childcare workers and $38,040 for preschool and kindergarten teachers.
5. Entrepreneur: Degree in Business Administration
The ultimate work-from-home career is the small business you start for yourself. Whether you have an idea for a multi-million dollar software startup, or you just want to give cottage industry a shot, an online degree in business administration can potentially provide a solid foundation of the knowledge necessary to start and run a business at home.
Some institutions have responded to the growing demand for work-at-home jobs by offering entrepreneurship degrees that focus even more strongly on going into business for yourself.
Salary facts
---
Entrepreneur salaries vary depending on the industry and region in which your business operates. Entrepreneurship graduates from the University of Houston were reported as earning a median salary of $51,688 in 2013, and Ashland University in Ohio reported in 2014 that its entrepreneurship alumni earned an average annual salary of $70,000.
Online College Degrees
An online degree allows you to complete your coursework without having to travel to a classroom every day, learning at your own pace as you build valuable skills. It also doesn't hurt that the self-discipline you learned while earning your degree can help you stay motivated and on task once you're ready to jump into the world of work-from-home careers.
If you've ever dreamed of being your own boss, learn more about accredited online degrees and how they can help you take those important first steps toward the work-at-home job you've always wanted.
If you're interested in finding out more about these programs and ones like them, check out our program listings below.
Sources:
May 2013 National Occupational Employment and Wage Estimates, U.S. Bureau of Labor Statistics, Occupational Employment Statistics, September 17, 2014, http://www.bls.gov/oes/current/oes_nat
Private Detectives and Investigators, U.S. Bureau of Labor Statistics, Occupational Outlook Handbook, September 17, 2014, www.bls.gov/ooh/Protective-Service/Private-detectives-and-investigators
Graphic Designers, U.S. Bureau of Labor Statistics, Occupational Outlook Handbook, September 17, 2014, http://www.bls.gov/ooh/Arts-and-Design/Graphic-designers
Web Developers, U.S. Bureau of Labor Statistics, Occupational Outlook Handbook, September 17, 2014, http://www.bls.gov/ooh/computer-and-information-technology/web-developers
Computer Support Specialists, U.S. Bureau of Labor Statistics, Occupational Outlook Handbook, September 17, 2014, http://www.bls.gov/ooh/Computer-and-Information-Technology/Computer-support-specialists
Childcare Workers, U.S. Bureau of Labor Statistics, Occupational Outlook Handbook, September 17, 2014,, www.bls.gov/ooh/Personal-Care-and-Service/Childcare-workers
Undergraduate Employment Statistics, University of Houston, Bauer College of Business, September 18, 2014, www.bls.gov/ooh/Personal-Care-and-Service/Childcare-workers
Entrepreneurship, Ashland University, Richard E. & Sandra J. Dauch College of business and Economics, September 18, 2014, https://www.ashland.edu/cobe/majors/entrepreneurship