Deciding on a career path can be daunting when students are focused on taking advantage of all the opportunities college has to offer.
As a result, it's easy to believe that stereotypical college "types" don't take the academic side of college seriously. However, some of these extracurriculars can impart skills that could potentially tie into certain academic and professional paths. Thinking outside the box can yield some interesting paths based on students' interests, paths which students themselves may not have ever considered.
Student athletes, or "jocks"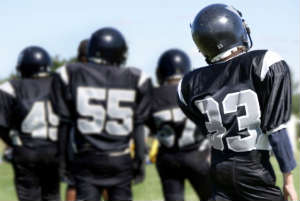 The majority of college athletes, according to the NCAA itself, will not go on to play professionally once they've graduated. Many of the skills gained through participation in competitive sports can be applied to a variety of careers.
Physical therapist assistant
The U.S. Bureau of Labor Statistics (BLS) states that physical therapist assistants work under the direction of physical therapists to help people suffering from injuries or illness to regain strength and manage pain. Student athletes typically learn about proper form and technique for their sport. It's also likely they may have suffered injuries themselves according to a 2014 study from the Journal of Athletic training, which placed the rate for overuse injury among varsity-level college athletes at nearly 30 percent.
As a result, they may already be familiar with the kind of work and mental endurance required during training and recovery as well as some of the other related skills described by O*NET Online:
Building patient strength: Instructing and assisting therapy patients in strength-building activities
Training patients: Training patients on the proper use of support devices like braces and prostheses
Tracking performance: Measuring patients' range of motion and vitals to evaluate condition and progress
Exploring courses in a related area such as anatomy or physiology may help students decide if this is a career path they're interested in.
Public relations
College sports programs, especially on the NCAA level, not only produce athletes, they are actively and constantly engaged in business functions like public relations. Crafting and maintaining the public's perception of a university's sports team can affect everything from alumni donations and scholarship availability to attendance at games, matches and other sports events.
Student athletes who find this aspect of college sports interesting may want to explore courses in public relations, communication, journalism or business. And because various types of organizations have to manage public relations to some degree, students may go on to work in a wide variety of fields.
Student government officers, or "overachievers"
These students, already motivated enough to run a campaign to join student government, may be seen wandering the campus networking with professors, deans, provosts and other campus leaders. The stereotype for these students may be that they intend to be politicians destined to run for some kind of elected position. However, the leadership skills usually picked up in student government can have any number of career applications, including market research analysis and advertising, promotions and marketing management.
Marketing analyst
Market research analysts help companies understand what products or services different types of consumers may be interested in, and how much those consumers might be willing or able to pay for them, according to the BLS. Elected student leaders, who may devote much of their time trying to understand their constituents' needs and develop an effective campaign platform, may find this type of work appealing. If so, they might choose to major in market research or a related area like statistics, communications or sociology.
Promotions
Often times in politics a great campaign platform isn't enough. A lot of times the voting public has to first aware of who the candidates are before they can make a judgment and cast their vote. Similarly, someone has to generate interest in a product or service once the creative process is complete. That's typically where advertising, promotions and marketing managers come in.
O*NET provides an outline of core skills for advertising and promotions managers:
Managing the message: Inspecting advertising layouts and copy for quality, compliance and presentation across various media formats
Managing data: Gathering relevant data and research to integrate into the planning of an ad campaign
Managing clients: Meeting with clients to provide advice and updates on ongoing advertising campaigns
Student government leaders interested in this career path might consider courses in advertising or journalism.
Social butterflies or "party animals"
With reputable sources like The Princeton Review compiling annual "Best Party School" lists, the college party, and the people who frequent them, lives on as a stereotype of the college experience. That said the stereotype of the Animal House-esque party animal who never graduates or goes on to become a productive member of society isn't always necessarily the case. There are certain career paths that can benefit from outgoing nature and the ability to ensure people are engaged in a group setting.
Event planner
Professional meetings can be an efficient means of conveying important information on industry regulations and trends. However, people who travel a long way to attend these events may also be interested in networking and making connections in a social setting.
Some of the core tasks for event planners according to O*NET:
Monitoring the event: Keeping an eye on an event to monitor whether things are sticking to safety regulations, participants are getting what they need and any other emergent issues
Coordinating the planning stage: Keeping in contact with sponsors and organizers to flesh out the details of a pending event and what kind of budget to operate under
"Party animals" may want to consider the field of hospitality management if these responsibilities sound appealing.
Human resources
For certain individuals, a supportive corporate culture and work-life balance can be just as important as their job title and professional responsibilities. According to the BLS, human resources managers may recruit and interview staff as well as oversee training and benefits programs. They may also serve as a link between staff and management.
Majoring in human resources or business administration could be an option for people interested in a socially driven career ensuring employees are both productive and happy at their place of employment.
If you're interested in finding out about some of the courses mentioned here, check out the school listings below, or use the tool on the right to get matched to a school that fits your needs.
Sources
"Estimated Probability of Competing in Athletics Beyond the High School Interscholastic Level," NCAA Research, September 24, 2013, https://www.ncaa.org/sites/default/files/Probability-of-going-pro-methodology_Update2013.pdf
"Almost 30 percent of student-athletes suffer overuse injuries, new study reports," Emerald Media, April 18, 2014, http://dailyemerald.com/2012/04/18/new-study-finds-student-athletes-suffer-overuse-injuries/
"31-2021.00 – Physical Therapy Assistants," O*NET OnLine, September 16, 2014, http://www.onetonline.org/link/details/31-2021.00
"27-3031.00 – Public Relations Specialists," O*NET OnLine, September 16, 2014, http://www.onetonline.org/link/summary/27-3031.00
"11-2011.00 – Advertising and Promotions Managers," O*NET OnLine, September 16, 2014, http://www.onetonline.org/link/details/11-2011.00
"13-1121.00 – Meeting, Convention, and Event Planners," O*NET OnLine, September 16, 2014, http://www.onetonline.org/link/summary/13-1121.00
"Physical Therapy Assistants and Aides," U.S. Bureau of Labor Statistics, January 8, 2014, http://www.bls.gov/ooh/healthcare/physical-therapist-assistants-and-aides#tab-1
"Public Relations Specialists," U.S. Bureau of Labor Statistics, January 8, 2014. http://www.bls.gov/ooh/media-and-communication/public-relations-specialists#tab-1
"Market Research Analysts," U.S. Bureau of Labor Statistics, January 8, 2014, http://www.bls.gov/ooh/business-and-financial/market-research-analysts#tab-1
"Advertising, Promotions, and Marketing Managers," U.S. Bureau of Labor Statistics, January 8, 2014, http://www.bls.gov/ooh/management/advertising-promotions-and-marketing-managers#tab-1
"Meeting, Convention, and Event Planners," U.S. Bureau of Labor Statistics, January 8, 2014, http://www.bls.gov/ooh/business-and-financial/meeting-convention-and-event-planners#tab-1
"Human Resources Managers," U.S. Bureau of Labor Statistics, January 8, 2014, http://www.bls.gov/ooh/management/human-resources-managers#tab-1