As new resources for skills-oriented college classes have come to fruition online, discussion has focused on what these options might mean for 17-18 year olds (and their parents) staring down six-figure tuition bills. But lost in that conversation about undergraduates is the fact that the same learning technologies represent just one more option for lifelong learning in what's emerging as a Golden Age for continuing education.
With that in mind, I'd like to focus on retirees — those who have time to dedicate to different types of leisure activities — to look at how participating in lifelong learning can offer both intellectual and professional fulfillment, and even health and wellness benefits.
Continuing education classes and new skill acquisition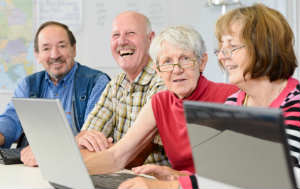 To begin with, people's interests evolve over time. For example, while I studied chemistry as an undergraduate and then moved onto a career in computers, as I hit my 40s and 50s I found my interests shifting towards classical history and — through a study of that subject — ancient and modern philosophy.
Before the current lifelong learning "golden age," my options to pursue study of these subjects would have involved going to grad school (if I wanted to take formal classes) or learning these subjects through independent reading. But free online learning resources allowed me to replicate an undergraduate learning experience through a One-Year BA program structured around undergraduate-level classes available for free.
While lifelong learning resources allow retirees to pursue intellectual interests, they also allow older learners to acquire new skills. Many courses available through learning marketplaces like Udemy, paid services like Lynda.com and a huge variety of continuing education programs offered by universities focus on teaching professional skills like computer programming and practical use of software applications in addition to lifestyle skills like digital photography, painting and play writing. Which means retirees interested in pursuing a new hobby, interest or even a post-retirement career can do so immediately (and on their own schedule), rather than wait for the right set of courses to appear at the local continuing education center.
Even before the advent of online courses, continuing education has taken on many forms:
Lifelong learning through traditional live classes
In 2000, the Bernard Osher Foundation funded the Osher Lifelong Learning Initiative that helped create more than 100 Osher Lifelong Learning Institutes connected to college campuses across the country. But even before that initiative, cities and towns — especially those in proximity to colleges and universities — have been home to multiple competing continuing education programs targeted towards working adults and retirees
Some of these college-based continuing education programs, like the UC Extension program in California, offer courses in virtually any subject that would be available to fully matriculated students, opening up a wide variety of opportunities for older learners to pursue subjects that interest them.
Osher Institute: Subjects for retirees
---
Many of the schools who participate in the Osher initiative, in addition to offering courses that would be available to standard degree-track students, feature courses geared towards interests or skills a retiree might want to pursue. Some examples include:
Introduction to Yoga
Independent travel in Europe
Creative writing
Photography field trips
Art history
Financial strategies for a successful retirement
Lifelong learning through free lectures
Before the Internet, there were recorded lectures (available first on cassette and VHS tape then CD and DVD) from companies like The Teaching Company and Modern Scholar. While not part of any formal continuing education program, these resources (available free from many public libraries) still provide students of any age the chance to listen to college-level lectures on a variety of subjects.
With the growth of Internet resources like iTunes U, those involved with lifelong learning are in a position to download lecture material from the world's great schools at no cost.
Lifelong learning through online courses
Online learning combines lecturing (a passive learning experience) with more active components like reading, tests and written assignments. While not always equivalent to courses taught in a residential college classroom, these programs can offer lifelong learners the means to put their studying to work as much or more than they would if they pursued other continuing education alternatives.
A lot has been made out of the fact that a high percentage of students who enroll in an online course (and an even higher percentage of those who finish one) are older than traditional undergraduates. But given the popularity of not just the lifelong learning resources noted above, but educational television, web sites and podcasts among older learners, enrollment demographics in online courses simply demonstrates that large numbers of adults have decided that their learning need not stop after they were handed a diploma at the age of 22.
Wellness benefits of lifelong learning
Wellness is a broad concept that can include physical, mental and even spiritual well-being. And, as with almost any other field, there's likely to be a lifelong learning course available to teach older learners with time on their hands a thing or two about keeping their body, mind and soul well-tuned.
But just the act of being involved with lifelong learning can a have significant wellness impact. Studying Chaucer or Java keeps the mind active and sharp. Studying with a group of fellow learners at an Osher Center or using an online course to figure out Facebook creates community. So given all this bounty and variety, perhaps it's time to see retirement as the optimal time to re-launch yourself as a student.
Article Sources
Sources
"The Bernard Osher Foundation: Programs," Bernard Osher Foundation, October 7, 2014, http://www.osherfoundation.org/index.php?olli
"UCLA Extension: Fields of Study," UCLA Extension, October 7, 2014, https://www.uclaextension.edu/Pages/fos/default.aspx
"UCI Extension Browse by Topic," UC Irvine Extension, October 7, 2014, http://unex.uci.edu/courses/browse.aspx
"Leadership and Management Development Courses – UC San Diego Extension," UC San Diego Extension, October 7, 2014, http://extension.ucsd.edu/studyarea/index.cfm?vAction=saDetail&vStudyAreaID=16
"The First Year of edX: Research Findings to Inform Online Learning," Education Week, October 7, 2014, http://blogs.edweek.org/edweek/edtechresearcher/2014/01/the_first_year_of_edx_research_findings_to_inform_online_learning
"Retirees Return to College Just for the Fun of It," Kiplinger, June 2013, http://www.kiplinger.com/article/retirement/T037-C000-S004-retirees-return-to-college-just-for-the-fun-of-it
"LSU Continuing Education," Louisiana State University, October 8, 2014, http://reg.outreach.lsu.edu/modules/shop?action=courseBrowse&CatalogID=1025
"Courses – OLLI at HSU," Humboldt State University, October 8, 2014, http://www.humboldt.edu/olli/courses